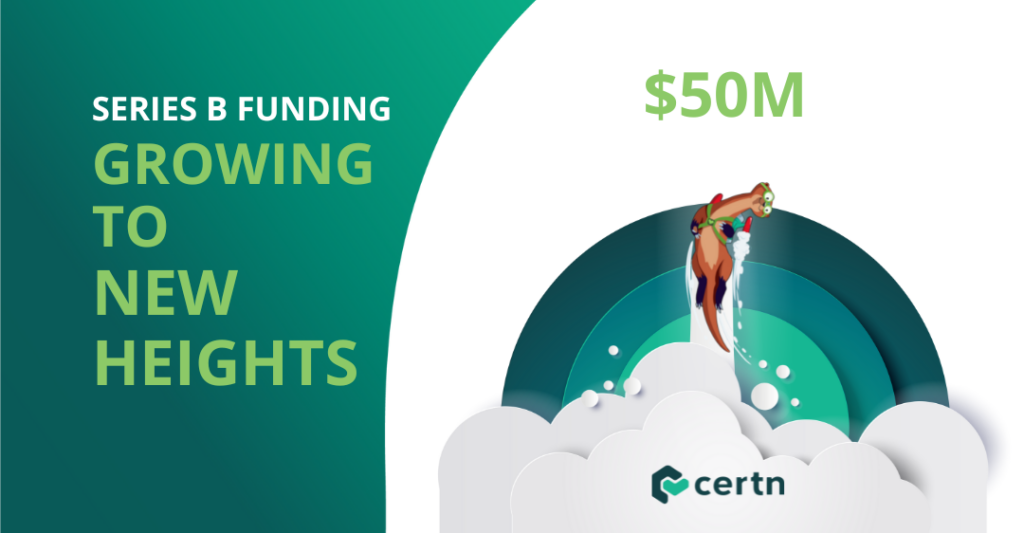 July 6th, 2022
Certn's Series B Funding and Growing to New Heights
3 min read
---
The last few months (and years, if we're being honest with ourselves) have been a blur of activity here at Certn. We recently secured USD $50 million in Series B funding. We've made an exciting acquisition. We've expanded our team at a fast yet intentional pace. And we're certainly (pun intended!) not done. In fact, we're just getting started!
Here's a peek at what we've been up to and what we have in store.
Where We Came From
Andrew McLeod, Evan Dalton, and Owen Madrick came up with the initial idea for Certn back in 2016. They were soon joined by Daniel Faulkner, Will Nettke, Curtis Smith, and Chris Cook in 2017 and the company quickly took off after that. By 2018, Certn had launched its first product—a tenant screening product. Then just one year later, Certn entered the world of criminal background checks.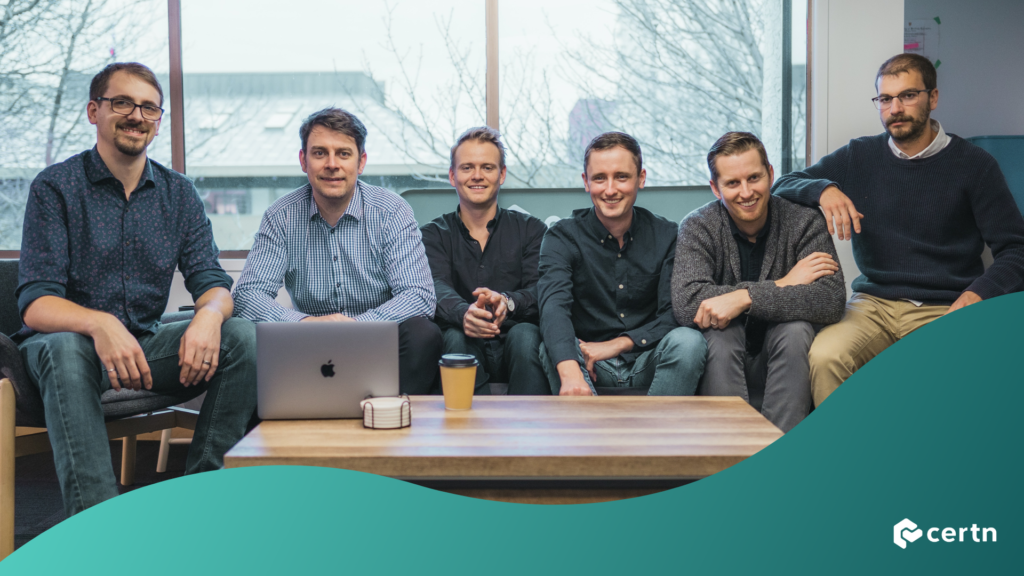 Certn's co-founders from left to right: Daniel Faulkner, Owen Madrick, Evan Dalton, Curtis Smith, Andrew McLeod, Will Nettke
By 2019, Certn had launched in the US. By early 2020, Certn's revenue growth had soared by over 700%. And by August 2021, Certn Lime—a self-service background check solution for SMBs—made its debut.
Along the way, we've secured several awards, including a spot on Deloitte's Fast 50 Companies-to-Watch list and the TechTO Canadian Rocketships list. Our CEO Andrew McLoed has also earned the CEO of the Year RemoteTech Breakthrough award and was a finalist for the EY Entrepreneur Of The Year 2022 Pacific award. In 2021 alone, Certn was on Canada's Top Growing Companies list by the Globe and Mail, KPMG's Inaugural Canadian Tech Innovator 2021 list, the CIX Top 10 Growth Award list, and the Ready to Rocket list.
We are humbled and thrilled by the recognition we've received as we've grown into who we are today. And now, as we set our sights on the next phase of our development, the future certainly looks bright.
Where We Are Now
Today we have Certonians working on three continents, speaking more than ten different languages. And our growing team is working on some pretty cool stuff.
Series B
On May 8th, we announced to the world that Certn had received USD $50 million in Series B funding. It was an exciting step forward into our global expansion efforts, building off of the CAD $43 million in seed money we received during our Series A and Series A+ funding rounds.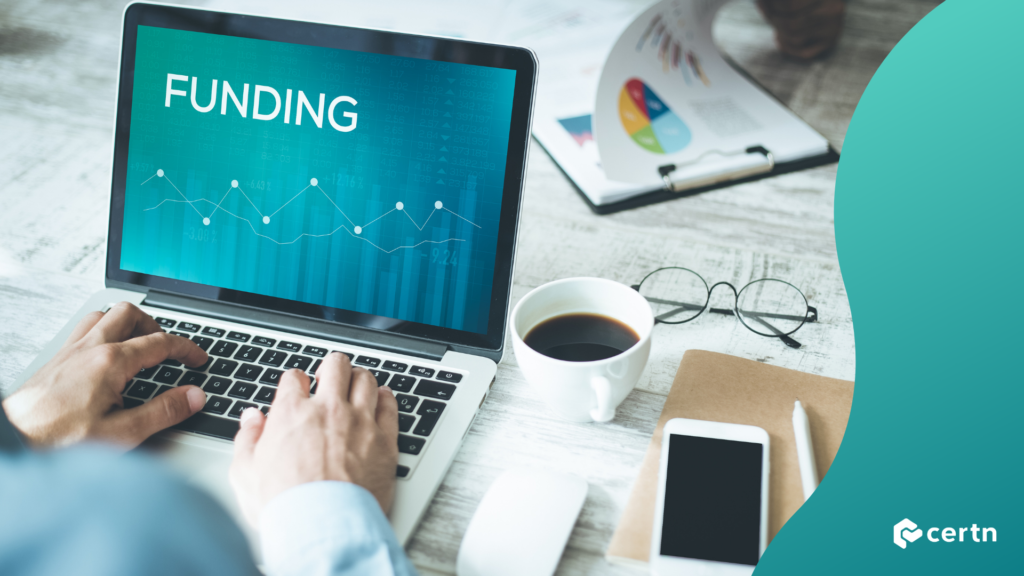 B Capital, BMO, Tribe, Inovia Capital, Telstra Ventures, Scribble, Moxxie Ventures, and Gaingels Covalent Ventures participated in the funding round, with B Capital leading the way. For us here at Certn, it was an occasion to celebrate. "With this funding," our CEO Andrew McLeod announced, "we will further invest in our product, new markets, and our partnership program as we build and grow our global team."
Acquisition of Credence
Our Series B funding hasn't been the only groundbreaking news we've had this year. Earlier in January, we were thrilled to announce the acquisition of Credence, one of the UK's leading providers of background checks. With clients across Europe, the Middle East, and Africa, Credence will help Certn expand its global presence and offerings. It's a move that we're extremely excited about, and that will offer many benefits to both companies. Hedley Clark, owner and managing director of Credence said that "When I saw the way Certn performs these checks, it was obvious that with their technical knowledge and the quality of our existing business, the combination would create a significant presence in the background screening market [to the benefit of our existing and future clients]." Our CEO Andrew McLeod also added that "This acquisition is putting together the reliability and quality of Credence with the speed and superior user experience enjoyed by Certn's customers."
Where We're Headed
At Certn, trust is at the core of who we are and what we stand for. We want to help build trust in people—and are working on many exciting developments with that goal in mind. Our teams have been diligently working on expanding our services, looking into new possibilities, and—of course—continually striving to make life easier for our current clients and the applicants who complete our background checks.
As we look to the future, Certn will be focusing on expanding and developing in ways that continue to align with our mission, vision, and purpose:
Our Mission: Simply Trust
Our Vision: To Help People Feel Certain
Our Purpose: Empower People Through Trust
The Certn Team Is Growing
When Certn announced its Series B funding, our CEO Andrew McLeod emphasized that in addition to investing in new markets, our product, and our partnerships, "We're also committed to investing in our current and future Certn employees—Certonians—to provide the best background screening services possible." That commitment to both taking care of and expanding our talent pool cannot be overstated.
We've been on a hiring spree for the better part of two years with no desire to slow down anytime soon. This year, we're looking to add even more incredible people to our team. Just how many, exactly? We're hoping to fill approximately 160 new roles. As a company that had 24 people at the start of 2020, that's a significant jump forward!
But as we look to the future, we're not just focusing on hiring the most people. We want to be hiring the most talented people. In order to do that, we've been working hard on making Certn one of the best companies to work for. We've put a lot of effort into making our remote work strategy among the best in the country and on providing our employees with terrific benefits and an incredible work culture.
Would you like to join the team?
Take a look at our open positions and see if you'd like to be a part of our future.