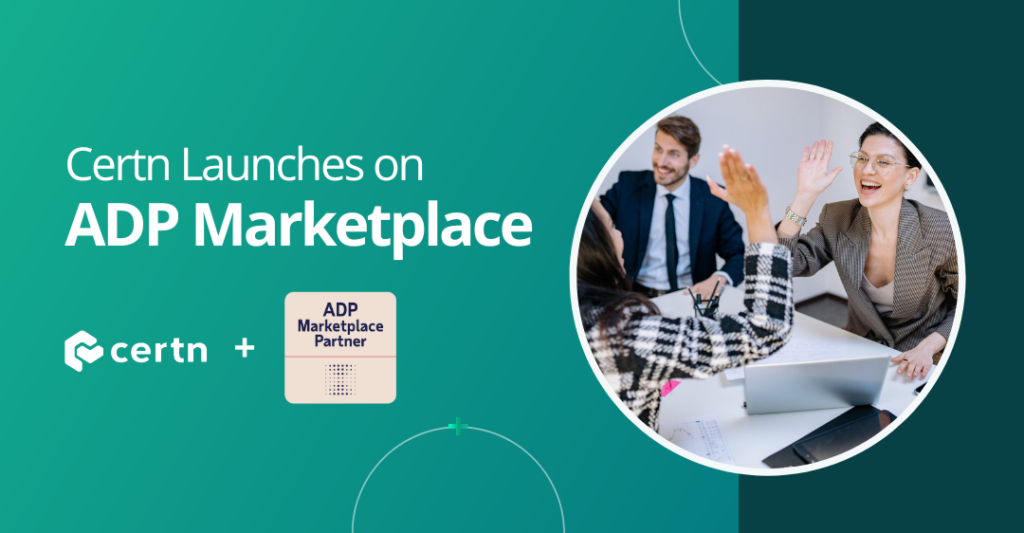 June 6th, 2023
Certn Launches on ADP Marketplace
3 min read
We're excited to announce that Certn is now available on the ADP Marketplace. Our goal at Certn is to be available wherever you hire, and this partnership brings us one step closer to achieving this.
Hiring teams are looking for ways to consolidate their tools to ensure they have all their hiring data in one platform while still ensuring they deliver the best candidate experience. Here at Certn we've found an effective way to do this is by integrating your growing HR tech ecosystem and background checks to support faster, more informed hiring decisions.
With the Certn integration for ADP Marketplace Workforce Now®, users can integrate their Certn background check data into their ADP® platform and quickly screen candidates without leaving the platform. ADP Marketplace is the first and largest digital storefront for HR buyers today and this integration enables companies to simplify access to all their HR data for a seamless process.
Certn Background Checks – Better Hiring, Faster
Background screening is an important step in the hiring process. Screening helps businesses make more informed decisions, and can also help prevent the financial and reputation risks associated with a bad hire. However, a background check process that requires anyone to print, sign, scan, and upload multiple documents, track threads of emails, and deal with unresponsive customer service teams can be frustrating for all involved. Sound familiar? Not with Certn!
Aside from being frustrating, slow turnaround times put you at risk of losing out on the best talent. According to the Society for Human Resource Management (SHRM), the average time to fill a role is 42 days. Completing your background screening process more quickly with Certn and our faster automated workflows is a great way to stay in front of top talent before they accept other opportunities.
Certn Background Checks on the ADP Marketplace
Certn's goal is to be the most accessible background check solution on the market. Wherever you choose to hire, Certn wants to be there, and this partnership brings us one step closer to this goal.
"The Certn integration with ADP gives clients the power to make smarter, faster decisions based on the most relevant and accurate data available. Certn's ease of integration and exceptional user experience, allow us to elevate confidence in every hire for ADP customers." says Christian Ali, Chief Product Officer at Certn.
Like every solution on ADP Marketplace, Certn has passed a world-class security assessment to help safeguard the confidentiality and integrity of employee data, giving HR teams extra peace of mind.
Speed Up Hiring with Candidate Data in One Place
The competitive nature of hiring puts pressure on HR professionals, but using HR solutions, like those available on ADP Marketplace, can help reduce time-to-hire and improve the quality of hires.
Disjointed candidate data and multiple, pages-long reports can slow down your decision process, causing hiring delays. Now that ADP clients can benefit from faster, Certn background checks without leaving the platform, HR teams can achieve a more efficient hiring process.
Improve Hiring Workflows with HR Tools in One Place
Harvard researchers found that the average employee toggles between different apps and windows more than 3,600 times a day. In HR, minimizing this type of task switching saves time that can be better spent on other tasks.
The Certn background screening API allows us to embed the Certn background check process right into partners' platforms. As a result, users are able to integrate Certn's screening process seamlessly into their hiring workflow. By initiating background checks from the hiring platform you already use, it enables you to:
Automate manual processes;
Minimize toggling between different applications; and
Increase efficiency and save time for other tasks.
Deliver a Better Candidate Experience
It's important to do everything you can to deliver a great candidate experience and stand out in a competitive job market. On top of helping you learn meaningful information about your candidate, we believe the way you conduct your background screening can contribute to a better candidate experience. A PwC survey of 10,000 people found that nearly half of job seekers have turned down an offer because of a bad experience during the hiring process.
In contrast to the legacy model, Certn and our paperless background checks are completed online with a few clicks right from a mobile device. Certn makes for a more positive candidate experience. How do we know these features matter? 80% of Certn background checks are completed from smartphones, so we know this convenience is something that your candidates value.
Start Hiring Faster with Certn
With Certn background checks now available through ADP Marketplace, HR professionals can fast track their hiring while still delivering the best candidate experiences.
Ou goal at Certn is to be available wherever you hire. ADP joins more than 25 hiring platforms that partner with Certn to streamline hiring processes and reduce the time to hire. For more information, visit our Partnership Marketplace.
ADP, the ADP logo, and the ADP Workforce Now are trademarks of ADP, Inc. or its affiliates or licensors. The information in this document was prepared by Certn and Certn is solely responsible for its accuracy and completeness. ADP makes no representation as to the accuracy or completeness of any information contained herein.
Written by:
Certn

Certn offers better and faster experiences for everyone. Certn is revolutionizing background screening with the easiest-to-use online platform, 24/7 customer support, and fast and compliant results from global databases. Why wait? Trusted by 10,000+ clients, Certn helps businesses hire faster and manage risk — all while delivering user experiences that help them stand out. Learn more at certn.co.