Firm Appoints HR Superstar Steve Cadigan to Board to Bolster Growth and Build Opportunity
Menlo Park, CA, April 9, 2019 — In the world of "people screening," speed and accuracy are the industry's key pain points. Most background checks are processed manually, leading to hours of waiting and results that span only a fraction of the available public record. Today, Victoria-based Certn launched its groundbreaking platform in the U.S. market. Certn harnesses the power of artificial intelligence (AI) to deliver globe-spanning, accurate results and give employers faster, more comprehensive results than ever possible before. To help bolster this launch and expand Certn's influence and options going forward, the firm is also announcing the addition of Silicon Valley human resources magnate Steve Cadigan to its board.
More of Everything Employers Need
Like so many industries in the early 21st century, background checking was beyond ready for disruption when Certn opened its doors in 2016. The field was filled with competitors still mired in performing manual source checks by telephone and fax. Moreover, many of the front-end screening applications supplied to clients looked as if their interfaces hadn't been updated since the days of Windows 95 (or, in some cases, DOS). User experiences were slow and unintuitive.
Worse yet, according to Certn co-founder Andrew McLeod, traditional background checks can quickly turn into a "digital strip search." Potential employees may feel scared, and employers, in turn, feel invasive and overbearing. Certn was designed to eliminate this poor experience.
"Our solution provides an elegant candidate experience that feels just like entering and uploading a resumé," says McLeod. "It's easy to understand, very transparent, and people can ask questions through live chat as they go along. Yes, there's a ton of public information out there, but we've developed a lot of search intelligence that's able to deliver a thorough reading without being creepy and intrusive."
A "ton" may be understating things. Certn scans over 200,000 sources across 240 countries and 77 languages, all of which gets translated into English. Most sources, such as credit reports, photo identity verification, and their U.S. National Criminal Record Check, return in under five seconds. Some databases, such as the Canadian Police Check, can take up to four hours, but even with this, the average return time is only 15 minutes. Other analyzed data sources can include:
• Courts, boards and tribunals
• Motor Vehicle Records
• Adverse media coverage from over 110,000 databases
• Most-wanted and police lists
• Corporate blacklists
• SEC investigations
• Professional past experience
• Social media high-risk behavior
"We only look at text on public social media, not photos," said McLeod. "We only look for high-risk content: cyberbullying, sexism, things that are generally accepted as inappropriate. If you're drinking in a photo, that's none of our business. But if you're threatening a minority group, you're likely to get flagged."
Along the way, Certn can use AI-based tools, including facial recognition, to help eliminate false positives and ensure that presented photo ID is real. With the Royal Canadian Mounted Police, all checks are reviewed by trained police officers. At every possible turn, Certn takes steps to confirm data accuracy and provide a smooth, seamless experience for applicant and employer alike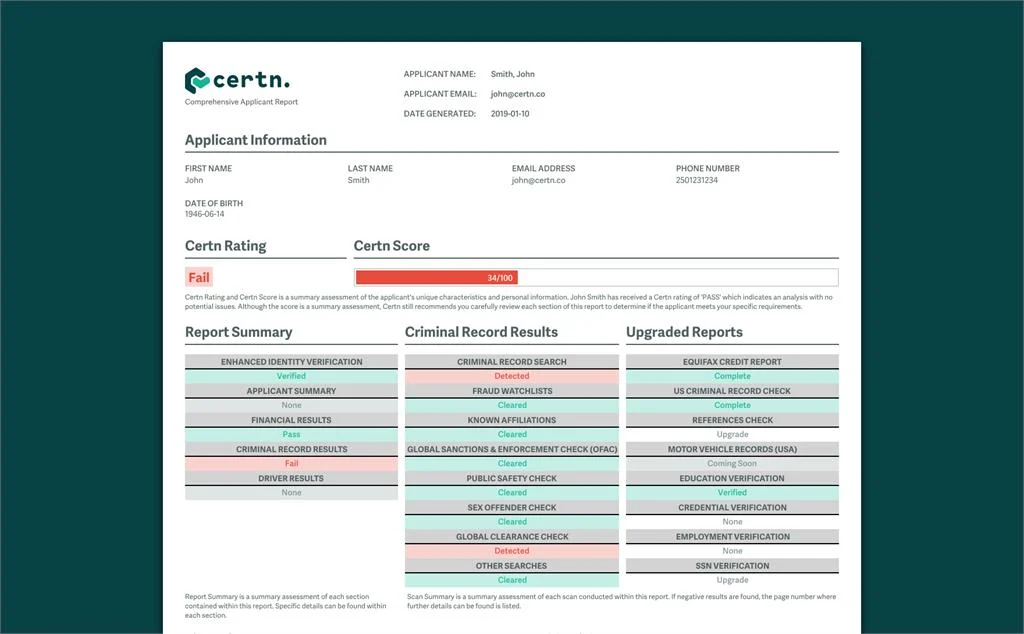 Sample Certn Report: Generate easy-to-read, comprehensive reports containing real-time data from 200,000+ sources. Smart technology delivers significant time- and cost-savings.
Note: Report information availability is subject to change based on state. Courts, boards and tribunals
The Cadigan Factor
Steve Cadigan rose to fame in Silicon Valley after serving as vice president of talent at LinkedIn from 2009 to 2012, when he helped to establish the human resources talent strategies to guide the company from 400 employees through its IPO and high-growth phase to over 4,000 employees. This LinkedIn episode proved so successful that it was written up as a case study now served to Stanford business students.
Today, Cadigan stands as one of North America's most respected HR authorities. His list of interviews and appearances read's like a who's who of business media. He advises and speaks to companies around the world that need guidance on how to improve their businesses through compelling talent strategies. According to Andrew McLeod, literally no one in the world could have been a better fit to join Certn's board at this key time.
"Certn has a massive opportunity in the States," says Cadigan. "I am extremely impressed by the team, the technology, and the solutions that Certn brings to the HR universe. In today's fast-paced, data-intensive reality, HR leaders need to arm themselves with tools that help them find critical insights in a noisy reality. The imperative to deeply screen candidates at lightning speed while also delivering an elegant candidate experience differentiates Certn from the competition. I am excited for what is in front of us. Joining the Board was a very easy decision for me."
Cadigan notes that Certn has the ability to help firms ranging from small shops to multi-billion-dollar corporations. Once they see the differences in speed and accuracy Certn delivers over its competition, he feels, the choice will be obvious.
About Certn
Certn is a platform that uses data points from thousands of sources to create the most comprehensive and predictive background screening reports available. Certn delivers certainty and peace of mind through compliant, comprehensive, insight-packed, and easy-to-read reports. Instead of hiring and hoping, our clients can easily identify the best talent for their business'.