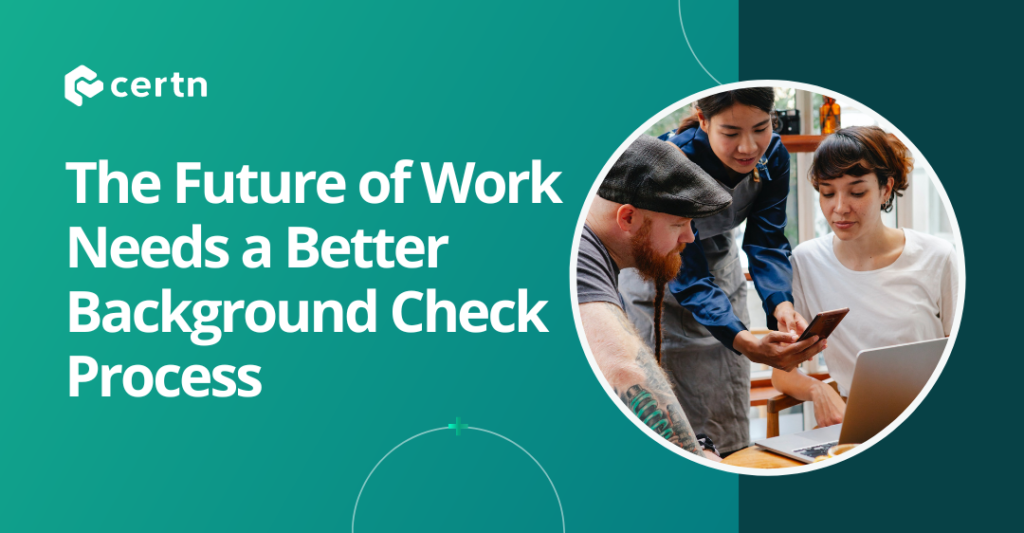 May 16th, 2023
The Future of Work Needs a Better Background Check Process
5 min read
The future of work – remote work and globally dispersed teams, gig work, and high-volume hiring – needs a better background check process. Fortunately, Certn is creating a better background check process with automation and mobile functionality that matches your brand and delivers a 2023 user experience. The old way, the background check process is tedious and time consuming. Sound familiar? At Certn, we're changing this.
The Certn background check process is online and we provide digital results in as little as 15 minutes (depending on the check you've ordered). Our identity verification process is also online, which means candidates don't have to travel or wait in line to verify their identity. This functionality prevents candidate drop-off since we know 70% of applicants won't apply if it takes too long.
The Certn background check process is literally made to make hiring faster and easier. Not to mention, it aligns with new and emerging models of work and works where you work.
What Does the Future of Work Look Like
Certn's global product leadership helps give HR teams extra peace of mind as they embrace the future of work – remote work and globally dispersed teams, gig work, and high-volume hiring. These aren't fads. 2022 Gartner insights signalled that flexible, location-agnostic remote work is massively important and that companies will need to offer hybrid work arrangements to attract the best talent. These findings still apply today.
How do you manage this? With the hiring tools you already use and online identity verification and online background checks.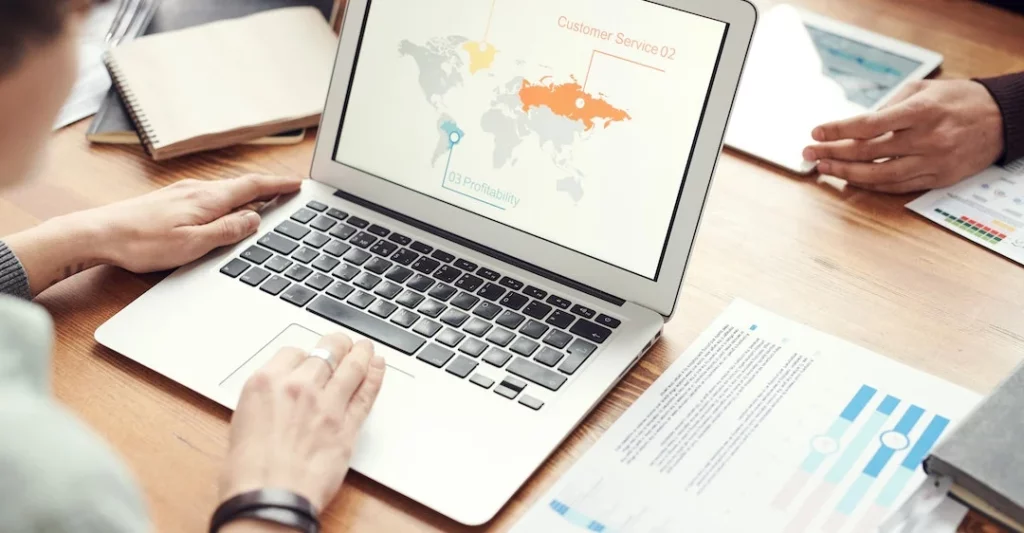 Remote Work and Global Teams
Millions of pieces of personal data are stolen and misused every day. According to a survey by the Chartered Professional Accounts (CPA) Canada, almost half (46%) of Canadians report having fallen victim to financial fraud at some point in their lives.
Sometimes this stolen data, commonly gleaned from online banking and retail websites according to the CPA Canada survey, is used to apply for jobs and run fraudulent background screening. In remote-first and virtual hiring environments that are characteristic of global teams, it's more important than ever to maintain high security and verify that your candidates are who they say they are with secure background screening, whether they're in Canada or based abroad.
Furthermore, a quarter of job applications contain inaccurate information. This misrepresentation could lead to a negligent hiring lawsuit. Instant identity verification is the first step in the Certn background check process, and the biometric authentication we use can give you added peace of mind.
In addition to mitigating identity fraud, our online, automated approach can help speed up the background check process. Not all time consuming mistakes are malicious. For example, done the old way, identity verification through manual data entry might lead to transcription errors (or transposing first and middle names) that could cause delays in the background screening process and require your candidate to show up in person to verify their identity.
Our mobile-friendly, intuitive user experience is already integrated with major market places and hiring systems so you can easily add background checks to your process. This helps prevent errors in background check applications by automating the verification process on the recruiter and the candidate side with data extraction, data pre-fill, and automated document matching.
Gig Work
There's a gig work revolution underway – the gig economy is reshaping work and hiring practices. How's your company adapting?
Gig economy workers are known by many names: temporary or part-time hires, independent contractors, project-based workers, freelancers, and more. Regardless of what you call them, the rise of the gig worker is shaking up traditional work models, workplace culture, and hiring practices, and is something Certn can help you manage more strategically, whether you're bringing them on for a short-term contract or you design apps and platforms that facilitate gig exchanges.
If you're wondering whether a background check is worth the effort and money, the better question is: can you afford not to? Gig workers are independent contractors, but you should still conduct the same background screening process that you require of your full-time "9 to 5" employees to protect your assets, workforce, and brand reputation. This is crucial, especially if you're going to provide a gig worker access to confidential information such as financial data, client profiles, and more.
On top of the costs of a data breach, you could open your company up to expensive negligent hiring and vicarious liability lawsuits if foreseeable workplace violence, injury, or theft occurs due to a lack of preventative actions. Fortunately, a background check is an example of a preventative action your company can take.
We've removed the back and forth that comes with requesting documents or extra vetting for identity verification the manual way. After all, who has a scanner or printer these days?
High Volume Hiring
According to the US Bureau of Labor, the retail and hospitality sector employs more people than any other sector in the United States. In Canada, it's the eleventh largest.
This sector suffers incredibly high turnover rates, so companies are nearly always looking for new candidates. Not to mention, high volume hiring is the norm, which means churning through thousands of applications to find the best candidates in a short amount of time. The seasonality of retail also means that high-volume recruiting is a necessity; companies gearing up for the key sales periods need to find, screen and hire thousands of candidates. This is where our online background check platform that can support and manage high volumes can help.
69.3% of retail job applications are completed on a phone, which is good news if you use the Certn background check process. With Certn, your candidates can complete background checks just as easily — with a few clicks right from a mobile device. 80% of our users complete their checks from a smartphone and in a few minutes compared to hours with the old, paper-based method. For busy HR professionals, managing hiring, background screening, and onboarding workflows all in one place means hiring faster and hiring easier.
The Certn Background Check Process
"We would wait too long for criminal record checks to come back from the police station, and it would cause such a backlog on the admin side. We would have to adjust our offer letters to ensure they match the record of employment. There's a lot of human capital that is involved. […] Being able to provide this turnaround time to our new hires is such a great experience because we know we can get it back in about 24 hours. It's fantastic. Less time is wasted with Certn." Christina Roy, Recruiter, Fire & Flower
Hiring Workflow Integration
At best, the manual background screening process can take days. However, it usually ends up being closer to weeks by the time the information is processed and the results are available to recruiters. According to recruiters on LinkedIn, slow hiring processes often mean top candidates accept other offers. This means manual background checks could mean you miss out on talent.
With Certn, you can order the checks you need right from your applicant tracking system (ATS) or preferred hiring platform with one click. You can bundle background screening services like instant identity verification, criminal records checks, and social meaning screening and save them as "Packages" so you can send multiple requests to one candidate with one click. Easy, right?
If you're still doing all your recruitment tasks manually, your costs are going to keep rising and you risk making mistakes that slow down turnaround times.
Get Fast Background Checks – Future of Background Screening
In conclusion, Certn is revolutionizing the background check process with our online approach. The manual process can take days or even weeks, but we provide digital results in as little as 15 minutes.
Many companies are already using technology to streamline their hiring process by automating traditional administrative tasks, but smarter companies, like our 10,000+ clients, are embracing online background checks to faster, more comprehensive background screening, and doing it all from their ATS.
The future of work needs a better background check process. Our approach supports remote work and global teams, gig work, and high-volume hiring.
Why wait? Schedule a demo today to see how Certn can help wherever and however you hire.
Written by:
Certn

Certn offers better and faster experiences for everyone. Certn is revolutionizing background screening with the easiest-to-use online platform, 24/7 customer support, and fast and compliant results from global databases. Why wait? Trusted by 10,000+ clients, Certn helps businesses hire faster and manage risk — all while delivering user experiences that help them stand out. Learn more at certn.co.