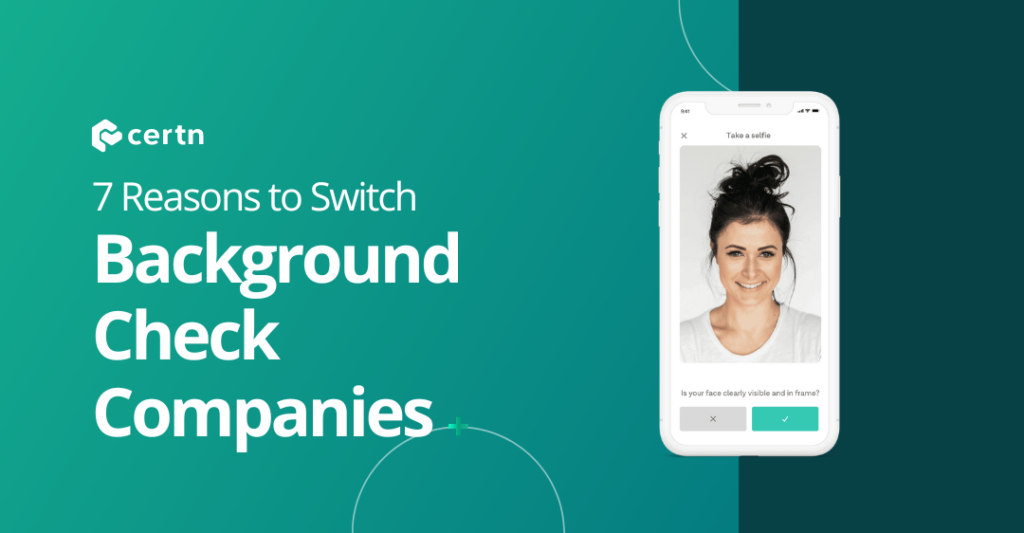 September 2nd, 2021
7 Reasons to Switch Background Check Companies
4 min read
---
The hiring process has evolved over the years as companies move from hiring locally to screening candidates virtually across the world. Small and medium-sized businesses today have access to a much wider talent pool to help find excellent employees. On top of this, HR tools like applicant tracking system (ATS) software and international hiring platforms make hiring faster and easier.
In order to meet the challenges of hiring for remote and hybrid jobs, international hiring, increasing competition for talent, and a greater emphasis on the candidate experience, we recommend you think carefully about selecting the right background check provider to maximize your hiring and screening efficiencies.
HERE ARE SEVEN REASONS YOU SHOULD CONSIDER SWITCHING YOUR BACKGROUND SCREENING PROVIDER:
2. Having to Purchase Multiple Background Screening Platforms
5. Manual Data Collection and Administrative Tasks
6. Traditional Identity Verification and Its Limitations
7. Poor and Slow Customer Service
1. Slow Turnaround Times
We know turnaround times are one of the most critical factors in choosing a background check provider — and almost all background screening providers claim they're fast! Other than the actual data processing, there are several factors that impact the turnaround time for a background check, including:
How easy and quick it is to order background checks
How fast the candidate can verify their identity
How simple and straightforward the background check application is for the candidate to complete
How fast and responsive the customer support and verification teams are if you run into problems
Certn has an intuitive and simple user interface for both you and your candidates. Here's how Certn's platform helps make the background check process faster:
One Global Platform for Recruiters
Our platform is designed to be as efficient and easy as possible
Out platform integrates with many ATS software and hiring platforms
You don't need to manually enter candidate details and information
All personal data, consents, and authorizations are collected from the candidate to prevent any errors or delays
Seamless Candidate Experience
Candidates can easily verify their identity with a selfie a photo of their government-issued ID
Candidates complete the background check application online with the device of their choice
There's no need to show up in person at the police station or post office
There's 24/7 local and friendly customer service via phone, email, and live chat, to answer any questions candidates may have along the way
"We chose Certn because of its cost, speed of service, self-service portal, local support, variety of available background check services to choose from."
Bruce D., Certn's Capterra Reviews
2. Having to Purchase Multiple Background Screening Platforms
Background screening encompasses more than criminal record checks. Verifying your candidate's employment and education history, checking out their claims with their references, and ensuring they have good credit if they're dealing with money and financial data are as important as criminal record background check results. Moreover, hiring international and remote employees requires international verifications in addition to verifying their identity.
Certn's all-in-one platform provides you with all the domestic and international background screening services you need in one place. You can order multiple background checks for a candidate, while the candidate only needs to complete one application. Once completed, Certn delivers a single, consolidated report containing all the requested results.
Certn offers these background check services:
Canadian and USA criminal record checks
International criminal checks
Employment and education verifications
Instant identity verification
Credit checks
Sanction and watchlists checks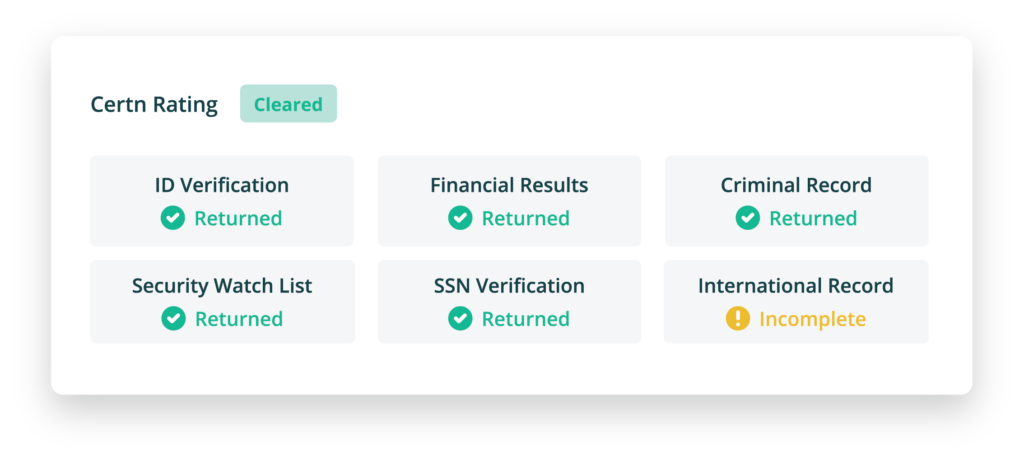 3. Pay-As-You-Go Pricing
Not all companies and roles require the same background checks, and not one background screening package fits all applicants. Unfortunately, many packages have fixed background checks that you may not require.
Certn's background screening pricing is à la carte, so you can easily select and pay for the background checks you need. You only pay for the background checks you use. In addition, you have the option to save the checks and verifications that you frequently issue as a "Package" based on specific roles or regions.
"It's cost-effective. No monthly subscription. It's pay as you go. Way cheaper compared to the traditional background check for the low volume user."
Rachel Q., Certn's Capterra Reviews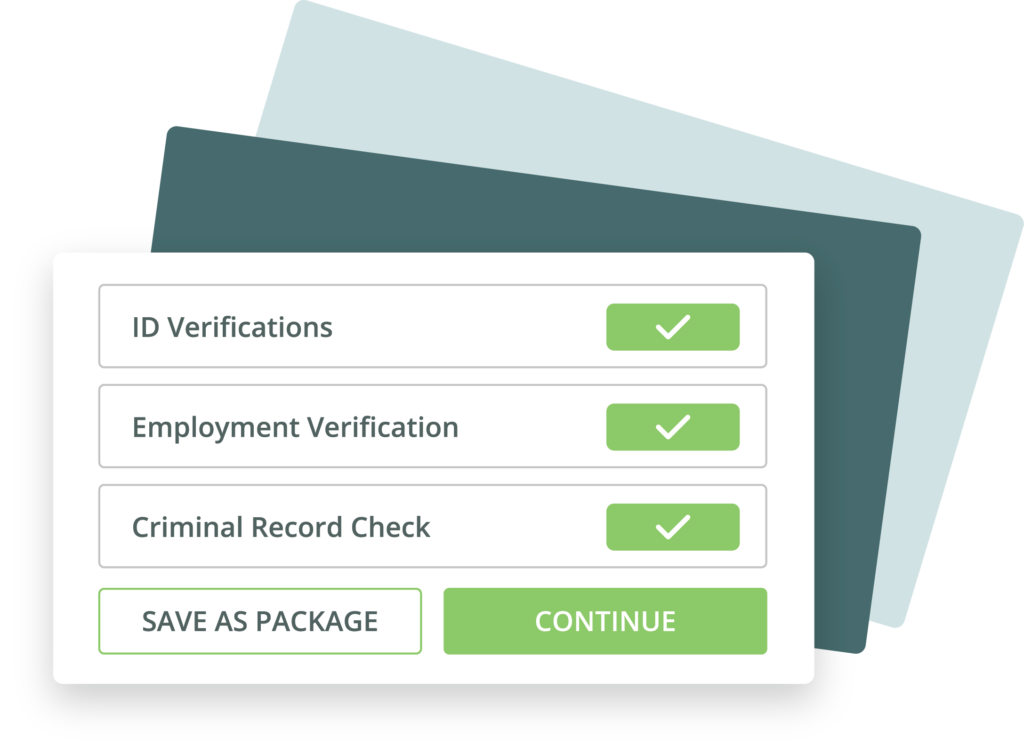 4. Poor Compliance
Performing background checks involves obtaining sensitive personal information such as social security numbers, credit information, and criminal history. This is why background checks need to be compliant and follow laws and regulations such as the Fair Credit Reporting Act (FCRA) in the United States, the General Data Protection Regulation (GDPR), and Service Organization Control (SOC) auditing procedures. How confident are you that your background screening provider is checks in a compliant manner?
With Certn, you can conduct compliant background screening without any hassle. Certn is compliant with the above and other federal, state, and provincial laws. Certn has automated consent and authorization collection capabilities along with built-in electronic federal pre-adverse and adverse action tools to streamline your processes.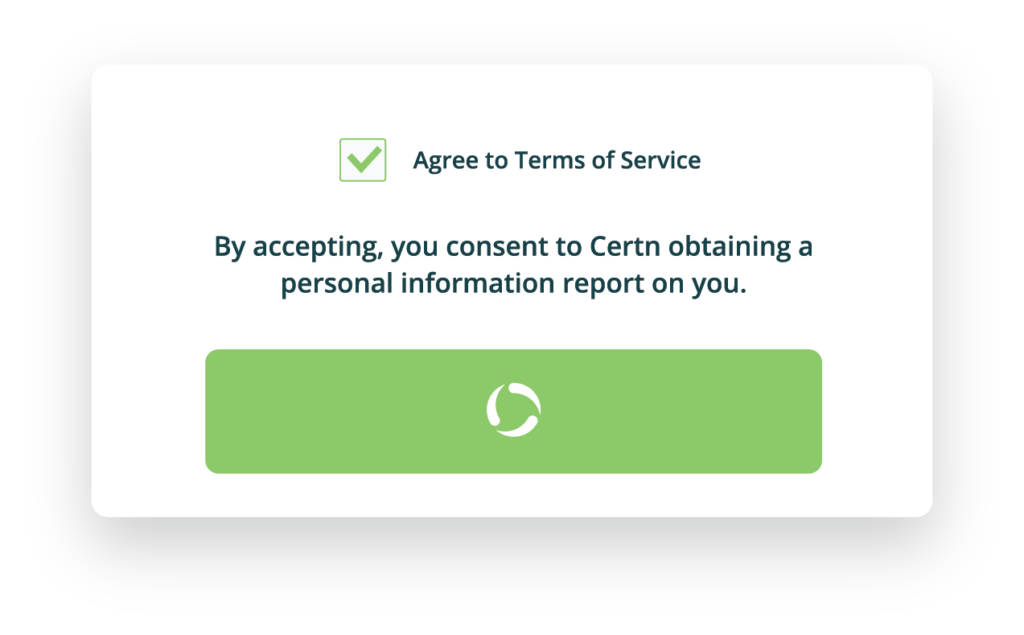 5. Manual Data Collection and Administrative Tasks
Many background check providers require you to manually enter your candidates' information. Manually collecting and entering candidate data is a cumbersome, time-consuming, and all-around risky process as human error may result in inaccurate or invalid background check reports. Not only could you waste your time and money by running background checks on the wrong people, but you also add delays in your hiring process that may deter your top candidates. On top of that, collecting candidate personal information requires taking specific security measures; sending photos of government IDs or other personal information over email could be risky or unsafe.
Certn's platform makes screening as easy as a few clicks. All you need to do is enter your candidate's email address to send off the background check application. All personal information is collected from your candidate. To complete the screening application, your candidate first consents by reviewing disclosures and signing authorization forms, then enters their data on the device of their choice.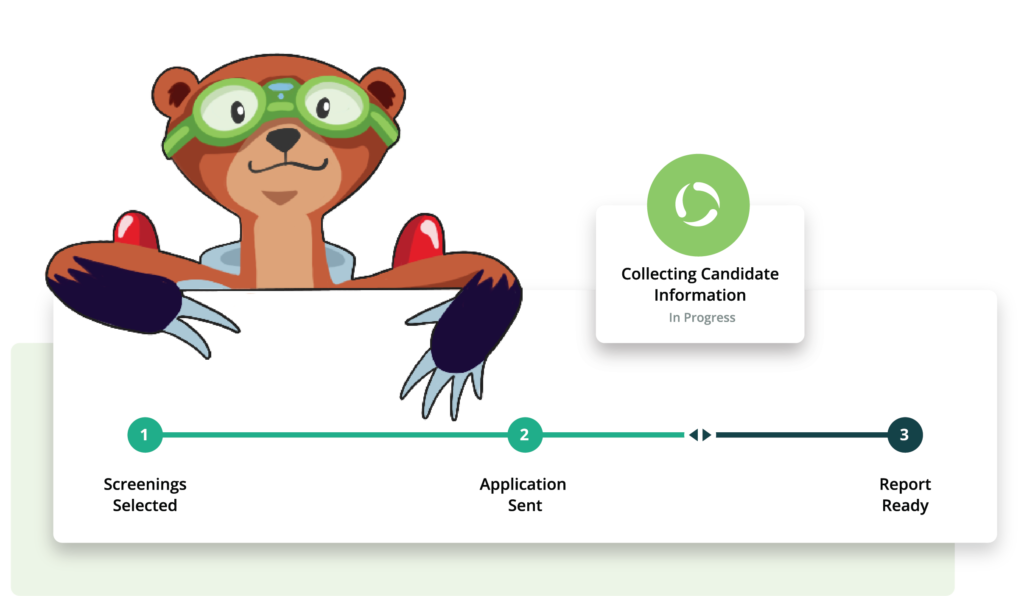 6. Traditional Identity Verification and Its Limitations
Identity verification has become one of the key background screening checks due to the surge in identity theft and remote hiring. However, many companies still use Knowledge-Based Authentication (KBA) that's based on candidates' answers to some personally identifying questions. This form of verification imposes challenges on both candidates and employers. For example, it's unable to verify candidates without established credit history and residence (e.g., new immigrants, students, and international workers). Failing to complete this process forces candidates to pay a visit to a post office or police station.
OneID is Certn's identity verification solution that delivers the most accurate results with an easy and seamless user experience. You won't need to worry about collecting IDs or any personal information; candidates submit a selfie and a photo of their government-issued ID via their phone or on a desktop, from anywhere, anytime. Then OneID's technology instantly verifies and returns results.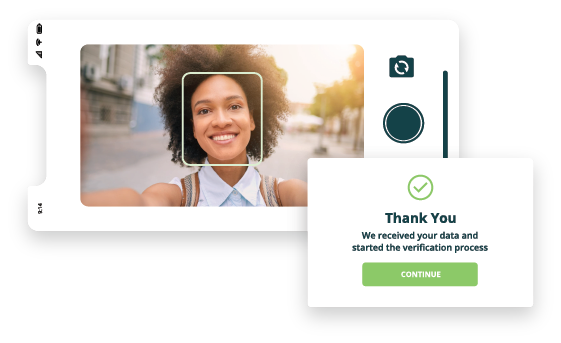 7. Poor and Slow Customer Service
Attentive and fast customer service plays a determining role in choosing a background screening solution. Poor customer support and long waiting times for getting support from your background check company can cost you losing your qualified candidates.
Certn's local, in-house, and super friendly customer support team quickly responds to any background screening queries or concerns you may have. Our live chat is available for both you and your candidate to provide you with instant support.
"Since using Certn, I have been very happy, the service is easy to use as well as fast. We don't need to wait a long time to get results, they reach out to obtain and further information or clarification needed directly. My mind is at ease when using their services. Huge shout out to the whole team!"
Shima M., Certn's Capterra Review