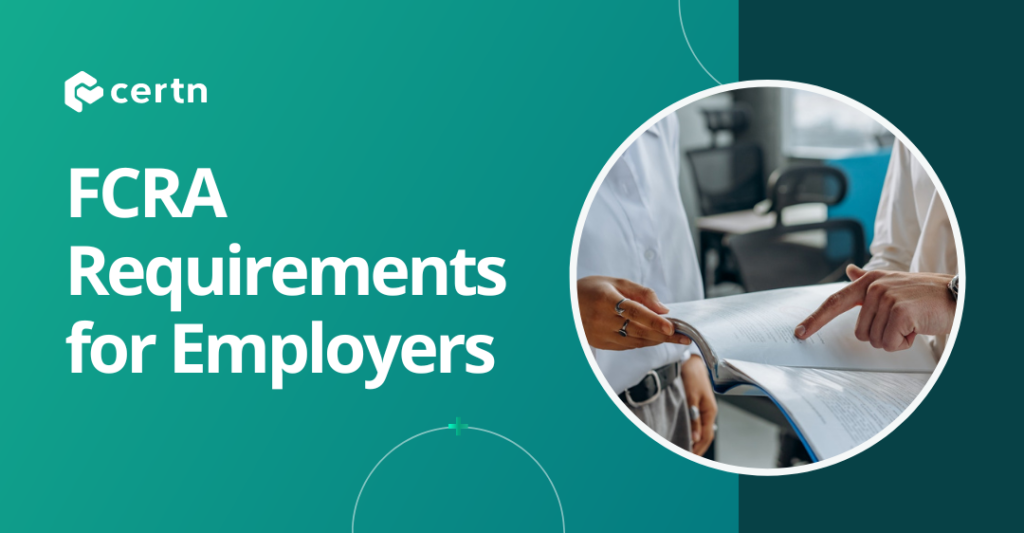 February 15th, 2022
FCRA Requirements for Employers
5 min read
---
Recruiting top talent while ensuring a secure and compliant workforce starts with understanding the power of the Fair Credit Reporting Act (FCRA). For employers, the connection between background checks and the FCRA requirements is undeniable. When using consumer reports, such as background checks through a third-party agency, to make crucial hiring decisions, compliance with FCRA requirements is a non-negotiable.
In this blog post we dive into the FCRA requirements for employers and discuss the roadmap to building a seamless, compliant, and effective background screening program. From obtaining written consent to providing pre-adverse and adverse action notices, the steps are clear – and important.
Remember, the FCRA doesn't stand alone. We'll also explore other federal, state, and local requirements that should play a role in your quest for compliant background checks. The Equal Employment Opportunity Commission (EEOC) offers valuable guidance, while "Ban the Box" and Fair Chance laws strive to create a pathway of opportunity for those with a criminal record.
Don't worry. We're here to serve as your guide. With our best practices and expert resources, you can navigate the FCRA requirements and beyond.
What's the FCRA
Enacted in 1970, the federal Fair Credit Reporting Act (FCRA) is a United States federal law that regulates the collection, dissemination, and use of consumer credit information with the goal of promoting fairness and accuracy and ensuring data confidentiality in the credit reporting system. The United States Federal Trade Commission (FTC) and the Consumer Financial Protection Bureau (CFPB) enforce the FCRA.
Let's debunk a common misconception: "consumer reports" doesn't just apply to credit reports generated by Equifax, Experian, or TransUnion. Under the FCRA, consumer reports include any information from a consumer reporting agency which bears upon a consumer's creditworthiness, credit standing, credit capacity, character, general reputation, personal characteristics, and/or mode of living. Given this, background checks also count as "consumer reports."
FCRA Requirements for Employers
Background checks and the FCRA are closely connected because the FCRA governs the use of consumer reports in the employment context, which as noted include background checks.
When employers use consumer reports such as background checks to make employment decisions, they must comply with the FCRA requirements to ensure fairness, accuracy, and privacy for candidates.
Here are a few critical steps the FCRA requires that employers take:
Provide a Clear and Conspicuous Disclosure and Obtain Written Permission: Before obtaining a consumer report or an investigative consumer report, employers must ensure that a clear and conspicuous disclosure has been made in writing to the consumer and that written authorization has also been obtained.. This consent must be separate from the job application and must inform the individual that the report will be used for employment purposes.
Consumer Reports and Investigative Consumer Reports: Background checks often involve obtaining consumer reports or investigative consumer reports from consumer reporting agencies. Consumer reports include more factual information on an individual such as their credit history, criminal records and employment history while investigative consumer reports provide information about the individual's reputation and character such as interviews with the individual's acquaintances or associates.
Pre-Adverse Action Notice: If an employer plans to take adverse action (such as not hiring, promoting, or retaining an employee) based on the information in the consumer report, they must provide the affected individual with a pre-adverse action notice. The pre-adverse action notice allows the individual to review the report, identify any inaccuracies, and dispute the information with the consumer reporting agency prior to their prospective employer making any final decisions.
Adverse Action Notice: If the employer takes adverse action after the waiting period (usually at least five business days but depends on the state or locality) following the pre-adverse action notice, they must provide the individual with an adverse action notice. This notice informs the individual that adverse action has been taken and includes specific reasons for the decision, as well as the contact information of the consumer reporting agency.
Consumer reporting agencies must also comply with various FCRA requirements, such as ensuring the accuracy and integrity of consumer information reported, safeguarding consumer report data, and following proper procedures for handling disputes. Employers have additional responsibilities to what is outlined above also such as securely disposing of consumer confidential data and certifying that they will not violate other federal and state equal employment opportunity laws. Non-compliance with the FCRA can result in legal consequences, including lawsuits and hefty monetary penalties.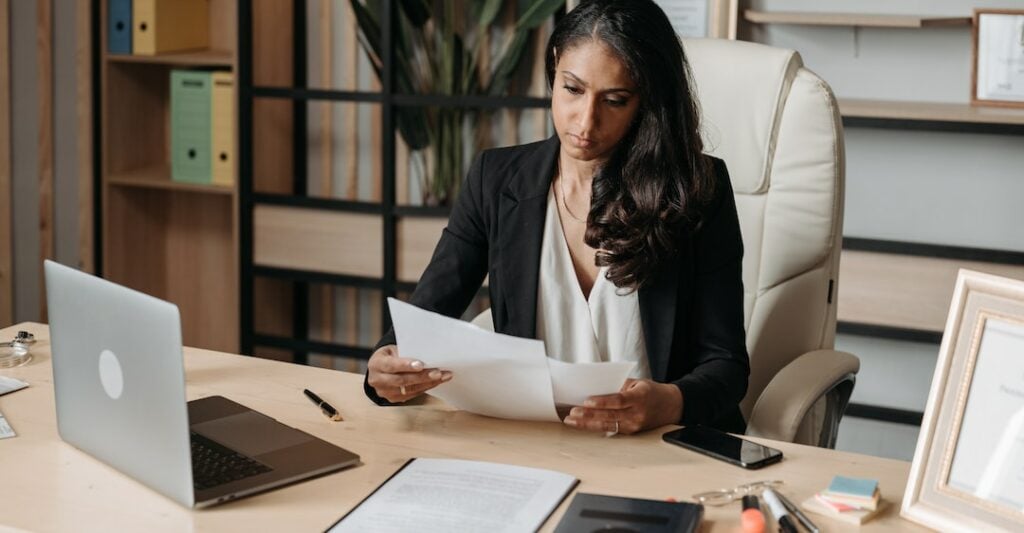 FCRA-Compliant Background Checks
According to a survey by the Professional Background Screening Association (PBSA), 93% of organizations with a US location conduct some type of background screening. This percentage is expectedly high because background checks are essential to businesses that want to hire top talent while doing their due diligence to protect their assets and workforce.
As we mentioned above, performing background screening comes with FCRA obligations. In the event of non-compliance with FCRA requirements, costly litigation can follow. In a 2021 Webrecon report, the FCRA was found to be the only consumer statute showing consistent yearly increases in consumer complaints.
Here are the best practice we recommend you adopt to comply with FCRA requirements and minimize your legal exposure:
Follow the "Permissible Purpose" for Using Background Checks
If you have an agreement in place with your third-party background screening provider to screen for "employment purposes," you shouldn't perform background checks for any other reason. Conducting checks for any other purpose than the "permissible purpose" is a violation of the FCRA.
Provide Proper Disclosure and Obtain Written Content
Employers must provide a "clear and conspicuous" disclosure to candidates and obtain written authorization prior to performing a background check. There have been many class-action lawsuits centered around non-compliant disclosures. A few years ago, the FTC provided guidance on how to keep required disclosures simple because using overly complicated language may in fact violate FCRA requirements.
Note: If your candidates are logging into a secure portal to enter their data for the background check, it's likely that this requirement is captured there. Ask your screening provider to be sure!
Certify Your Compliance
Prior to obtaining a consumer report such as a background check, an employer must certify to the consumer reporting agency that they:
Have complied with disclosure and authorization requirements,
Will comply with adverse action; and
Won't use reports in violation of any applicable federal or state equal employment opportunity law or regulation.
Ensure that you're providing this certification with each background check request. Certn background checks are FCRA-compliant.
Maintain and Properly Dispose of Background Check Reports
Employers are responsible for secure maintenance and destruction of consumer reports. Be sure to store data securely and dispose of the data securely once you're done with it. Confidentiality and protection of consumer data are of high importance generally, but especially as it pertains to the FCRA.
More specific guidance on this topic can be on the FTC website.
Follow the Adverse Action Notice Process
Adverse action is any action that is unfavorable to the candidate based in whole, or in part, on something found in the background check. When this happens, a two-step notification process is required per the FCRA.
The first step requires that a notice be sent to the candidate which includes a copy of the consumer report and a copy of "A Summary of Your Rights Under the Fair Credit Reporting Act." This step gives the candidate an opportunity to review the report and dispute any information that may be incorrect. After a sufficient amount of time of at least five business days (depending on the requirements of the state or locality), and if there's no dispute, a final adverse action notice can be sent.
The second and final notice tells the candidate of the final decision and must include the name, address, and phone number of the third-party consumer reporting agency that provided the report that influenced your decision. We published a guide for employers on adverse action requirements.
If you need assistance with the details of these obligations or language to include in the notices, review the FTC guidance, talk to your screening provider about providing you with templates, and/or consult with your counsel.
Include the "Summary of Rights" When Sending Report Copies
Any time a candidate requests a copy of their report, it should be provided to them securely along with a copy of "A Summary of Your Rights Under the Fair Credit Reporting Act."
Consult with Your Legal Counsel
Speak with your legal counsel to ensure you have proper controls in place to stay compliant with state and federal laws. While this shouldn't be considered a substitute for legal advice, Certn's educational resources on what to consider when establishing a US background screening policy can be a useful tool for establishing a culture of background screening compliance.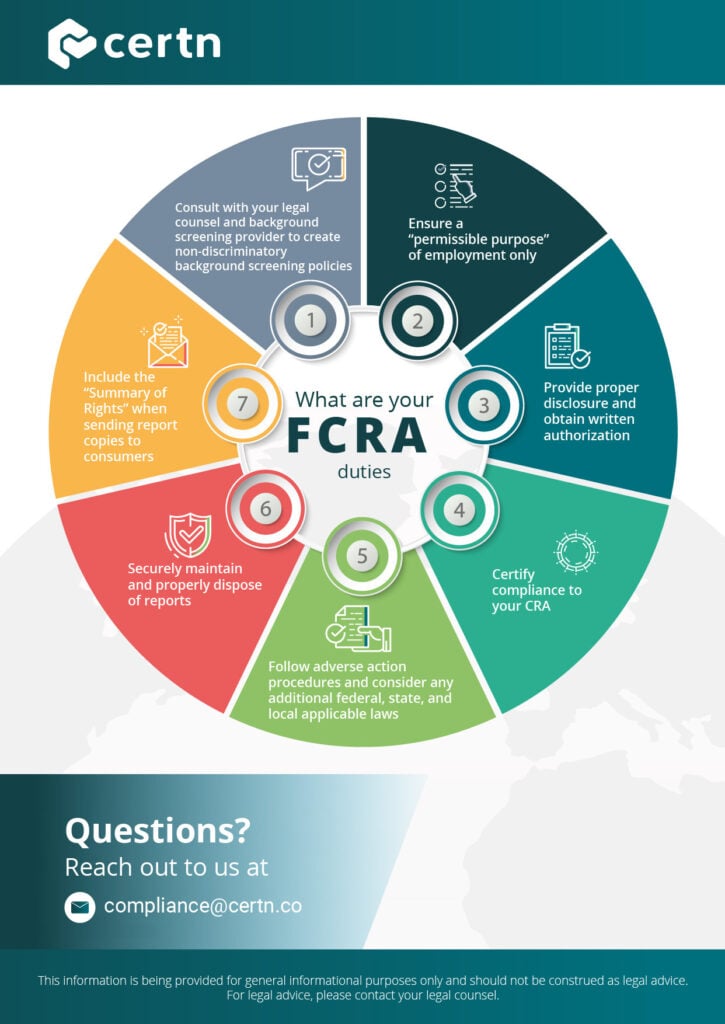 Other Federal, State, and Local Considerations
In addition to the FCRA requirements, we want to remind you of a few other federal, state, and local legal frameworks that often play a role in conducting compliant background checks for employment purposes.
Equal Employment Opportunity Commission Guidance of 2012
In 2012, the Equal Employment Opportunity Commission (EEOC) released guidance for employers on how to perform criminal background checks in a non-discriminatory way. It isn't a law, but rather a resource employers should look to when creating hiring policies and making employment decisions to ensure fairness and to avoid Title VII discrimination claims. It touches on the idea of not using bright-line hiring policies which adversely impact minority groups.
The guidance also urges employers to conduct individualized assessments on every candidate by considering and documenting the nature of each criminal offense, how much time has passed since the offense, and its relation to the job before making any decisions. It's a good idea to read and understand this guidance. Certn also has samples of individualized assessments for our clients.
Ban the Box and Fair Chance Laws
37 states and over 150 cities have implemented some sort of criminal justice reform law. These laws often called "Ban the Box" or "Fair Chance" laws aim to make it easier for people with a criminal record to find their way back into the workplace. The most basic type of these laws and ordinances may simply "ban the box" that asks individuals to indicate if they have a prior criminal history in their job application. The more modern versions of these laws incorporate conditional offer requirements prior to running background checks, individualized assessment requirements, criminal record usage limitations, adverse action requirements beyond the FCRA, and the list goes on.
As always, you'll want to consult with your counsel about where your business operates to ensure that you adhere to all appropriate requirements. A helpful guide can also be found on the National Employment Law Project (NELP) website.
Credit Reports in Hiring Decisions
Performing credit checks as part of a background check is a hot-button topic. Not only have many states and localities put detailed limitations on their use in employment decisions but a few states have also added consent form specificities (e.g., CA, CO, CT, MD, OR, VT, WA) and layered on notice and adverse action requirements. To boot, some states and localities have banned the use of credit checks completely (with narrow exceptions).
Credit checks should only be requested in limited instances. If you want to perform credit checks but are unsure if you should, consult with your legal counsel or background screening provider to help you decide! Certn also has many resources to help you determine if credit checks are right for you. As a general rule, you should only perform background checks that are relevant to the role you're hiring for. It's equally important that whatever checks are deemed appropriate for a certain role, that the same checks are performed on everyone to avoid discrimination claims.
Looking for a quick reference guide? Here is a summary of what you as an employer should consider as best practices for compliance: USA Employers FCRA Best Practices Guide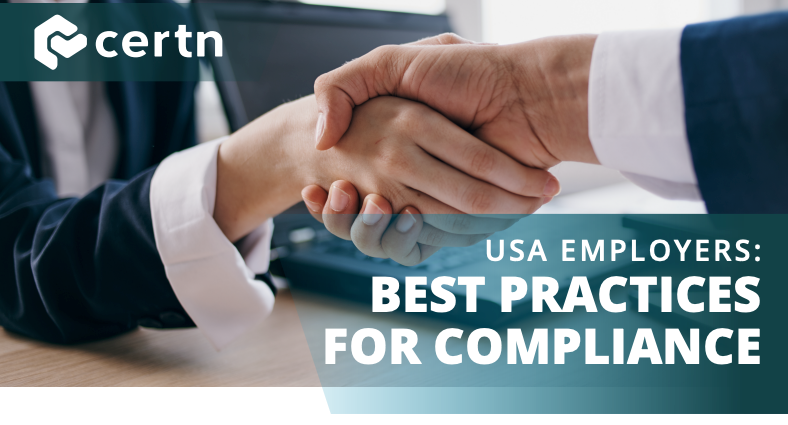 Get Compliant Background Checks
Navigating FCRA requirements is vital for employers when conducting background checks and using consumer reports in their hiring processes. The FCRA aims to promote fairness, accuracy, and privacy for job applicants and employees, and failure to adhere to its guidelines can lead to costly litigation and legal repercussions.
Beyond the FCRA, employers must also consider other federal, state, and local legal frameworks, such as the EEOC guidance and Ban the Box or Fair Chance laws, which can impact background check policies and hiring practices. Being well-informed about these laws is essential to maintaining a fair and inclusive workplace.
By adopting best practices outlined in this blog post and seeking guidance from legal counsel or reputable background screening providers, you can create a culture of background screening compliance while finding the best talent to drive your organization forward.
The process of compliant background checks doesn't have to be a daunting challenge. If you have outstanding questions or want to learn more about how Certn can help, book a call to discuss Certn's screening packages that make the most sense for your needs.
Written by:
Katie Kulp, VP US Operations & Compliance, Certn

Katie has worked in the background screening industry since 2006 and has been an active member of the Professional Background Screening Association (PBSA) and its committees for over 15 years. In addition to overseeing Certn's US operations and compliance, Katie previously Co-Chaired the US Government Relations Committee and is currently serving her second term on the PBSA Board of Directors.