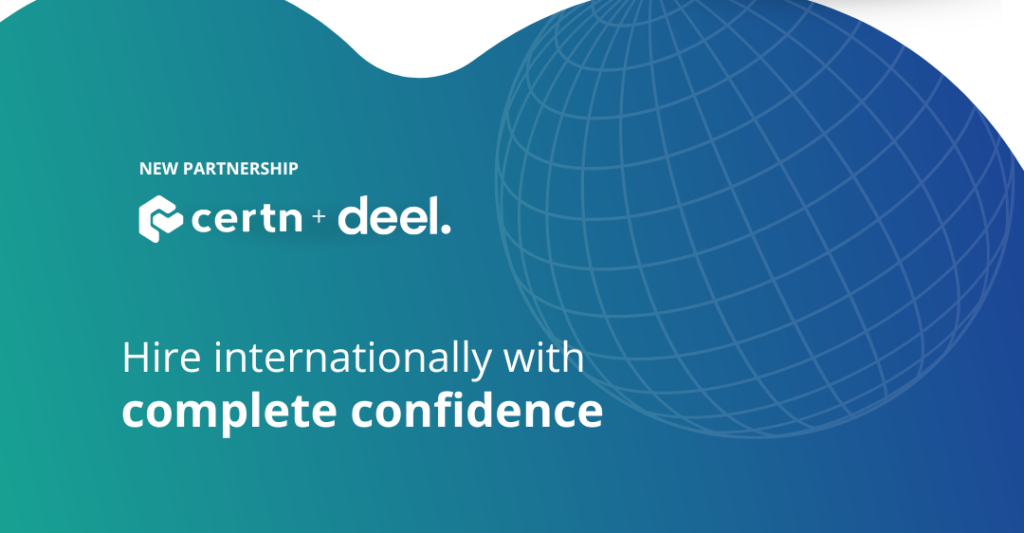 Certn and Deel Are Reshaping How Companies Hire
VICTORIA, BC, Nov. 22, 2022 — Today, Certn, a leading global background check provider trusted by 10,000+ customers, announced that its background screening solution is integrated with Deel, a remote hiring company with the #1 rated global payroll solution. This partnership creates the first hiring platform to embed background checks into its onboarding workflow. With automated payroll and compliance, companies of all sizes can simplify international hiring, lower hiring costs, and improve the user experience for recruiters and candidates alike.
"Companies can't afford to wait on the phone for hours or miss out on candidates because results take too long," said Andrew McLeod, CEO of Certn. "The manual alternative, chasing documents, and remembering multiple logins sucks. Certn's platform makes it faster and easier to run background checks and verify international credentials. This integration with Deel removes the compliance logistics and time consuming process of hiring and onboarding global talent."
Quick Facts
Background checks are the norm: 93% of firms globally run background checks as part of the hiring process
Stay compliant: In regulated industries it's a legal requirement to run regular background screenings
Reduce time to hire by up to 80%: Certn's real-time background checks streamline hiring with AI to automate tasks and instant ID verification to avoid delays
Decrease turnaround times by up to 35%: Certn's mobile-optimized experience means users complete the process faster, reducing potential candidate loss in a competitive hiring environment
The Global Workforce Revolution
As companies tap into international markets to fill vacancies more quickly and unlock new ways of thinking, so does the need for knowledge of local laws and tax systems. Deel is reshaping how companies hire and pay global employees with their payroll solution. "With this integration, the best part is that users can benefit from the security and efficiency of the Deel platform and do even more in a few clicks," said Deel CEO and co-founder Alex Bouaziz. "We're thrilled to partner with a company like Certn that's equally obsessed with building tools that shape the future of work."
Nothing should come in the way of businesses hiring the best global talent and building the best global teams. This partnership is another step toward a faster, easier way to hire anyone.
About Certn
Certn isn't a background check provider with a tech department, it's a tech-first leader innovating every part of the background screening process. Certn is changing background screening globally by offering the easiest-to-use platform, checks in 200+ countries and territories, free 24/7 customer support, and fast and compliant results. Trusted by 10,000+ users, Certn helps businesses manage risk, stay compliant, and hire faster—all while delivering candidate experiences that help them stand out. Learn more about Certn at https://certn.co/.
PR Contact
Gabe Velenosi
Certn
[email protected]
About Deel
Deel is a leading global compliance and payroll solution that helps businesses hire anyone, anywhere. Deel's technology offers unmatched payroll, HR, compliance, perks, benefits, and other capabilities needed to hire and manage a global team. Using a tech-enabled self-serve process, Deel's customers can hire independent contractors and full-time employees in over 150 countries, compliantly and in minutes. With more than 250 legal, accounting, mobility, and tax experts as partners, Deel enables any business to create, sign and send compliant localized contracts from a library of templates and pay teams in more than 120 currencies with just a click. Founded in 2019 by Alex Bouaziz and Shuo Wang, Deel is a fully distributed company with employees based worldwide. Learn more about Deel at https://www.deel.com/.
PR Contact
Kiran Wylie
Deel
[email protected]