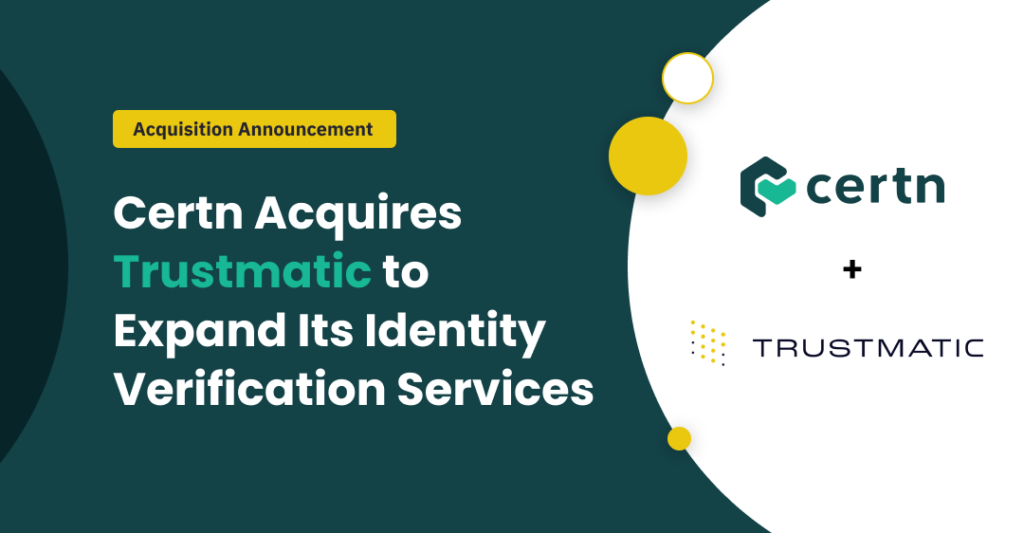 Certn's Fourth Acquisition: Trustmatic Identity Verification
Certn represents something bigger than background screening. We're creating a world where you don't have to settle for the status quo and can build trust with anyone, anywhere. In addition to our faster and easier online background checks, our vision for changing the way trust is established includes digital identity services such as real-time, instant identity verification.
Trustmatic Identity Verification
As part of changing the way trust is established, we're excited to announce that Certn has acquired Trustmatic, a Europe-based identity service provider. The potential to enhance security, simplify user authentication, and provide greater control over sharing personal data has a crucial role in shaping the future of background screening.
Trustmatic's identity verification technology consists of identity document reading and authentication, face liveness detection, and biometrics. Trustmatic's service is entirely automated, which, similar to other Certn products, proudly results in cost and time savings for clients. The service is ISO 27001 certified.
You can read more in the press release.
Through this acquisition, we're improving our identity verification service for our customers, diversifying into Know Your Customer (KYC), and adding to the vision we have for the future of background screening.
About Trustmatic
Trustmatic is a fast-growing identity verification company that helps businesses detect advanced fraud attacks and onboard more users into their platforms with a high-level of accuracy. Powered by industry-leading AI and biometric algorithms, Trustmatic enables users to verify their identity in seconds using just their ID and a selfie while maintaining a seamless user experience and a high level of security. Learn more at trustmatic.com.
About Certn
Certn offers better and faster experiences for everyone. Certn is revolutionizing background screening with the easiest-to-use online platform, 24/7 customer support, and fast and compliant results from global databases. Why wait? Trusted by 20,000+ teams, Certn helps businesses hire faster and manage risk — all while delivering user experiences that help them stand out. Learn more at certn.co.
PR Contact
Gabe Velenosi
Communications Manager, Certn
[email protected]