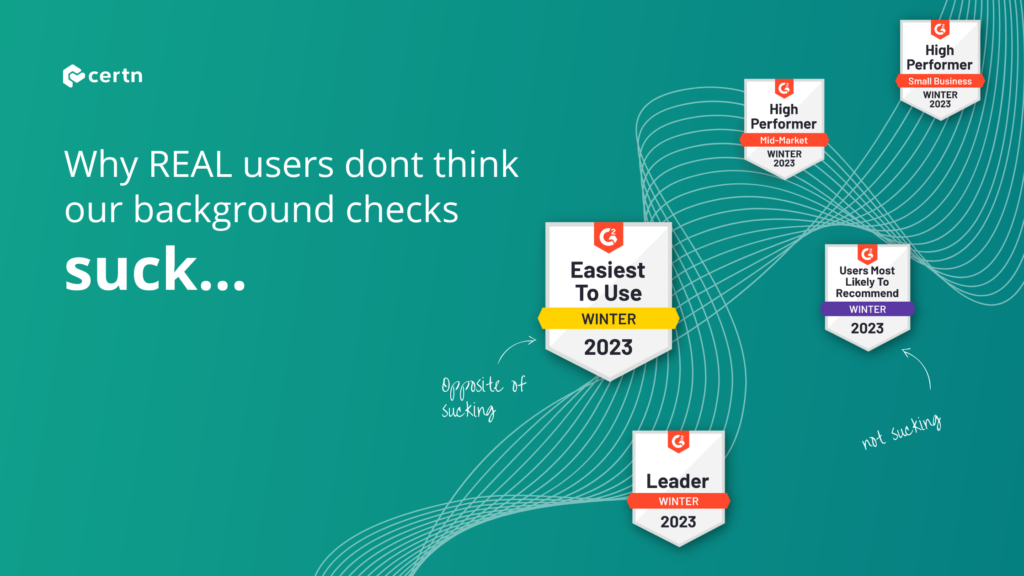 December 19th, 2022
Certn Named Leader in Background Checks
3 min read
G2 Rates Certn Leader in Background Check Category
TL;DR The G2 2023 market reports awarded Certn its usual badges for Leader and Easiest to Use, which is always something to celebrate. But we're even more excited to announce that we were recognized with three new badges: Users Love Us, Most Likely to Recommend, and Leader on the Momentum Grid! We work hard to provide our clients with the easiest background screening, so this recognition means a lot to us.
G2, the popular software and business services comparison website, releases quarterly market reports with user satisfaction ratings based on reviews by real users and social data. This means each quarter we're given an opportunity to celebrate our user experience wins based on feedback from our actual small-, medium-, and enterprise-sized clients. These reports are also your best way to get transparent reviews from real background check users.
The Winter 2023 and the Momentum Grid reports recap the Best Background Check Software. We received G2 award badges for Leader, Easiest to Use, and Users Love Us. We also picked up Most Likely to Recommend and Momentum Leader in the background check category.
We've been a leader in the Background Check Software category throughout 2022. It's rewarding to know going into 2023 that we're already making a difference.
Best Background Checks
Our 2023 Leader status makes sense since we're committed to changing background screening globally by offering better background checks for everyone. If you're new here, better background checks means that they're faster and easier, and delivered with friendly 24/7 customer support for candidates and clients that might need help along the way.
Momentum Leader means we rank in the top 25% of our category's products by users, which is further proof that our background checks don't suck.
What does this mean for you? You can have confidence that by choosing Certn for your screening services like domestic and international criminal background checks, credit reports, reference checks, education and credentials verifications, you're getting the best. Contact us today or sign up to get started.
Rating Background Check Software
To qualify for a rating, the service provider must be accredited by the National Association of Professional Background Screeners (NAPBS) and classified as Consumer Reporting Agencies (CRA) under the Fair Credit Reporting Act (FCRA). According to G2, the product must:
Provide background screening of candidates such as employment, education, credit history, and criminal background checks;
Track the status of background checks in real time;
Facilitate direct communication between the candidate and screeners;
Securely store and protect all background check results; and
Integrate with a larger suite of HR software.
Each quarter, the companies that reach the top quadrant of the G2 grid earn a Leader badge as outlined in G2's scoring methodologies. 25 background check software companies were rated on the grid based on this criteria in the Winter 2023 Report.
In addition to being a Leader, we're also:
Easiest to Use
The results are in! It gives users peace of mind to have background checks that:
Can be sent and completed in a few clicks from a smartphone;
Use data pre-fill and don't require candidates to print documents; and
Issue automated reminders and prompts for faster turnaround times.
With Certn, you can order the background screening you need right from your applicant tracking system (ATS) or hiring platform, and your candidates can complete them with just a few clicks—right from a mobile device. For busy HR professionals, managing hiring, background screening, and onboarding workflows all in one place means hiring faster and hiring easier.
"Easy background checks that integrate with Drata." – G2 reviewer
Users Love Us
What does our Users Love Us award mean for you? When something is easy to use and produces helpful results, you want to use it.
Great UX
Our user interface platform is easy to navigate which makes it easy to train new HR staff on how to start screening so they can hire with confidence.
Fast Results
On top of this, you get results fast instead of waiting days and weeks, this helps your team stay efficient and effective. This means you can onboard new hires more quickly without compromising quality or due diligence.
What's not to love?!

"Great UX and supportive team" – G2 reviewer
Most Likely to Recommend
The Most Likely to Recommend category speaks for itself…literally.
Here are some things Certn customers say about us:
"100% recommend Certn." – G2 reviewer
"Highly recommend" – G2 reviewer"
"Easy to use, quick, intuitive, great interface." – G2 Reviewer
Leader in Background Screening
We're proud to be recognized as a Leader in the Background Screening Software category again this quarter and for the year.

Background screening is an essential element of building trust in the hiring process. Certn is making building trust simple by delivering fast and frictionless background screening that helps businesses make informed hiring decisions in a competitive labour market.
Background Check for Free
Are you ready to start using the best background check software? Contact us today or sign up to get started.