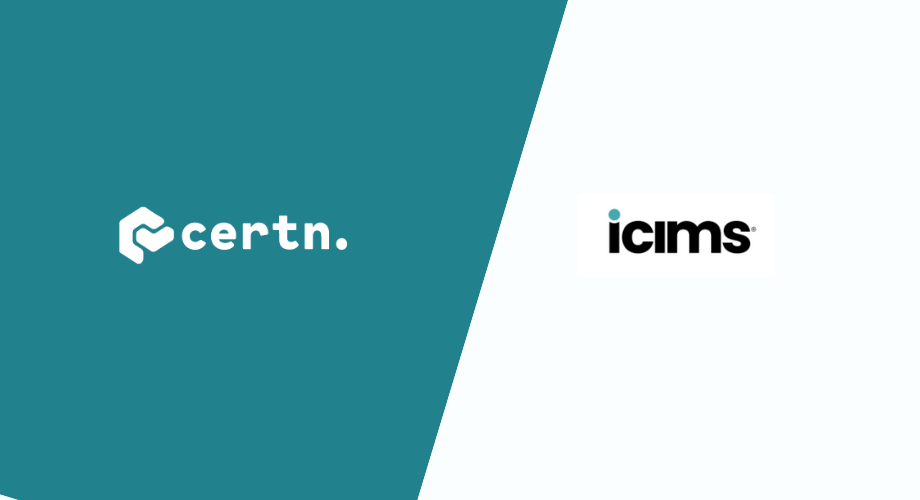 April 29th, 2021
Meet Certn's New Applicant Tracking System Partner—iCIMS
1 min read
Given our mission here at Certn build trust in people by revolutionizing the background check process, we're excited to announce our partnership with iCIMS — the world's leading Talent Cloud all-in-one hiring platform, which empowers employers to build a diverse, qualified, and winning workforce.
Here at Certn we're proud to provide a fully customizable integration with our background check platform and the iCIMS hiring platform to streamline the hiring process for our clients.
The iCIMS integration is now live, and clients have the power to set up and start running background checks all on their own! This partnership, like our other partnerships, ensures recruiters have access to an all-in-one hiring platform, enabling them to run thorough background screening and hire the best candidates inside their existing hiring process workflow.

Background Checks to Help Your Hiring Process
Certn's integration with iCIMS is built for recruiters, so it's designed to be as seamless and self-serve as possible. This means you can customize your own background screening packages, create email templates, and even initiate the integration without needing technical intervention. This integration centralizes the end-to-end experience for recruiters by eliminating the need to access two separate platforms. Once the qualified applicant moves into the screening process, the Certn background check is automatically sent. Real-time background check results show up in the iCIMS platform in minutes. This integration is available at no additional cost for customers who have both iCIMS and Certn.

How do I integrate Certn with iCIMS?
Our friendly Certn account managers (or another user) provides the iCIMS user with the username and password that's generated on the iCIMS integrations panel, located in "Settings" on the Certn platform.
Enter the iCIMS data into the form found in the iCIMS integration panel, and then click the "Enable Integration" button.
Start building background screening packages by clicking on the "Create a New Package" button.
How do I Order Background Checks After the Integration is Set Up?
Add the custom package to the job posting
Create a candidate by clicking on the "Create" dropdown
Assign the candidate to the "Job" you created then dispatch the Certn background check
Click on the "Advanced" button shown below to initiate background check:


Status updates will display on the applicant as the application progresses and a link to the results will be added once the results are available.
Ready to run background checks and hire the best available candidate? Try the Certn and ICIMS integration now.