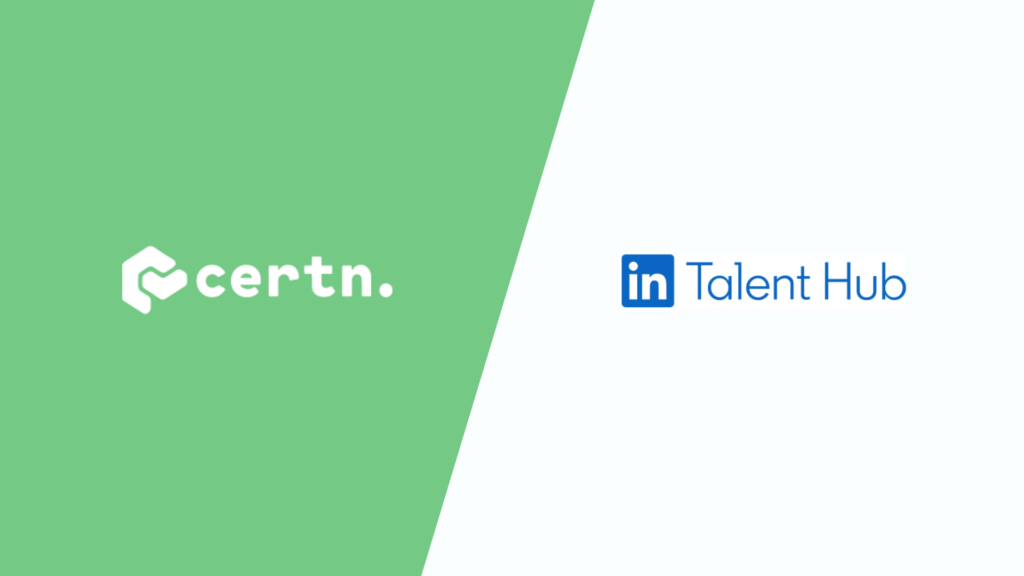 March 9th, 2021
Certn Integration With LinkedIn Talent Hub
2 min read
---
Certn is integrating machine learning and artificial intelligence (AI) in new ways, to provide the best possible background check experience for businesses to characterize and evaluate their people — employees, tenants, borrowers and more.
By teaming up with one of the top, globally recognized Applicant Tracking Systems (ATS), LinkedIn Talent Hub, we are finding new solutions to better assist companies around the world.
Our mission of building trust aligns with LinkedIn's mission of connecting people to economic opportunities. The partnership with Certn and LinkedIn Talent Hub ensures recruiters will be able to find the perfect candidates seamlessly with the talent application tracking integration, allowing for the benefits of Certn to be a key part of their recruiting system.
What are the Benefits of Certn Integration with LinkedIn Talent Hub?
Other than having access to one of the top networking platforms in the world which allows you to recruit the best candidates for any organization at your fingertips, you can now complete a background check on applicants without ever needing to leave LinkedIn Talent Hub.
The Certn integration increases recruiting efficiency, saving time and manual effort by eliminating the need for two platforms. Instead of manually entering a candidate's qualifications into a secondary screening process (which can result in errors), you'll be able to initiate a background check directly from the LinkedIn Talent Hub interface.
Certn's smart technology also allows you to track the hiring progress, with full, easy-to-read reports that drive trust and transparency between the applicant and recruiter.
How do I integrate Certn with LinkedIn Talent Hub?
Contact

[email protected]

to set up background check packages for your organization.
*Note: The integration cannot be set up without these packages.
Once you have your packages setup, go to the "product settings page" on LinkedIn Talent Hub by clicking the "Person" Icon in the upper right-hand corner, and then click "Product Settings".
In Product settings, click on "Integrations".
Find Certn in the available integrations, and click "Authorize".
Once you click Authorize, you will be redirected to the Certn login page. Login to Certn to complete the integration setup between Talent Hub and Certn.

I have the Certn Integration setup, how do I order background checks?
Click on the candidate
Click on the ellipsis
Click "Run background check"


Select Certn as the "Background check provider"
Select a "Screening package"
Verify the candidate's email address
Click "Start check"


Once the background check has been initiated, go to the "Projects" tab in the candidate's profile for updates. You can check the status of the background check, or view the results once the background check has been completed, by clicking "View". This link will redirect to your Certn dashboard.


Certn is committed to helping businesses in different sectors find peace of mind when evaluating new candidates. As we continue to elevate smart technology into our products and services, key partners like LinkedIn Talent Hub help drive our mission of building trust, producing faster results, and helping to diversify work environments.
Ready to start hiring the best candidate for the job? You can try the Certn integration now on LinkedIn Talent Hub!
Click here for more information and to contact us for assistance.
Interested in getting started with Certn? Book a demo with us to find out how we can help refine your screening process and start hiring with confidence.