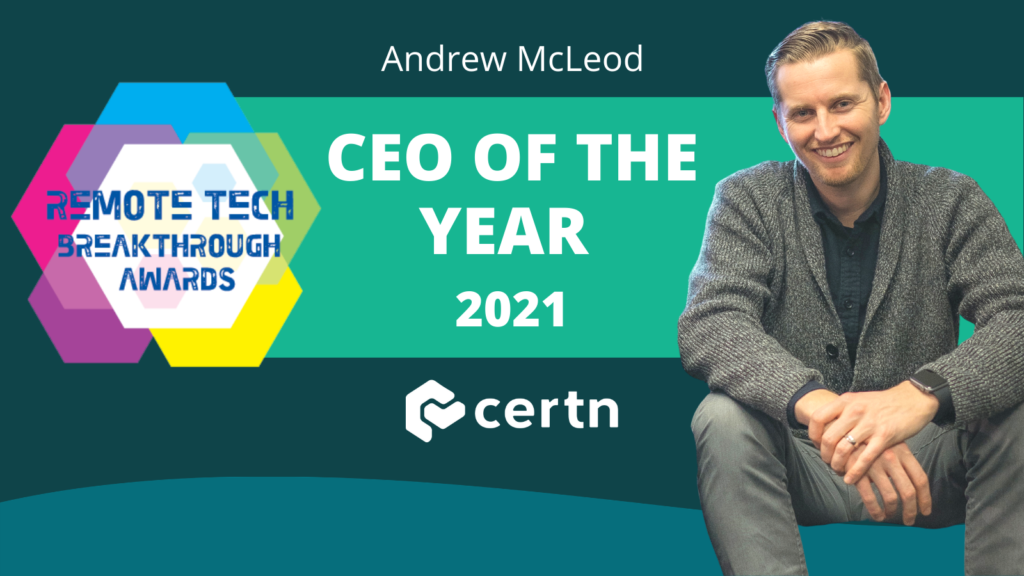 Amidst tough competition, McLeod was recognized for his leadership, empathy, and innovation in using tech to facilitate remote work.
VICTORIA, BC | JUNE 24, 2021 — Certn is pleased to announce CEO and Co-founder Andrew McLeod has been recognized as the "Remote Tech Breakthrough CEO of the Year". With the increased importance of remote technology in business evolution and innovation, this award acknowledges McLeod's efforts to lead the evolution of modern work and navigate towards successful remote operations as a result of the COVID-19 pandemic.
"I am very delighted to be recognized as the CEO of the year," said Andrew McLeod, CEO of Certn, one of Canada's fastest-growing start-ups and a leader in people technology, based out of Victoria, British Columbia. "It's been phenomenal to see Certn grow, and I'm grateful for all of our amazing Certonians collaborating on solutions that build trust in people. We live by our trust mission daily, as trust is such a fundamental part of successful businesses today. We are glad to be a part of the tech revolution that facilitates trust in the global workplace. The world of work has shifted and business owners need to get on board to stay afloat in the current economy."
Tech Breakthrough, a leading market intelligence organization that helps bold thinkers share their informed ideas and groundbreaking innovation with audiences that matter, established the yearly Remote Tech Breakthrough awards to recognize the world's best technology companies, products and services that empower remote work around the globe. For its 2021 awards, it received over 1,600 applications from remote tech businesses globally. Canada's Andrew McLeod was recognized as a winner in the CEO of the Year category.
Winners from other categories of the awards include AirSlate, Lever, Monday.com, RingCentral, Zapier and an impressive list of top companies and startups in the RemoteTech industry.
Certn, a Vancouver-based tech startup, secured $43 million in multiple funding rounds in 2020, helping the company expand its product offerings globally, providing real-time background screening solutions for leading employers and staffing agencies, as well as expanding the Certn team with key personnel and industry experts.

ABOUT CERTN
Certn is the leader in human risk intelligence solutions, focusing on providing real-time comprehensive background checks and ongoing risk monitoring for employees, contractors and tenants around the world. Used by leading employers, staffing firms, property management companies and the gig economy, Certn returns domestic and international criminal background checks, credit reports, reference checks, education verification, employment verification, motor vehicle records, identity verification and more in minutes. Through innovative, friendly, and compliant technology, Certn is advancing trusted connections around the world.
Website: certn.co
Facebook: @Certn.Co
LinkedIn: Certn
Twitter: @Certn
Instagram: @Certn.Co
About Remote Tech Breakthrough
RemoteTech Breakthrough is part of the Tech Breakthrough organization, which specializes in conducting market research and recognition programs in today's most competitive technology sectors, including IoT, Cybersecurity, AgTech, Mobile/Wireless, Digital Health, FinTech, and the RemoteTech sector.
Website: remotetechbreakthrough.com
LinkedIn: linkedin.com/company/techbreakthroughawards
Twitter: twitter.com/TopTechAwards
For media inquiries: [email protected]