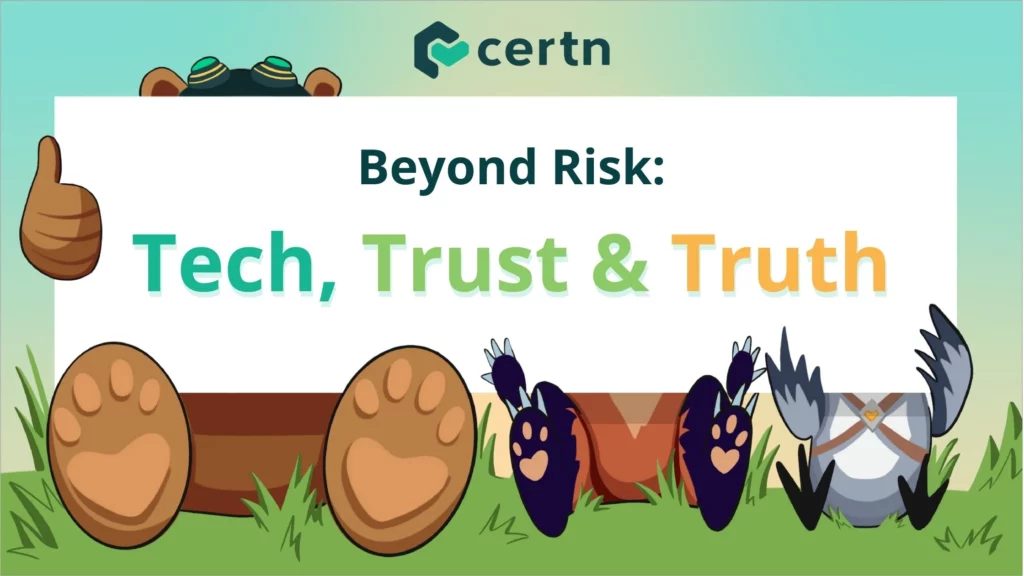 September 14th, 2021
Beyond Risk: At Certn, It's All About Tech, Trust and Truth
3 min read
---
The background check industry has too long revolved around risk and safety – intimidating topics. Many of our competitors use fear and uncertainty as a selling point. But at Certn, our goal is to move away from these tactics and focus on the three Ts: Tech, Trust and Truth. It's about flipping the script – building trust rather than stoking fear.
Employer branding will also become a factor in building trust with the public. Building trust, having solid processes in place and treating employees fairly is becoming a significant aspect of how the public views a company. You don't want prospective hires worried you'll uncover every little thing they've ever done, like this man was. And you don't want to be like 38% of employers in one survey that lost a candidate because of a negative experience with the screening process.
For these reasons, we're changing things up and making sure our look matches our ethos.
The three Ts that set us apart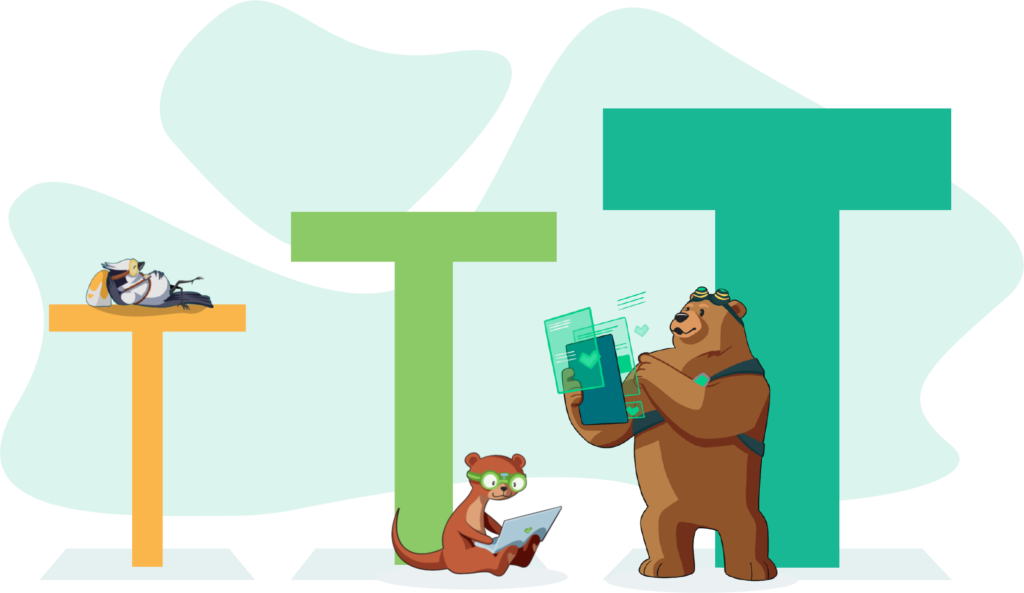 First is our Tech. We hire the best tech talent there is, and we invest in our product first. We know that our technology is superior and that our platform is superior. Our tech is what sets us apart from our competitors, and our UX is the "aha" moment for customers. The tech piece is the foundation of our three Ts. Our technology enables automatic checks, versus the traditional manual checking process, via a proprietary API-focused platform. It connects to any ATS, HCM or API that works best for the customer.
Another differentiator is Trust. Our technology helps us achieve our mission: to build trust in people. In turn, we want our customers to trust in our tech and our product promise. This allows us to build our reputation and expand globally. We currently have almost 150 employees from 15 countries. We create trust with employers by providing fast, friendly and fact-based background information on people. We also extend a positive user experience to the candidates to ensure they are comfortable with the process and feel supported.
Our third T is Truth. Our tech pulls directly from data sources, including government databases, to significantly shorten turnaround times. It offers near-real-time screening results for verification and background information. Our platform records the candidate's resume, contact details and where they are in the interview stage in a centralized ATS. Once our clients can trust that we will deliver on our promises, we become their single source of truth for all human risk data.
Why trust matters
One of our most significant goals is to grow trust with other companies. Remember this adage from Stephen M. R. Covey: Business moves at "the speed of trust." Indeed, trust builds reputation and ultimately allows a company to thrive. By doing our job well, we are able to create trust with our own clients and build our brand to be seen as a "single source of truth."
We build trust within the gig economy, in remote work environments and in our products. The gig economy presents a unique situation because it relies on employees to interact with clients without supervision. This means trust is required on many levels to build a positive reputation for the company. Employers need to trust that employees are providing their services safely and professionally. Consumers need to trust the employees who deliver goods and services directly to their homes.
The gig economy contains risk, and our services can help reduce it. Employees who pass background checks are significantly less likely to be involved in workplace incidents, which helps to build the reputation of the company and allows it to grow.
We build trust in the remote work environment. As a largely remote company, we are clear about the level of trust needed for the system to work. Much like the gig economy, remote work requires trust between employers and employees. Employers need to ensure that their remote workers can do their jobs properly without supervision, communicate effectively with colleagues and, in many cases, interact directly with clients. Trust and efficiency are always the critical ingredient to making this system flow smoothly and build reputation with clients.
We build trust in our products. Though background checks are becoming a common service, not all services are created equal. Certn's products are fast and innovative and provide an overall better user experience than many of our competitors. We have features that make companies like Sterling obsolete. For example, our SOQUIJ checks are automatic, while they still have people running to the courthouse. Living up to our "Fast, Friendly, Comprehensive" model in our product is a fundamental part of how we build trust with our clients.
Our new look
To fully realize our emphasis on tech, trust and truth, we are getting a makeover, complete with a new logo and mascots. Our logo has a unique design. In the center of our hexagon, which represents our technology, sits a heart. This heart shape is used throughout all our logos. The heart shows that we care about our clients. We want to emphasize the fact that we are here for customers with a welcoming presence.
Our creative rebrand includes three new mascots. We'll share more about these new animal buddies later, but for now we'll briefly introduce them: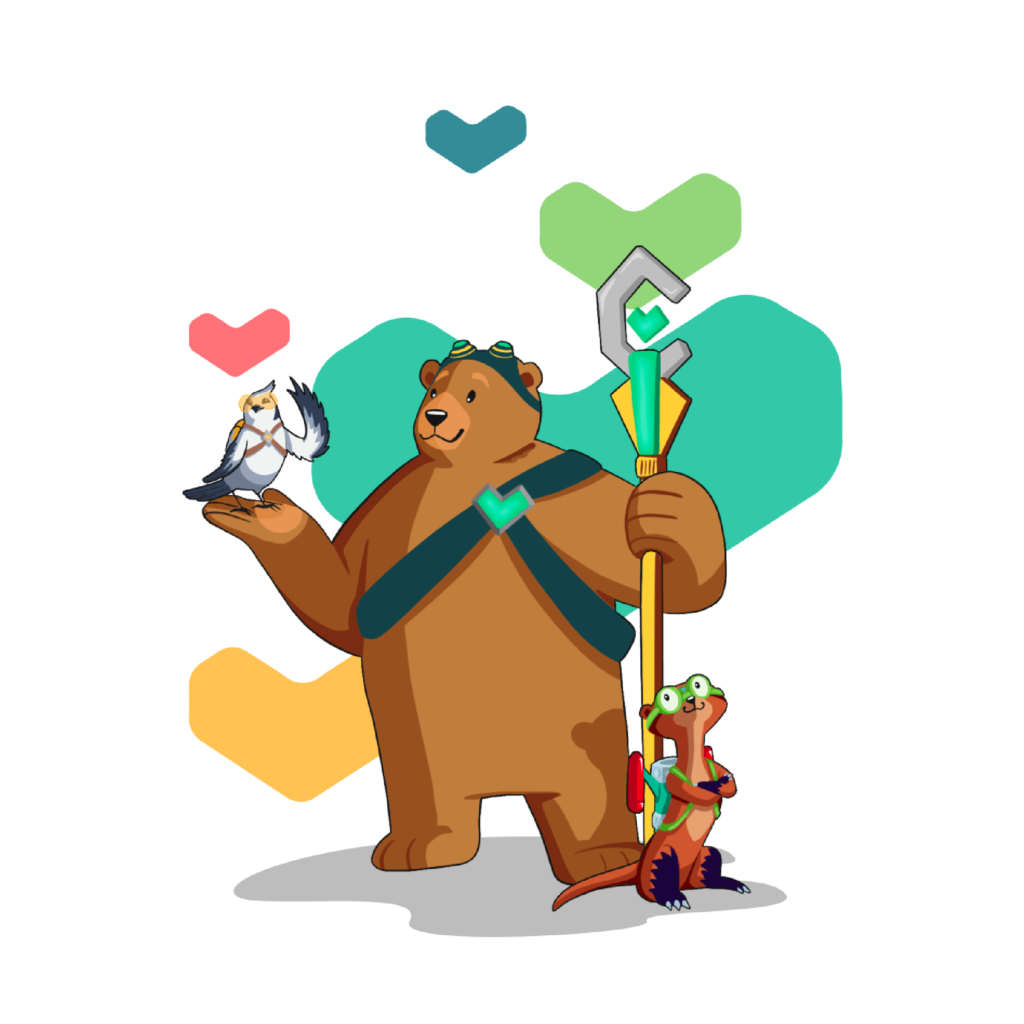 Magnus – A sage bear, representing strength, bravery, trust and helpfulness.
Rosa – An adventurous whiskey jack, representing agility, freedom and understanding.
Ollie – A small but mighty otter, representing reliability, innovation and agility.
Necessary and good
In today's world of work, background checks are necessary – but they don't have to be intimidating. We believe in creating a culture of trust that employers and candidates benefit from by offering a service that's easy and quick for all parties. Our new look is an extension of that mission. Stay tuned for a closer look at how our visuals match our intention!
Find out how Certn can help you.