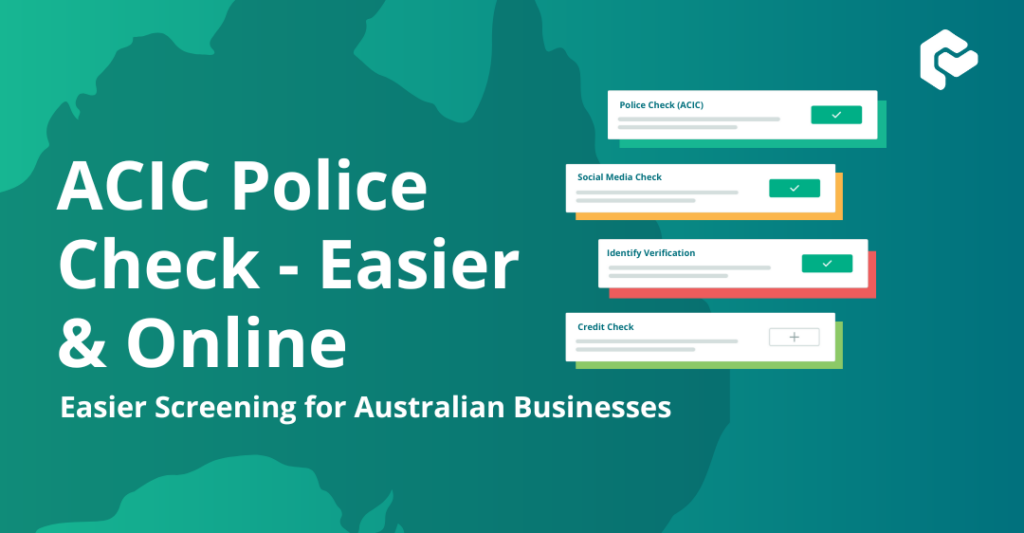 ACIC Police Check – Easier and Online
Victoria, BC, March 30, 2023 – Today Certn InterCheck, a leader in background screening and identity verification, announced the launch of self-serve screening products in the Asia-Pacific region. This launch means that online background checks are more accessible and easier to use for small- and medium-sized businesses that need fast pre-employment screening.
Background screening plays an important role in ensuring that organizations don't employ unsuitable candidates. It's simple: faster background checks mean faster hiring. 80% of our background checks are completed on a smartphone, and this self-serve product caters to the changing needs of customers.
Types of Background Checks Available in Australia
ACIC Police Check
Also known as the Nationally Coordinated Criminal History Check, but more commonly referred to locally as a police check, an Australian Criminal Intelligence Commission (ACIC) police check is conducted by Australian businesses to determine a candidate's suitability for employment or as required by Australian legislation.
Social Media Screening
Social media screening uses technology to scan a candidate's public social media profiles and other online content for potential risks. Social media screening can provide information that a criminal record check or other screening may not show.
Identity Verification
Instant identity verification, OneID, establishes the real identity of candidates by verifying over 11,000 types of government-issued identity documents. Our technology uses biometric facial recognition to help you hire more confidently and compliantly.
Click here to learn more about Certn Intercheck's self-serve products.
One Global Platform
Consistently rated Easiest to Use by G2.com, the world's largest and most trusted software marketplace, Certn's mobile-enabled user experience is easier for recruiters and easier for their candidates. It's that…easy.
Through Certn's online platform, Certn InterCheck users in the Asia-Pacific region also have access to flexible pay-as-you-go pricing, top industry compliance, and custom screening packages integrated with their preferred applicant tracking system (ATS) or hiring platform.
About Certn
Certn offers better background checks for everyone. Certn is revolutionizing background screening with the easiest-to-use online platform, 24/7 customer support, and fast and compliant results from global databases. Why wait? Trusted by 10,000+ clients, Certn helps businesses hire faster and manage risk — all while delivering user experiences that help them stand out. Learn more at certn.co/anz/self-service.
PR Contact
Gabe Velenosi
Communications Manager, Certn
[email protected]