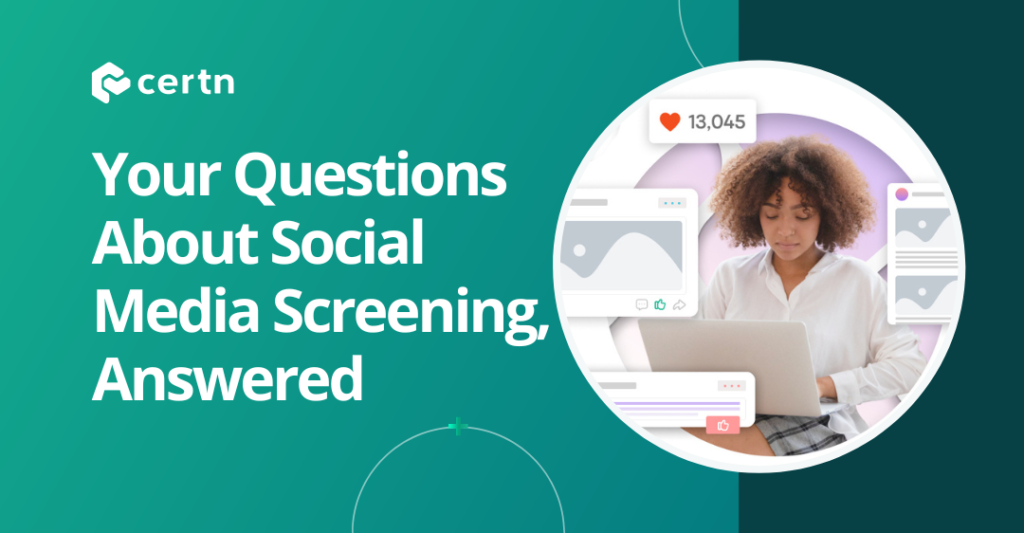 February 17th, 2023
Your Questions About Social Media Screening, Answered
3 min read
---
You've got questions about social media screening, like "What does Certn check for?" We've got your social media screening answers.
Below our background screening experts have weighed in with answers to your questions about the social media screening process such as what it is, what shows up, and what employers can do to ensure that they're running a compliant social media screening process.
What Is Social Media Screening?
Social media screening, also known as a social media background check, works by using software to analyze public posts, images, and videos from a candidate's profiles, news items where the candidate is mentioned, and other public websites like open forums. In compliant social media screening, all the public content is compared against predefined risk classifications to help you make a more informed decision.
Anything that turns up in Certn's social media screening is documented under one of the risk factors in the report for your consideration. Combined with a human analysis, the social media background check report can give you more insight into who you're hiring.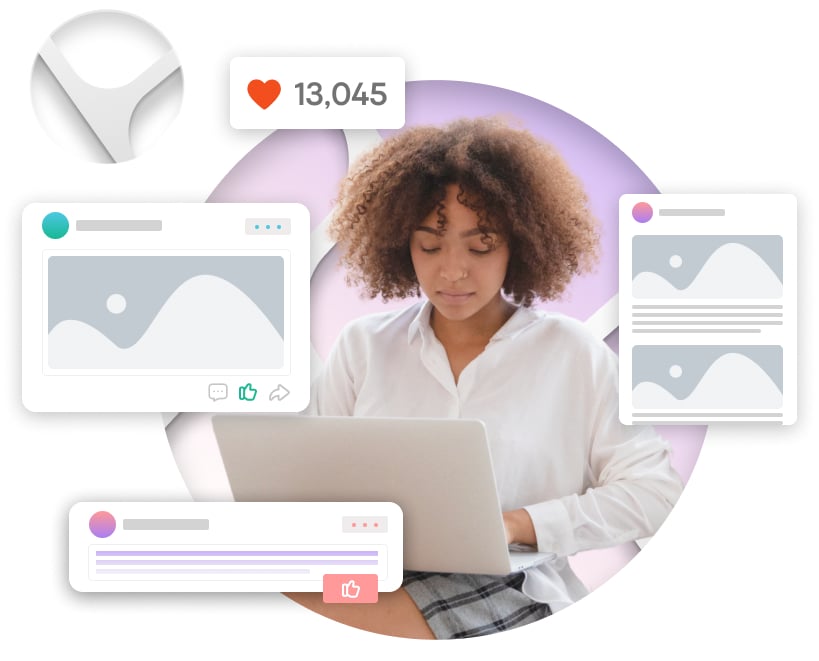 Does Social Media Come Up on Background Checks?
You're probably well aware that background checks confirm that candidates have the employment history, education, and professional references they claim to have. Whereas, criminal records checks confirm whether someone has been charged or convicted of a crime. Social media screening or a social media background check is a separate type of background screening that also requires consent. Learn more about what background checks reveal.
How do Employers Find Social Media Content?
After your candidate consents to social media screening and provides the required details, Certn uses technology to scan and analyze the candidate's digital footprint – public social media content, news items, and websites. Any flagged content is synthesized in an easy-to-read report so that you, the employer, only reviews content that matches predefined risk categories.
Only public content is analyzed in our social media screening; there's no super-secret hacking or scraping as part of Certn's social media background check.
What Shows Up on a Social Media Background Check?
A compliant social media screening process produces a report that shows public content from job-relevant risk categories, which might include racial slurs on Facebook or violent images on Instagram. Our social media screening doesn't show every "like," post, or comment – only what matters for the job.
Can an Employer See Private Social Media?
No, only public information is searched in compliant social media screening. A social media background check doesn't hack into, or scrape information from, private accounts.
Certn's Social Media Screening
To identify potential risk factors in public content, Certn's technology analyzes things like the visual content of images, text content of written posts, and metadata. Anything that's flagged according to pre-defined criteria is documented in the easy-to-read report.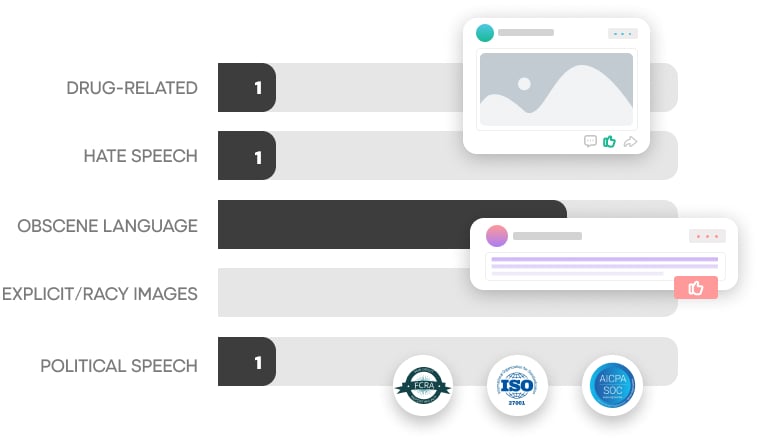 Certn's social media screening is even more comprehensive to help you make informed hiring decisions.
Word Cloud – The employer's report includes a word cloud, or a visual representation of the words most commonly used in the candidate's public-facing content. The words that appear more frequently are given greater prominence. Talk about comprehensive background screening!
Timeline – Certn's findings are mapped on a timeline to give you more context. This helps you evaluate and/or observe trends, because it might matter whether content is from one or six years ago.
How Far Back Does a Social Media Check Go?
With Certn, up to seven years of publicly available content is searched as part of a comprehensive social media background check. Though, as we mentioned above, Certn's findings are mapped on a timeline to give you more context.
Book a demo today to learn how to stay compliant when checking a candidate's online behaviour.
Benefits of Social Media Screening
We hear from our clients that they include social media screening in their background check program for three main reasons: peace of mind, more equitable hiring, and to save time.
Peace of Mind – A social media background check is one more way to arm yourself with the right information to make a more informed decision.
Equitable Hiring – With a consistent process, Certn searches for pre-determined risk criteria, all candidates are screened by the same criteria – no matter what.
Save Time – Save hours of scrolling networking sites and spend more time on what matters.
What Are Employers Looking for When They Conduct Social Media Screening?
Employers have to be careful about what information they look for and how they use it. Done compliantly, only job-relevant risk criteria is searched – what someone eats on their honeymoon in Maui or their partner's race isn't going to be flagged.
If public social media content is used in the decision not to hire a candidate, it should be directly related to the candidate's ability to effectively perform the job requirements; otherwise, you put your company at risk of legal action.
Is Social Media Screening Legal?
Yes, if done compliantly and with consent, it's legal for employers in the United States and parts of Canada (excluding Québec) to check public profiles and other public content.
However, you open yourself up to legal action if you take a do-it-yourself approach and make hiring decisions based on findings that aren't relevant to the job you're trying to fill. Certn's background screening is compliant with the Fair Credit Reporting Act (FCRA) and searches for job-relevant risk categories, flagging only the content that matches the predefined criteria.
Read more about how to conduct social media screening ethically.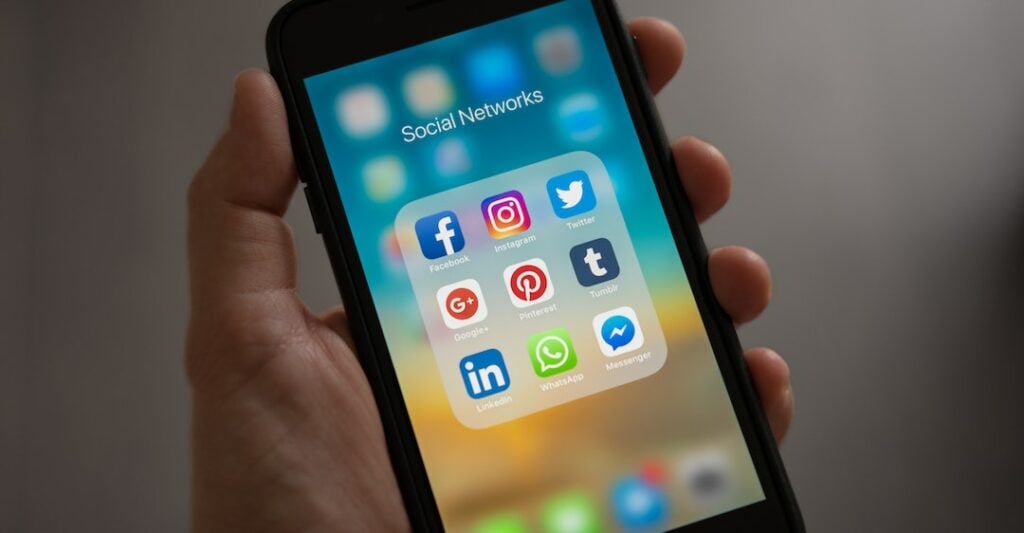 Social Media Screening with Certn
In a world where trust is key, Certn's makes it faster and easier to make informed hiring decisions. For more best practices for building a robust background screening program, book a demo to talk to one of our background screening experts.
Written by:
Certn

Certn offers better and faster experiences for everyone. Certn is revolutionizing background screening with the easiest-to-use online platform, 24/7 customer support, and fast and compliant results from global databases. Why wait? Trusted by 20,000+ teams, Certn helps businesses hire faster and manage risk — all while delivering user experiences that help them stand out. Learn more at certn.co.