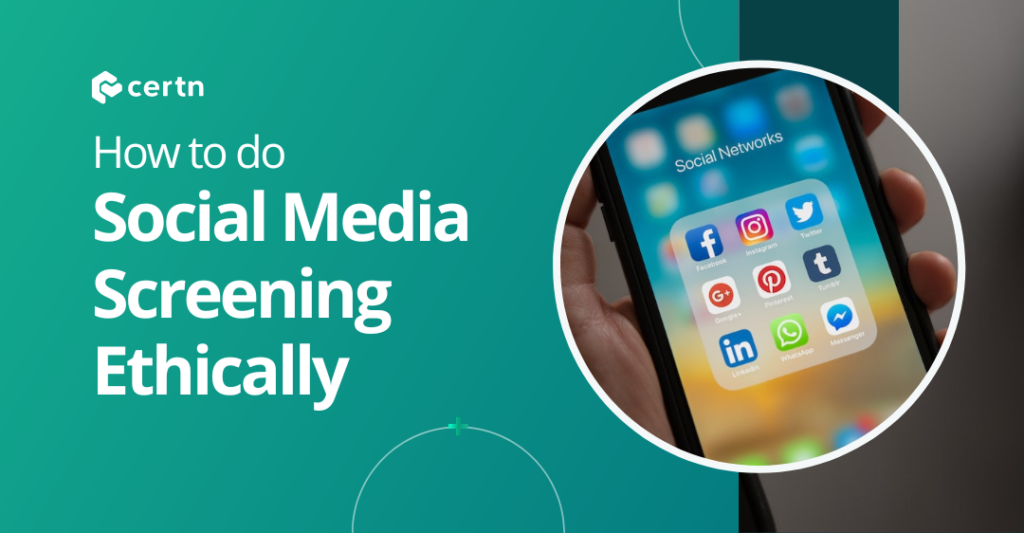 February 13th, 2023
How To Do Social Media Screening Ethically
5 min read
---
You're under increased pressure to make informed, thoughtful hiring decisions despite having more candidates and *less time* than before. Make it make sense. Right?!
Not only that, you know a standard background check isn't always enough to protect your workforce and brand reputation. This is because employees who commit acts of workplace violence like verbal abuse, hate speech, and sexual harassment may not have a criminal past that shows up in traditional background screening.
Here's the good news: social media screening and a social media background check is a game changer to make sure you hire the best candidates and minimize risks to your workplace culture. Done our way, social media screening is compliant and minimizes bias. It's also done in a fraction of the time it takes to check manually.
On the surface, checking your candidate's social media presence can feel like opening Pandora's box:
"What am I looking for?"
"How will I know that I've found it?"
"Yikes! TMI!"
You're not a secret agent, and thank goodness you don't have to be. Let's dive into the benefits of taking social media screening out of your hands and into a secure, reliable, social media background check provider.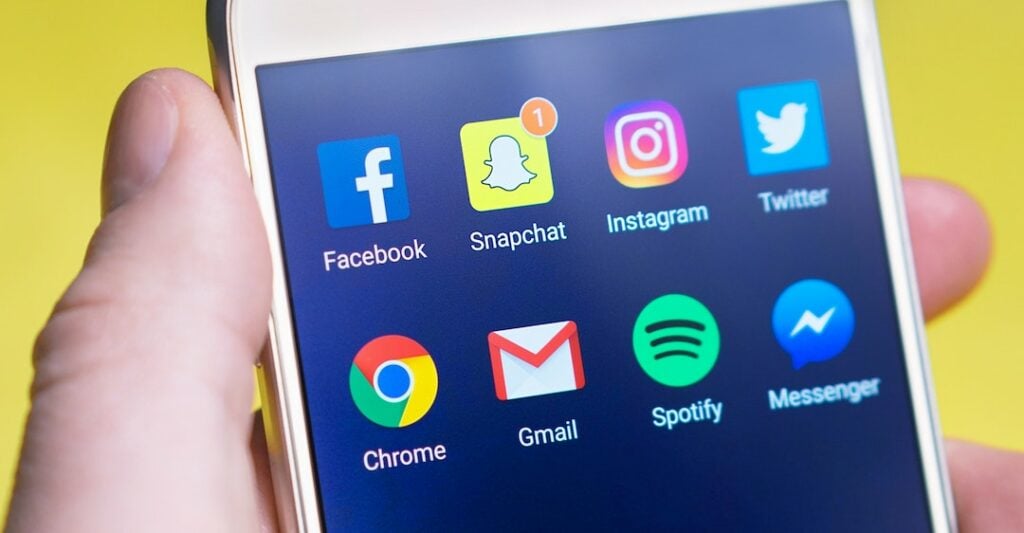 How Do Social Media Background Checks Work?
A "social media background check" or "social media screening" works by using tech-enabled screening software. The software analyzes public posts, images, and videos from a candidate's social media profiles, news items, and other websites and compares them against job-relevant risk classifications defined by the software provider or by you.
Content is flagged based on your pre-defined risk categories. It's common to check for hate speech, political speech, online bullying, threats of violence, explicit images, or other keywords specific to your industry, needs, and/or company values.
Is Social Media Screening Ethical?
When people ask, "Is social media screening ethical?" what they often mean is, "Wait, is social media screening even legal?!"
We know you have high standards and integrity, so we want to address the ethical quandaries around social media background checks. Similar to other types of background screening, social media screening can carry legal risk if it's not done compliantly, but compliant screening is ethical screening.
Done compliantly:
You obtain written permission from the candidate to conduct social media screening (the same way your candidate consents to background screening)
Only publicly available information is analyzed
Social media screening focuses on job-relevant criteria
Social media screening can be valuable due diligence and a critical part of background screening, but like how qualities like race, religion, sexual orientation, age, and disability status are all protected characteristics under human rights law in Canada and hiring law in the US, candidates can sue for discrimination if something turns up on a social media site that forms the basis of your decision not to hire them.
One way to avoid this is to use a third-party background screening provider, like Certn, to a conduct a social media background check and assemble a report on potential risk indicators. Our searches for predefined and job-relevant criteria can mitigate unfair bias. Not to mention, we can search higher volumes of information faster. Say goodbye to manual checking!
Book a demo today to learn how to stay compliant when running a social media background check.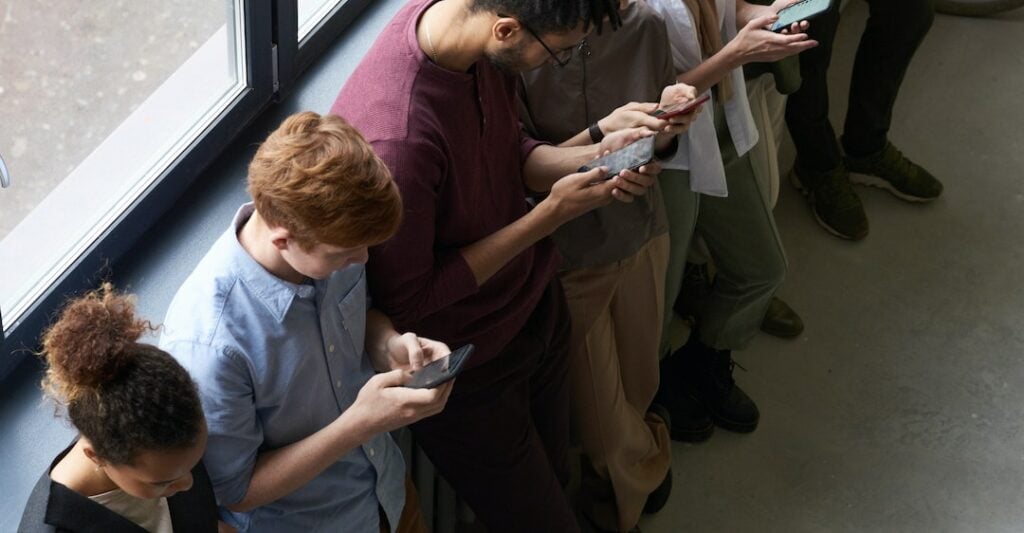 Benefits of Social Media Screening
The main benefit of social media screening is to get more insight on a candidate, particularly insights that might not be revealed in the interview process or from a background check.
There are over four billion social media users worldwide, so there's a lot of public content floating around. Uncovering violent, racist, sexually explicit, and/or criminal behaviours through social media can give you extra peace of mind so you hire the right candidates the first time around. Not to mention, it helps avoid costly rehiring processes or financial losses due to a knock against your reputation. Want to make sure corporate office employees or political staff don't pose a brand reputation risk? Social media screening can help.
You're checking anyway, why not do it properly?
What Percentage of Employers Check Social Media in 2023?
90% of HR managers say they check a candidate's social media content to vet them during the interview process. This means the majority of companies use social media content to screen candidates.
We know it's common to check out candidates online. Heck, they're doing the same with you! But if your process is manual, there's legal risk of bias and this could open your company up to legal action.
Plus, anytime you're not leveraging technology in the hiring process, you're slowing things down. You've got better things to do!
Faster Turnaround Times
Can candidates wait 49 days to get hired? Between 2010 and 2017, the average time to hire increased from 12.6 days to 23.7 days. In 2021, the average peaked to between 33 and 49 days to fill a position. Ouch.
An tech-enabled social media background check takes the manual process off your plate, giving you access to the public information you need to make an informed hiring decision faster than if you did it on your own.
How to Hire the Right People
We know a thing or two about fast background screening. Speed is key, but it's not the only important factor in social media background checks for candidates. In your role, it's advantageous to hire the right candidate who lasts. This not only saves you and your company time, it also maintains trust with your current employees.
Imagine a top performing employee at your company having to tolerate a harmful colleague for weeks or months. A toxic or dangerous employee can sour the experience for everyone. Screening public accounts for potential red flags weeds out candidates that are the wrong fit for your culture and team.
Recruiting costs to replace an employee can add up to $15,000, with the cost to replace a bad hire being at least 30% of their first-year earnings, which for a mid- or senior-level salary is easily double or triple that. To make matters worse, this number doesn't factor in the loss in productivity during that time. Oof!
Protect Your Reputation
Employees who commit acts of workplace violence like verbal abuse, hate speech, and sexual harassment may not have a criminal past. So you won't find out about this behaviour through a standard criminal record check. We don't say this to scare you, but to let you know what's within your control.
Screening a candidate's social media for insights into their online behaviour can speak to their character in general. This is vital information. Ultimately, even one sour employee can poison a culture, company, and tarnish your company's reputation.
Stay Ethical and Have Integrity
You might be wondering:
Doesn't social media screening invite bias and contradict the "be yourself" messages?
How do social media checks support my DEI strategy?
As a leader in background checks, we've thought about this too.
As we described above, digging into someone's social media *outside* an established background screening process is riskier than doing it within a compliant, tech-enabled system.
Social media screening can analyze content for triggers like hate speech. If you program your social media background check to look for certain keywords and phrases and run the same background check each time, then you outsource the interpretation to the algorithm and establish tangible proof (e.g., a comment with a racial slur) versus a gut feeling ("I just don't think they're a good fit.")
It's also important to recognize the role of bias, conscious or unconscious, in social media screening, as well. If someone on your team already has a gut feeling about a particular candidate, that particular candidate may be out of the running before they've even seen something on social media they may not agree with.
Social Media Screening with Certn
Without further ado, can we introduce you to Certn's social media screening?
Certn's social media screening is a background check that scans a candidate's public online profiles and flags potential content risks to give you more insight on who you're hiring. Done our way, a social media background check is compliant and minimize bias. It can also be added to background check process as part of your regular background screening program.
There's a lovely little green button below for you to contact one of our background screening experts to get started today. Once you fill out the form, a real human will be in touch to book your demo and walk you through the best pricing option for you.
A social media background check can add great peace of mind to your final hiring decision. We think it's an all around win.