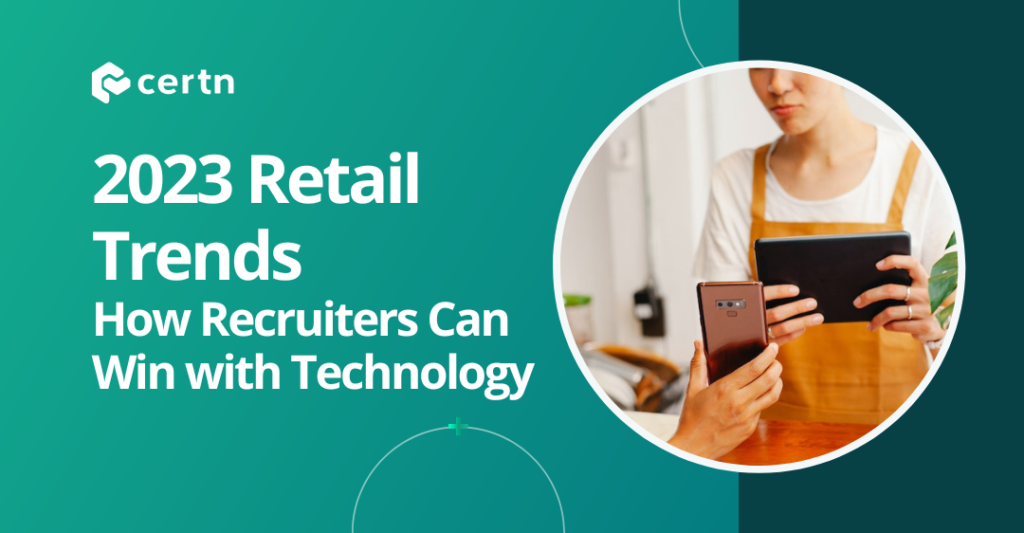 April 3rd, 2023
Retail Hiring Trends 2023: How Recruiters Can Win with Technology
5 min read
---
We get it. We hear retail recruiters say things like they had to ramp up quickly and hire thousands of frontline workers at the start of the COVID-19 pandemic and now they're still seeing labour shortages in stores stemming from people seeking roles in other industries. In the background screening business, we hear a lot about retail hiring trends.
In their retail outlook for Canada, Deloitte argues that retailers will finally be able to catch their breath and focus on making more strategic hiring moves for the future. After the whirlwind pandemic and labour changes that came with it, this is welcome news for the recruiters managing high volume hiring in retail settings. Great news!
In addition to managing hundreds of applications and high turnover, we know retail recruiters are also under pressure to deliver positive and engaging candidate experiences. But recruiters like you can help retail clients hire more strategically despite ongoing economic unknowns and achieve your candidate experience KPIs by leveraging technology and online background screening.
Here's how HR tech like online background screening can help you tackle the pressures of your to-do list and four emerging retail hiring trends in Canada.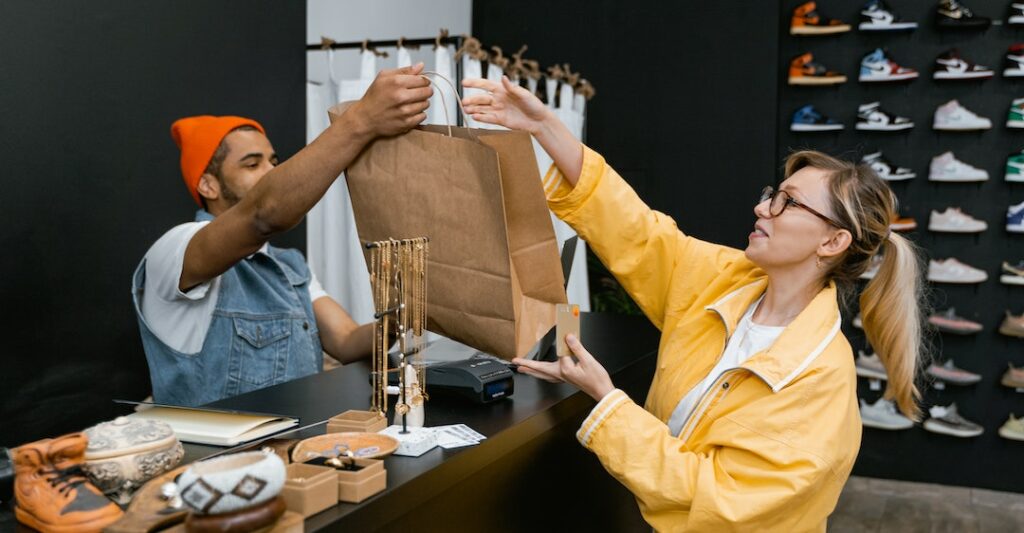 Retail Hiring Trends 2023
The Canadian retail sector is influenced by what happens south of the border and employees in the retail and hospitality sector are quitting their jobs at a higher rate than any other US sector.
With that in mind, let's look at Canada: recession fears are still looming and inflation remains elevated (despite slowing at the start of 2023). This outlook and the cycles of growth and loss in retail means a complex landscape to navigate for recruitment and hiring.
Here are four retail hiring trends to watch:
Retail Hiring Trends: Trend #1 – The Return to In-Person Shopping
Yes, we're back!
While there was an important reason to take shopping online during the height of the COVID-19 pandemic in 2020 and 2021, many customers returned to in-person visits to brick and mortar locations by the end of 2022. However, the in-store experience isn't like it used to be. Forbes reports that "hybrid shopping" is happening.
That is, customers will enter and shop inside a store after having done a lot of research on a product or item they want to buy first. As reported in Forbes, the 2022 Shopper Experience Index showed that "64 percent of consumers hybrid shopped in the past six months, with 64 percent doing research online before entering a store."
How this impacts hiring: In-store management may not foresee how the retail industry will continue to change and what new skills could be needed. The changes could mean more of an emphasis on hiring for soft skills – hiring candidates that are coachable, have a growth mindset, and are excited about up-skilling while on the job.
How technology can help: As a retail recruiter, you can use the data that's collected in your ATS to identify the attributes and qualifications of top-performing candidates and use this information to identify and attract similar candidates.
Retail Hiring Trends: Trend #2 – Higher Expectations of the Online Experience
There's increased pressure on retailers to deliver a seamless and efficient digital shopping experience. For example, as an outcome of the pandemic, many customers want contactless shopping options. However, this change doesn't mean they also don't want help from customer service associates. To address this, "conversational commerce" is an emerging trend for Canadian retailers.
How this impacts hiring: This shift in customer service means a shift in hiring priorities. There will likely be more of a focus on technology and digital marketing skills to complement the go-to customer service skills. Retailers will need recruiters to help them identify which candidates can help them leverage digital tools and reach new customers. Plus, as consumer expectations increase and more and more interactions are done online, there may be even more consideration needed toward background screening to preserve brand reputation since reports of negative online experiences can spread quickly.
How technology can help: Retail recruiters, listen up: this might include adding social media screening to your background screening process to get even more context on who you're hiring. It'll be important to choose a background screening provider that leverages technology and automation to deliver faster online experiences, otherwise this extra step could slow down your high volume hiring.
Retail Hiring Trends: Trend #3 – Seasonal Roles Have Shifted
Seasonal hiring has always been a focus of retail recruiters. However, the nature of the roles needed during peak times is shifting. Previously, the need for temporary roles was in customer facing positions on the sales floor. Given what we described above, increased online demand and order fulfillment, extra employees are needed in warehouse and shipping roles to manage stock and deliveries. In other words, holiday hiring is shifting away from stores and into the warehouses.
Our clients who are retail recruiters also share challenges like, "I don't have a huge HR team that's able to manage this on a manual basis. So having something that our team can enroll themselves into, that answers all their questions, and it just kind of happens automatically is a big win."
How this impacts hiring: 70% of applicants say they won't apply if it takes too long. More specifically in warehousing and logistics, 76.5% of applications are completed on a smartphone.
How technology can help: Given the trends about online applications and candidate drop-off, it's important to have online, mobile-enabled processes as part of your hiring process, including your background screening.
The old way:
Log in to a different platform and order a check
Ask your candidate to fill out a bunch of paperwork
Ask your candidate to verify their identity at the post office or police station
Wait weeks for results
Read through long reports to weed out irrelevant data
The Certn background screening process: ATS integration, no manual paperwork, instant identity verification, faster results, easy-to-interpret reports.
Retail Hiring Trends: Trend #4 – The Workforce is as Important as the Customer
The workforce is just as important as the customer. Younger Gen Z talent cares about empathetic leadership, good working conditions, diversity, equity, and inclusion, and company culture, and they're more likely to switch employers on account of this.
Retail is feeling the talent pressure. Respondents in a Deloitte survey "expect the competition for qualified, skilled talent to intensify over the next 12 months – 77% believe it'll be tough to hold onto their best employees. Talent shortages are most likely to be felt in store operations, IT, and customer service."
To compete for talent, Canadian retailers surveyed by Deloitte said:
73% intend to offer "better" working conditions;
67% will offer better pay and benefits;
63% intend to engage younger Canadians more ; and
40% intend to better explain career advancement within their company.
How this impacts hiring: A positive work experience starts during the hiring process. For Gen Z this means recruitment must be empathetic, human, and communicative.
How technology can help: Wherever possible, retail recruiters should take advantage of HR tech tools to automate scheduling, follow up tasks, and background screening so they speed up the hiring process while still spending connecting personally with candidates on fit, goals, and experience.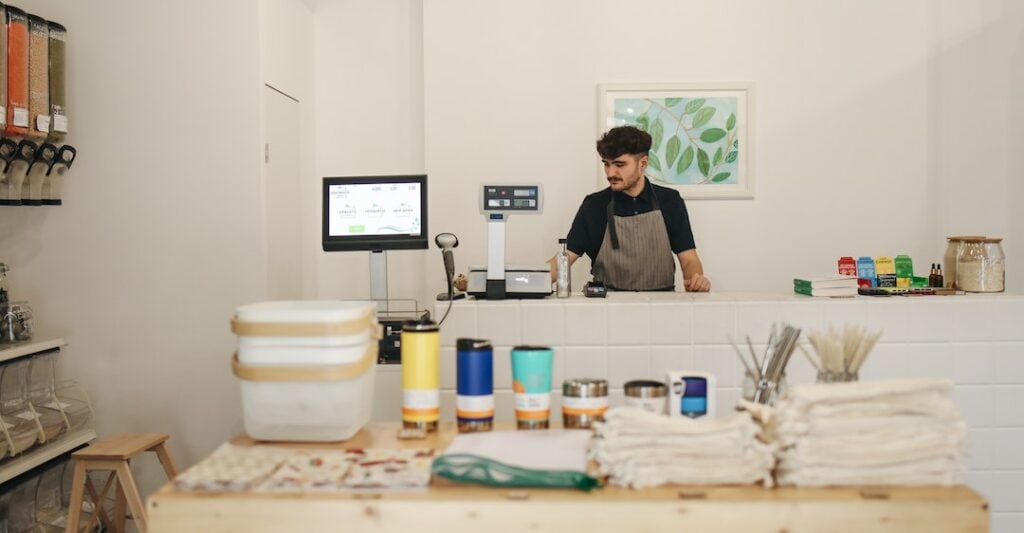 Background Screening for Retail
Retail recruiters face a lot of pressure! The seasonality of retail (on top of the retail hiring trends mentioned above) means that high-volume recruiting is a necessity; companies gearing up for the key sales periods need to find, screen and hire thousands of workers within a short timeframe. Most notably, retail suffers incredibly high turnover rates, so companies are nearly always looking for new candidates. Not to mention, high volume hiring is the norm, which means churning through thousands of applications to find the best candidates in a short amount of time.
Fortunately HR tech that automates administrative tasks to save time and can generate extra insights on candidates and Certn's online platform that can support and manage high volumes of background screening can help.
Consistently rated Easiest to Use by G2.com, the world's largest and most trusted software marketplace, Certn's mobile-enabled user experience is easier for retail recruiters and easier for their candidates. It's that…easy.
Book a demo to talk to one of our background screening experts about how you can build Certn into your retail recruitment process and stay ahead of retail hiring trends.