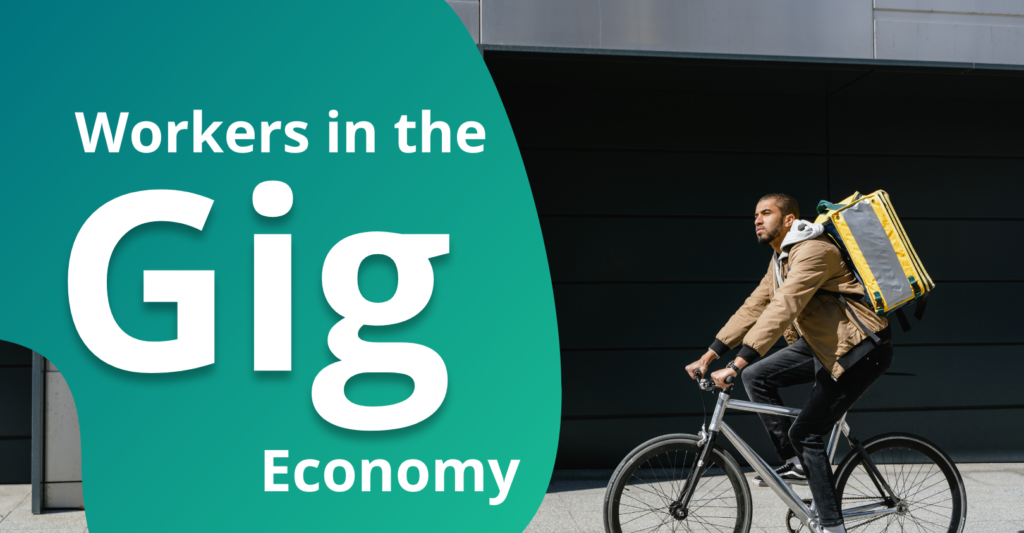 December 30th, 2022
The Gig and Freelance Economy in Canada
6 min read
---
Gig work is the trend of people participating in short-term or project-based work arrangements. The Canada gig economy is the ecosystem where this type of freelancing is the primary or major source of income.
Gig work and the Canada gig economy has gained popularity in recent years, driven by technology platforms that connect individuals to job opportunities. From 2005 to 2016, the percentage of workers in the Canada gig economy rose from 5.5% to 8.2%. In 2022, this temporary work type jumped to roughly 10% of the total labour force according to Statistics Canada. This amounts to roughly 1.7 million workers.
Does your company know how to take advantage of the growing number of gig contractors and freelancers for short-term or project-based work safely and compliantly? This is something Certn can help you navigate.
Gig work and the Canada gig economy is growing in popularity due to the rise of technology platforms and marketplaces that make it easier to find and offer short-term work. It's also being driven by economic factors such as a desire for flexibility, challenges finding full-time roles, and the need for extra income to keep up with rising costs.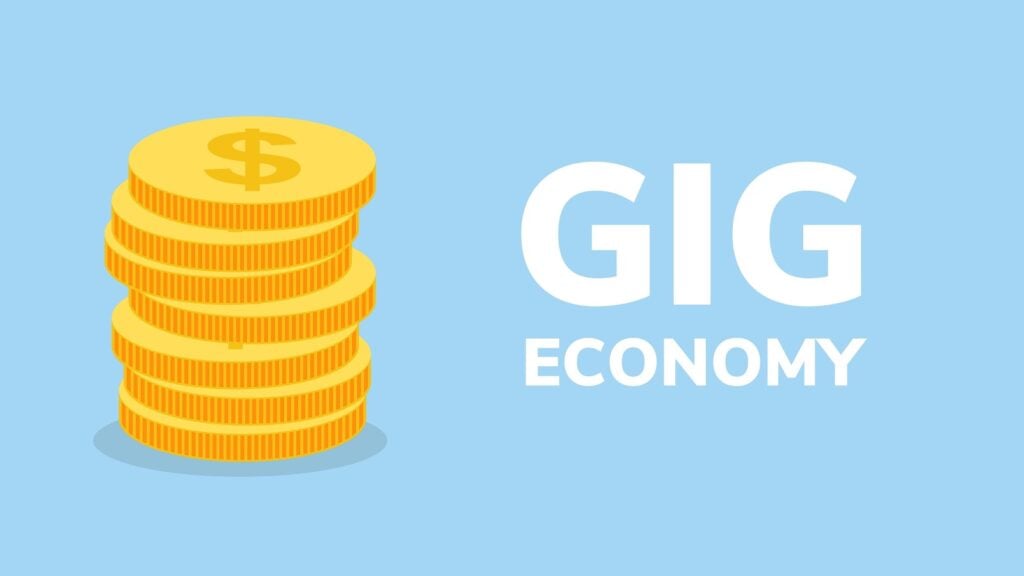 Types of Gig Work
Common examples of work in the Canada gig economy include:
Ride-Sharing and Delivery Services: Platforms like Uber, Lyft, DoorDash, and SkipTheDishes enable individuals to work as drivers or couriers, providing transportation or delivering food to customers.
Freelance Services: Many individuals offer their skills and expertise as freelancers in areas such as writing, graphic design, web development, photography, marketing, and consulting. They often find clients through online platforms like Upwork, Fiverr, or through personal networks.
Task-Based Jobs: Platforms like TaskRabbit allow individuals to perform small tasks or odd jobs for clients, such as home repairs, furniture assembly, cleaning, or running errands.
Short-Term Contracting: Some professionals in Canada, such as IT specialists, project managers, or creative professionals, work on short-term contracts for specific projects or assignments.
Online Marketplaces: Platforms like Etsy provide opportunities for individuals to sell handmade crafts, artwork, or other unique goods.
It's important to note that gig work offers flexibility and independence, but it also means that gig workers are typically self-employed and may not receive the same benefits and protections as traditional employees. The legal and labour rights of gig workers are currently evolving, with ongoing discussions and debates surrounding worker classification, minimum wage, benefits, and labour rights in the Canada gig economy.
Canada Gig Economy Statistics
As we noted, gig work, also known as freelance or independent work in the Canada gig economy, has become increasingly common in recent years. According to Statistics Canada, in 2020:
Approximately 15% of the Canadian labour force was engaged in gig work, either as their primary source of income or as a secondary source of income.
Gig workers were more likely to be younger and male, with a median age of 35 years old.
Gig workers were more likely to have a post-secondary education, with 53% holding a university degree.
The most common industries for gig work in Canada are arts, entertainment, and recreation; professional, scientific, and technical services; and wholesale and retail trade.
Freelancers in Canada also tend to be more satisfied with their work than non-freelancers, with 72% reporting that they are satisfied with their job, compared to 61% of non-freelancers. They also tend to have more control over their work, with 78% reporting that they have a high degree of control over their work, compared to 57% of non-freelancers.
Again, it's important to note that gig work is not always easy or stable, and many gig workers face challenges such as lack of benefits, job security, and income stability. However, gig work can also offer flexibility and the opportunity to work on a variety of projects for different clients.
Unfortunately, according to workplace insights from a Deloitte survey of nearly 10,000 global survey respondents, only 28% of businesses feel they're ready to capitalize on freelancer talent pools.
Freelancers in a Recession
It's difficult to say with certainty how the looming global recession is impacting people's desire to engage in the Canada gig economy, as the decision varies depending on individual circumstances and economic conditions in different regions. However, it's possible that the recession may be causing some people to consider freelancing as a means of income, either because they've lost their job or because they're seeking additional sources of income. Freelancing can offer a degree of flexibility and control over one's work and income that may be appealing to some people during times of economic uncertainty.
The recession is making gig work more desirable to some companies. According to a survey of 1,000 American small business owners by the freelancing platform Fiverr, 43% of them plan to hire freelancers to get work done instead of filling full-time roles.
There are a number of reasons why a company might choose to hire a freelancer rather than a full-time employee. Some of the potential benefits of hiring freelancers include:
Cost Savings: Freelancers typically don't receive the same benefits as full-time employees, so hiring them can be more cost-effective for a company. (Hiring international freelancers can also be more cost-effective as you may be able to take advantage of lower labor costs in other countries but we don't recommend making this your number one strategy.)
Flexibility: Freelancers can be hired on a project by project basis, which allows a company to scale up or down its workforce as needed.
Specialized Skills: Freelancers may have highly specialized skills or expertise that can be useful for a specific project or task.
Increased Productivity: Freelancers may be more motivated to complete a project efficiently and on time since they're typically paid by the project rather than by the hour.
Reduced Overhead: Hiring freelancers can help a company avoid the costs and responsibilities associated with maintaining a full-time workforce, such as office space, equipment, and HR management.
Access to a Global Talent Pool: Freelancers can work from anywhere, which allows a company to hire the best person for the job, regardless of location. International freelancers are also often able to work at different times of the day, which can be useful if you need to get work done outside of your normal business hours (such as a network upgrade or maintenance).
It's important to note that there are also potential drawbacks to hiring freelancers in the Canada gig economy, such as the lack of long-term commitment and the potential for communication challenges. Companies should carefully consider the pros and cons of hiring freelancers before making a decision.
Hiring International Freelancers
Along with the benefits listed above, freelance work is often appealing because there are a lot of remote work opportunities.
Jobs are being decoupled from locations, meaning gig workers and freelancers can also work remotely for employers anywhere in the world. Hiring international freelancers allows you to tap into a larger pool of talent so you can can hire the best person for their project. This can be particularly useful if you are looking for specialized skills or expertise that may be more difficult to find locally.A win-win!
It's important to keep in mind that there may also be some challenges to consider when hiring international freelancers, such as language barriers, cultural differences, and time zone differences. It's a good idea to carefully plan and communicate with your freelancers to ensure that you're able to effectively manage these challenges before they become issues.
Speaking of managing international recruitment challenges, Certn's partners, like the Deel hiring platform, make it easy for you to comply with the legal and compliance requirements in the countries your gig workers work from. Now you can take the guesswork out of administrative tasks like withholding taxes and focus on the fact that international freelancers can bring a diverse range of cultural perspectives and experiences to your team which can help foster creativity and innovation.
Background Check Freelance Work
Don't be left behind. The rise of gig work is the perfect opportunity to modify your HR and operating policies such as location flexibility, employee benefits, and templates and knowledge management to make it more supportive to this type of work. Click here to read more about the policy you might want to consider as an employer.
Finally, but crucially, we recognize that one of the biggest employer concerns when it comes to adopting new contract-based and/or remote work arrangements is the safety and security of their company, their assets, and other employees in the workplace. After all, it can be hard to put your trust in someone who you may have never met face to face.
If you're wondering whether background checks are worth the time and money, the better question is: can you afford skip them? Be sure to conduct the same background screening process that you require of your full-time "9 to 5" employees. This is crucial, especially if you're going to provide your gig worker access to confidential information such as financial data, client profiles, and more.
There are several types of background checks that you may want to consider for gig workers, depending on the type of work they'll be doing and your specific needs as an employer. Some common types of background checks for gig workers include:
Criminal Record Checks: This type of background check involves searching police records to identify any criminal convictions that a person may have. This can include felonies, misdemeanours, and other types of offences.
Employment and Education Verification: This type of background check involves verifying a person's employment and educational history, including the institutions they attended, and the companies they've worked for.
Credential Verification: If the gig work requires certain licences or certifications, you may want to verify that the worker has the necessary qualifications.
Professional Reference Check: This type of background check involves contacting people who know the worker personally, such as friends, family members, or previous colleagues, to get a sense of their character and work ethic.
It's important to note that background checks, especially those in the Canada gig economy, should be conducted in a way that's fair and respectful to the worker, and in compliance with all relevant laws and regulations.
Hire Gig Workers
For a few dollars and a couple of days, a background check can help you protect your company and your workforce if you participate in the Canada gig economy. If you're ready to get started on the background checks needed to hire freelancers with confidence (including for international hires), book a demo to learn more about how Certn and our partners can help you build a screening program to meet your needs.