The world's easiest background checks
Thousands of companies worldwide rely on Certn's integrated background screening to secure the right people with an 80% reduced time to hire.
Background checks shouldn't bottleneck the process for you – or your candidates. Our trusted solutions create a more efficient process for everyone.
#1
Easiest to use
As rated by real users on G2
95%
Support Satisfaction Rating
As rated by real users on G2
30%
Reduced
Onboarding costs
Integrated into your hiring flow
Our background checking platform and API integrates seamlessly into your existing business workflows. From our app to tailored solutions, our technology helps you to deliver a truly candidate-first experience.

Build with our API
Add background checks to your onboarding experience with our RESTful API.

Partner Integrations
Run background checks through your ATS, HR, or onboarding system of choice with our no dev, no code and pre-built integrations.

Use the Certn App
Try your first background check through our self-service dashboard—no code or integrations necessary.
A Market Leading, Digital Experience
We've developed our technology from the ground-up so you can give your candidates a hiring experience you can be proud of. With instant biometric identity verification, mobile-first design, and a streamlined checking process, we're bringing better technology to an industry ready for change.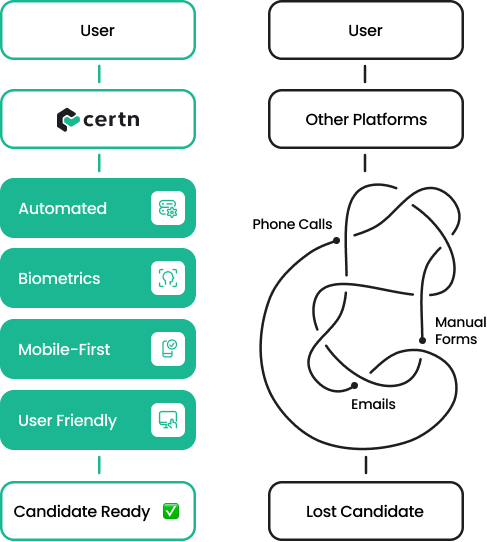 Global Screening,
Local Expertise
Our teams in North America, EMEA, and APAC regions serve over 20,000 customers, giving the local support & knowledge needed to succeed with local and global hiring.
Don't just take our word for it. With 98% of our users saying they love us, we're pretty close to being almost everybody's cup of tea.
"Certn delivers a service in minutes that takes other vendors days AND they do it for a third of the cost."
"Not only is the platform easy to use for all audiences, but the internal support system is beyond what we could have imagined."
"We've utilized every background screening provider on the market, and have never seen a product that is this fast and comprehensive."
"The price point is amazing, and so is the service and turnaround time. It's really a no-brainer."
Tailored to
your business.
From one check to thousands, we can meet your business where ever you are. Our solutions give you the flexibility to choose the features and checks that matter most to you.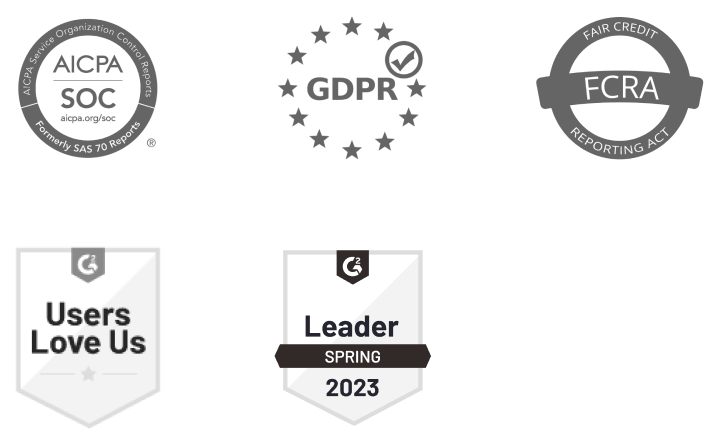 Got questions?
What is your pricing structure?
What types of background checks do you run globally?
Certn is your one-stop shop for global background checks. Scale your hiring globally with criminal record checks you can trust in Canada, USA, Australia, Europe, UK and more. See all international background checks here.
How can you integrate with my hiring process?
With Certn, you can run background checks through your ATS, HR, or onboarding system of choice with our no-dev, no-code and pre-built integrations. Check out our integrations here.
You can also integrate better background checks directly into your platform or service with our RESTful API. View API documentation here.
How long does a background check take?
Turnaround times depend on the types of background checks you're running, and where you're running them. For more common checks, like identity verification and criminal record checks, you can expect to get results back in minutes.
Can I run a background check on myself?
Ready to experience
the world's easiest checks?