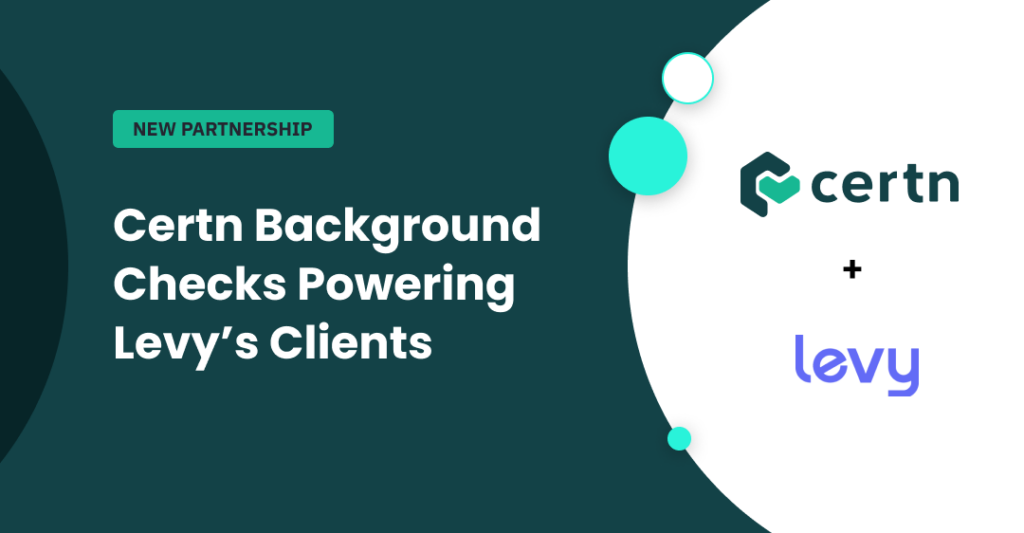 Certn's Background Checks Powering Levy's Teams
Certn's Screening Added to Levy's Back-Office Support Offering
VICTORIA, BC, October 4, 2023 — Today Certn is excited to announce our background checks are available to levy's clients. Levy and its team of expert partners take care of back-office operations so CEOs and founding teams can focus on wins. By partnering with levy, Certn is bringing streamlined hiring and onboarding to more startups. Building trust is important, but it doesn't have to be hard.
Levy specializes in managing back-office operations across four verticals: HR, equity, compliance, and finance to help companies save time on operationally-intensive processes. With the Certn partnership, levy clients can save even more time on HR tasks while still ensuring their candidates get an experience that matches their brand.
"We're all about making things faster and easier, so partnering with companies like levy, companies with the same drive to make things better, is always exciting," says Mike Nagtzaam, Director of Partnerships at Certn. "We understand the startup space. Time is your most precious resource and Certn frees up time to focus building world-changing businesses," added Nagtzaam.
Certn delivers fast and comprehensive background screening solutions that help businesses lower hiring costs and save time so they can focus on what matters – achieving their goals and growing their businesses. Startups need founding team members who not only share their values and believe in their mission, but also have the necessary skills and expertise to deliver their programs safely and reliably. One of the best ways to vet people is through a background check.

Levy joins more than 50 hiring platforms and business solutions that partner with Certn to streamline hiring processes and reduce the time-to-hire. For more information on Certn's partners, visit our Partnership Marketplace.
About Levy
Levy empowers forward-thinking companies that recognize the key to success lies in focusing on their core competencies and outsourcing the rest. Levy specializes in managing back-office operations across four critical verticals: HR, equity, compliance, and finance. Previously, companies wasted hundreds of hours each year on these operationally intensive, tedious, non-strategic processes. With levy's help, that's no longer necessary. Learn more at levy.company.
About Certn
Certn offers better background checks for everyone. Certn is revolutionizing background screening with the easiest-to-use online platform, 24/7 customer support, and fast and compliant results from global databases. Why wait? Trusted by 20,000+ teams, Certn helps businesses hire faster and manage risk — all while delivering user experiences that help them stand out. Learn more at certn.co.
PR Contact
Gabe Velenosi
Communications Manager, Certn
[email protected]