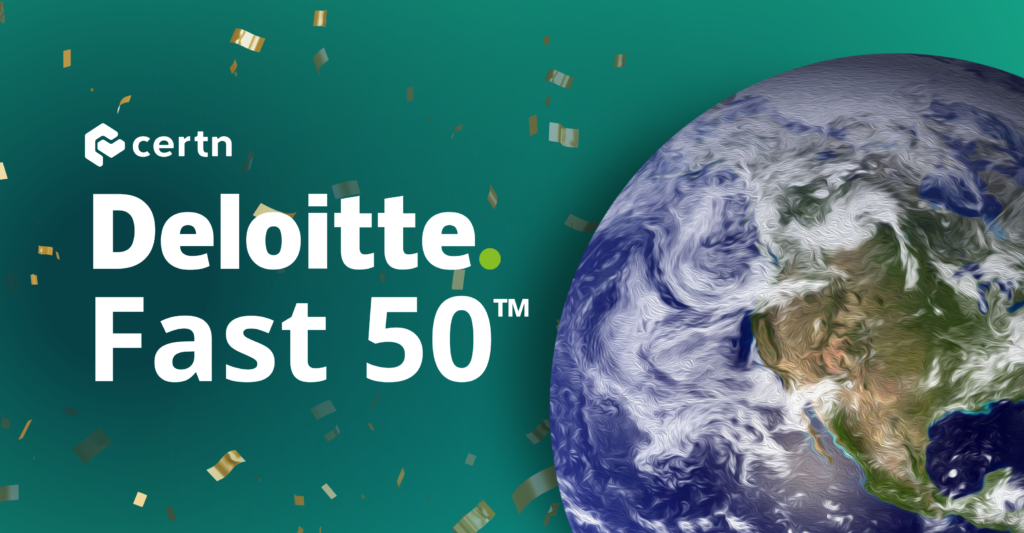 Certn Is Deloitte's 2nd Fastest-Growing Technology Company
VICTORIA, BC, November 16th, 2022 — Today Certn announced it was recognized as part of the 2022 Deloitte Technology Fast 50TM awards program for its rapid revenue growth, entrepreneurial spirit, and bold innovation. Celebrating its 25th anniversary, the program recognizes Canada's 50 fastest-growing technology companies based on the highest revenue-growth percentage over the past four years. Certn ranks 2nd with a 14,533% percent in revenue growth from 2018 to 2022.
Certn's CEO, Andrew McLeod, credits his team's global product leadership as the reason why Certn is excelling at improving every part of the background screening process and for the company's 424% percent revenue growth in the past two years. McLeod said, "Having a comprehensive global product that meets the needs of the way people work—remote work, global teams, high volume hiring—and that our clients love is non-negotiable. This recognition is proof of this. We love that our clients love us."
"It's inspiring how this year's exceptional cohort of Technology Fast 50 winners have delivered outstanding revenue growth even in the face of prevailing uncertainties in the economy and marketplace," commented Anders McKenzie, partner and national leader for the Technology Fast 50 program at Deloitte Canada. "Fueled by exemplary innovation, creativity, resilience, adaptability, along with superior business leadership, these companies are paving the way as catalysts in their respective sectors and delivering growth and value to the Canadian economy both at home and beyond."
Deloitte's Technology Fast 50 program winners consist of public and private companies in the technology sector that are transforming the industry. The program runs alongside the broader Deloitte North American Technology Fast 500TM, with winners automatically eligible for this elite ranking.
To qualify for the Deloitte Technology Fast 50 ranking, companies must have been in business for at least four years, have revenues of at least $5 million, be headquartered in Canada, own proprietary technology, conduct research, and development activities in Canada and invest a minimum of five percent of gross revenues in R&D.

About Certn
Certn isn't a background check provider with a tech department, it's a tech-first leader innovating every part of the background screening process. Certn is changing background screening globally by offering the easiest-to-use platform, background checks in 200+ countries and territories, free 24/7 customer support, and fast and compliant results. Trusted by 10,000+ clients, Certn helps businesses manage risk and hire faster—all while delivering candidate experiences that help them stand out. Learn more about Certn at certn.co.
Website: https://certn.co/
Facebook: @Certn.Co
LinkedIn: Certn
Twitter: @Certn
Instagram: @Certn.Co

For media inquiries, contact:
Gabe Velenosi
[email protected]
(250) 508 0486
About the Deloitte Technology Fast 50TMThe Deloitte Technology Fast 50 program is Canada's pre-eminent technology awards program. Celebrating its 25th anniversary, the program recognizes business growth, innovation, and entrepreneurship in four distinct categories: Technology Fast 50 ranking, Enterprise Fast 15, Clean Technology, and Companies-to-Watch. The program also recognizes companies within the North American Technology Fast 500 ranking, identifying thriving technology companies in the United States and Canada. The 2022 program sponsors include Deloitte, RBCx, Osler, EDC, CBRE, Vector Institute, Council of Canadian Innovators (CCI), Clarity Recruitment, Lafond, and TMX. For further information, visit www.fast50.ca.