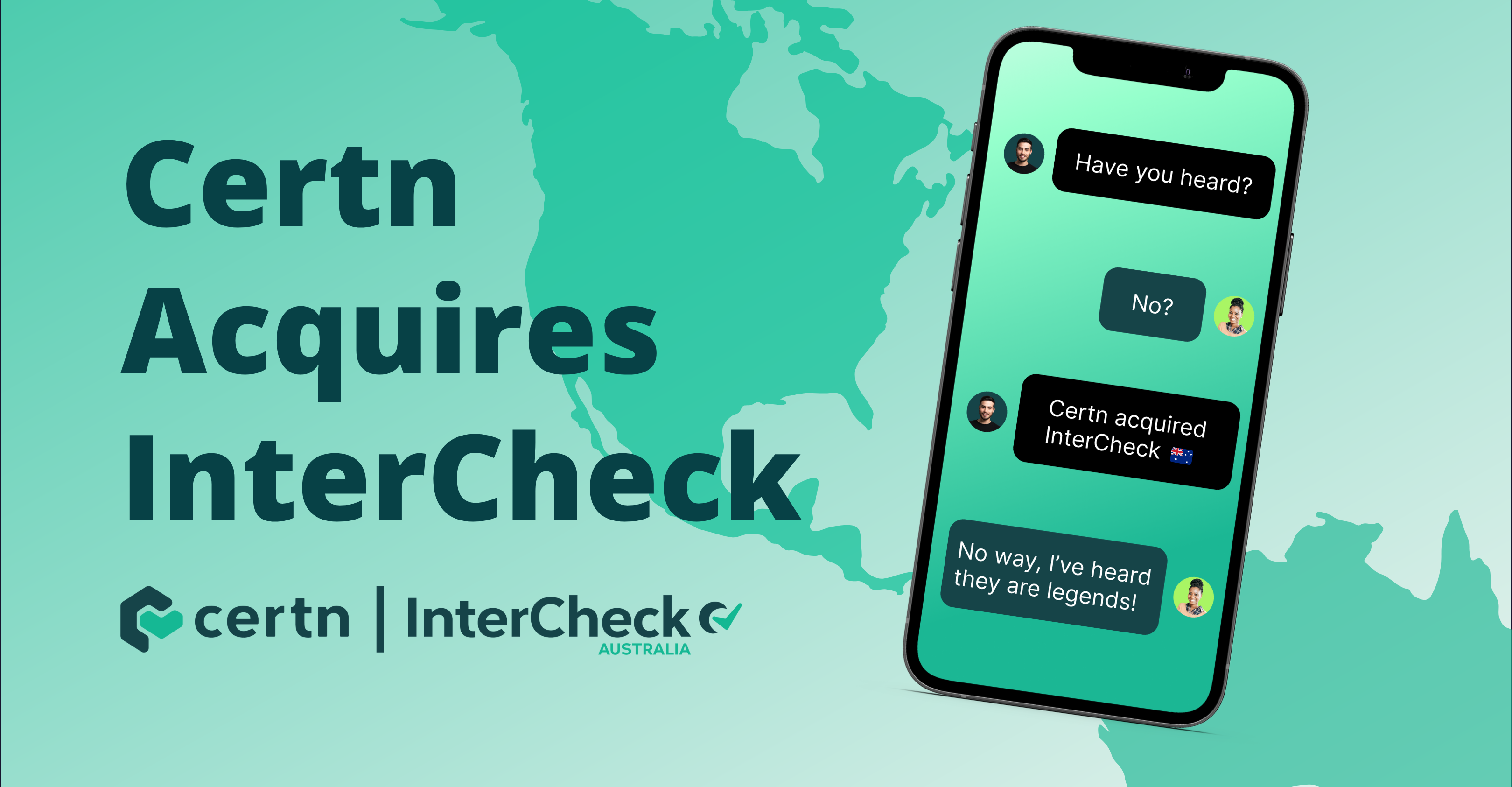 Acquisition Expands and Diversifies Certn's Global Reach
VICTORIA, BC, October 25, 2022 — Today, Certn, a global leader in background screening, trusted by 10,000+ clients around the globe, announced its acquisition of InterCheck, an Australia-based background check provider with a range of employment background checks and candidate screening services. The acquisition diversifies Certn's global offering while enhancing InterCheck's user experience. InterCheck clients now benefit from Certn's innovative product offerings such as its all-in-one platform that can run background checks in 200+ countries and territories. Certn and InterCheck's shared vision for empowering employers and candidates in the global job market is redefining background screening.
The acquisition enables InterCheck clients with features that increase the ease and speed of global hiring like:
Seamless applicant tracking system integrations with leading HR hiring platforms like Jobadder, Deel, and Fountain
#1 rated dashboard with centralized screening data and shareable reports
Mobile-optimized UI/UX with automated emails and texts to reduce candidate loss in a competitive hiring environment
Serkan Honeine, Chief Revenue Officer, Certn, said: "In the competitive international hiring market, companies need a simplified screening process so they don't miss out on top talent, and our global platform delivers fast results. We work as fast as you do. I couldn't be more thrilled to bring our top-rated user experience to the Australian market."

Hayden Langhorn, Founder and Managing Director, InterCheck, said: "Over the past ten years building InterCheck, I've had the opportunity to speak to thousands of recruitment and HR professionals that want the ability to make fast hiring decisions. With Certn, we're pleased to be in a position to provide technology leadership while also expanding our product offerings to serve the needs of the modern workforce in Australia and New Zealand. Certn shares our mission of providing the best customer experience and I couldn't be more proud to join them."
Certn's employment screening and background checks are fully compliant with each jurisdiction's local privacy legislation. InterCheck will continue to operate under its existing brand and maintain its local leadership and support team base, and Australian headquarters.
About InterCheck
InterCheck is a cutting edge technology platform that provides a range of employment background checks and candidate screening services, based in Australia. Their user friendly online platform provides candidates with a simple, secure and seamless experience. With more than 1,200 organisations as customers, and over a decade of being in the background checking industry, InterCheck continues to provide their customers, employers and individuals with the services and support they need to help streamline their background checks needs, while also helping to mitigate potential HR risks. Learn more at intercheck.com.au.
About Certn
Certn isn't a background check provider with a tech department, it's a tech-first leader innovating every part of the background screening process. Certn is changing background screening globally by offering the easiest-to-use platform, background checks in 200+ countries and territories, free 24/7 customer support, and fast and compliant results. Trusted by 10,000+ clients, Certn helps businesses manage risk, stay compliant, and hire faster—all while delivering candidate experiences that help them stand out. Learn more about Certn at certn.co.
Website: https://certn.co/
Facebook: @Certn.Co
LinkedIn: Certn
Twitter: @Certn
Instagram: @Certn.Co

For media inquiries, contact:
Gabe Velenosi
[email protected]
(250) 508 0486