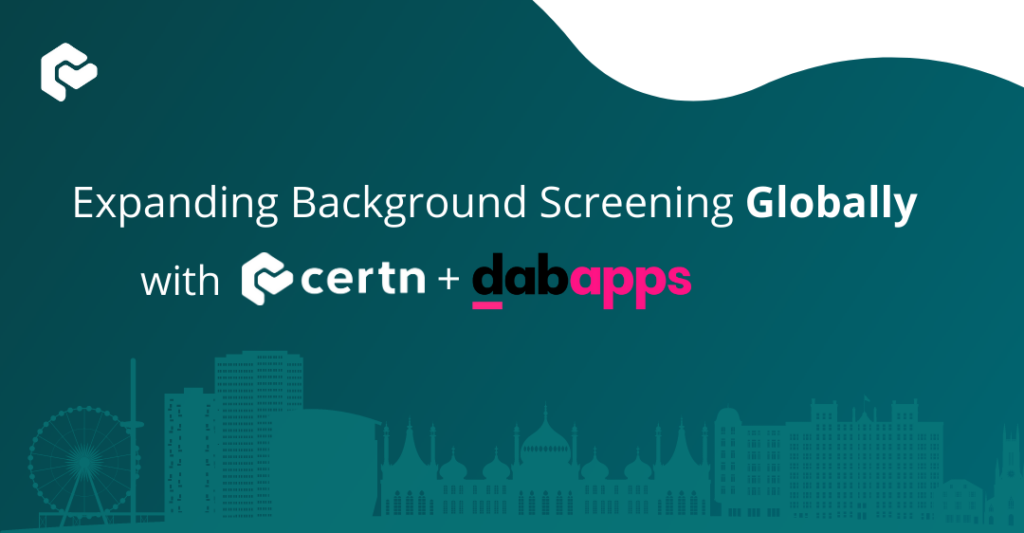 Building the Future of Background Screening
VICTORIA, BC April 3, 2023 – Today Certn is excited to announce its partnership with DabApps and its team of expert developers, designers, and product managers – this news comes after 18 months of collaboration on a number of projects. The Brighton-based digital products agency was brought on board to help Certn's design, build, and scale its background screening and online verification services for global use.
Andrew McLeod, chief executive officer, Certn: "We're thrilled to expand our partnership with DabApps. The teams bring the expertise needed to accelerate our product strategy and deliver screening and verification to more people more quickly."
Chris Palk, board member and founder, DabApps: "It's exciting to collaborate on large-scale global projects. We're impact-driven and this partnership helps both organisations accelerate their growth and success."
Global Leadership
As an outcome of this partnership, members of DabApps' leadership have moved into key roles at Certn. Certn has appointed Chris Palk as its vice-president of engineering, Ed Hickey as its vice-president of Certn for Business, and Jamie Matthews as its director of engineering strategy. Together these leaders bring a combined 60 years experience in digital product development and background screening globally.
DabApps continues to thrive and grow. Catrina Baker-Bassett is stepping into the role of Managing Director, and Chris, Ed and Jamie remain involved as board members.
This partnership with DabApps strengthens Certn's global position and follows Certn's acquisition of Credence Background Screening. Launched in 2010, DabApps serves clients from B2B, B2C, and the charity sector.
About Certn
Certn offers better background checks for everyone. Certn is revolutionizing background screening with the easiest-to-use online platform, 24/7 customer support, and fast and compliant results from global databases. Why wait? Trusted by 10,000+ clients, Certn helps businesses hire faster and manage risk — all while delivering user experiences that help them stand out. Learn more at certn.co.
About DabApps
DabApps is one of the UK's leading web and mobile Django agencies. They help their clients and partners to realise the full potential of their digital products, building great looking, robust and scalable systems.
Learn more at dabapps.com.
PR Contact
Gabe Velenosi
Communications Manager, Certn
[email protected]