G2's Best Background Check Software
Over 20,000 teams and some of the world's biggest brands trust the Certn background check process to help them hire the right people. These same real users consistently rank us #1 on G2.com, the world's largest tech marketplace.
We're happy to hear our clients think we're the best background check software because we don't want you to have to settle for how it's always been done. Certn is revolutionizing background screening with our easiest-to-use platform, 24/7 local support, and fast and compliant results. Why wait? See for yourself.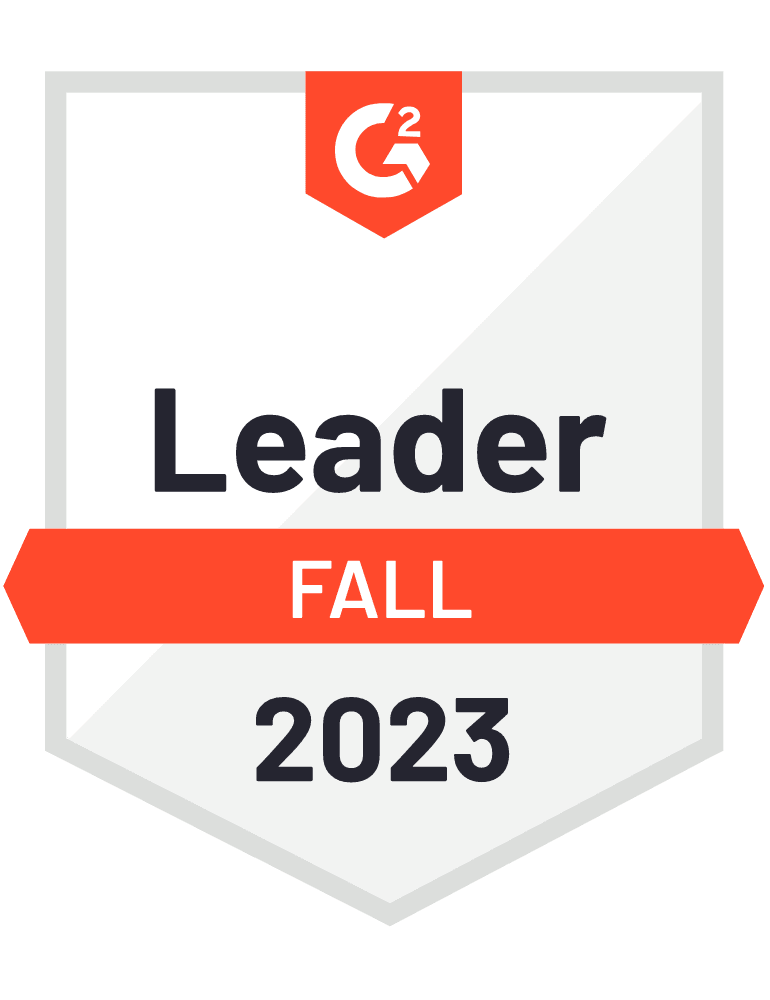 If background checks are slow and painful, you're using the wrong service.
Here's why people choose the Certn background check process over the competition.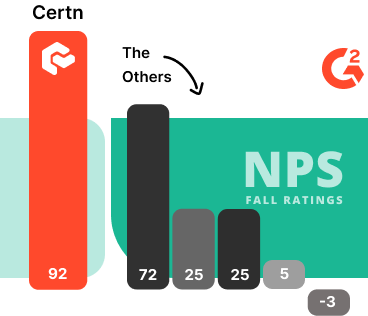 Net Promoter Score (NPS) is a customer satisfaction measure based on how likely a user is to recommend a service provider.
(Yes, ours is really that high.)
The World's Easiest Background Checks
Results in <15 Minutes
Ditch manual methods for lightning-fast online results and crush your time-to-hire with instant ID verification and industry-leading turnaround times. The old way, background checks are a bottleneck in your hiring process – wave goodbye to clunky interfaces, slow turnaround times, and unresponsive customer support so you get results faster.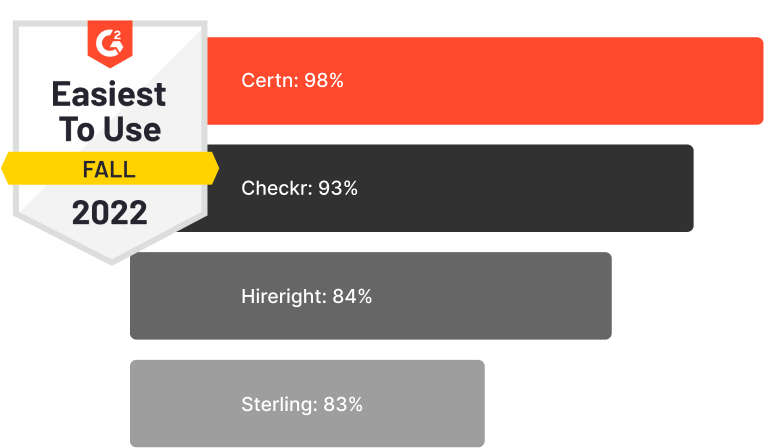 "Since switching to Certn we have been able to speed up our hiring process by about 3 weeks compared to our previous background check vendor. Certn has also helped be the base for us to go to a more virtual hiring process."
One Platform to Scale Hiring
We've got all your screening on one platform so you can build your global dream team. Picture this: background screening that works with the devices and systems you already use. With the best background check software, you can streamline screening and order domestic and international checks from your ATS.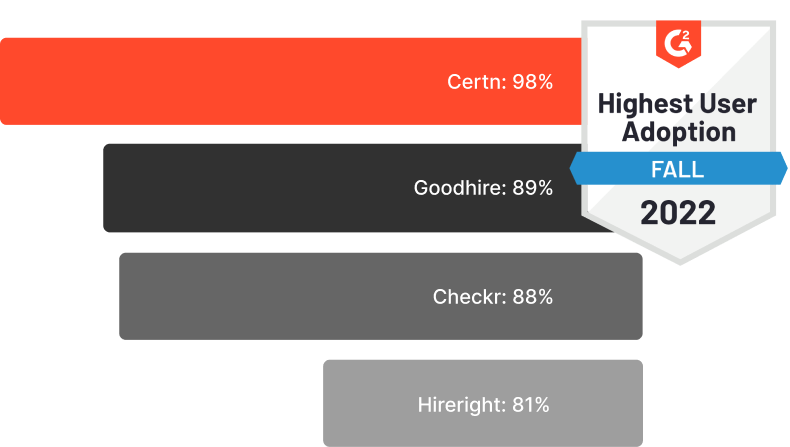 "The user interface is very simple which makes it easy for us to train managers and new HR staff on how to use the product, it also makes it simple for our candidates to complete."
#1-Rated Easiest to Use
We make ordering background checks incredibly simple. We have the Easiest Admin and are Most Implementable because Certn integrates with the devices and systems you already use. All you do is login, select the package you want to run, and then input the candidate email address. On the candidate side, automated data pre-fill helps prevent errors that cause delays. We've got a local support team ready to help if your candidates need any help, so you don't have to play customer support.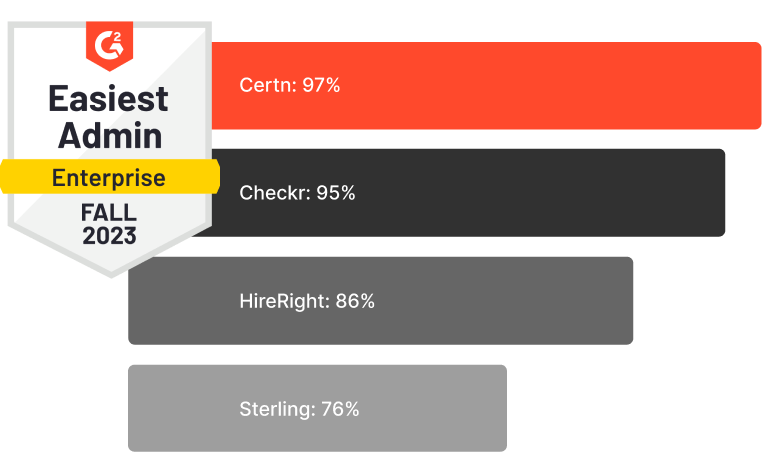 Users Love Us
Here's what other background screening features our users love.
92%
Alerts and Notifications
…even our lowest-rated features are above background screening industry averages.
"Prompt response time and easy to use for our candidates."
Background Checks Can Be Better with the Best Background Check Software
Your screening process shouldn't slow you down. With Certn and the best background screening software, you can set up your account quickly and order your checks with a few clicks from your ATS. It's faster and easier.
Here's why people choose Certn over our competition.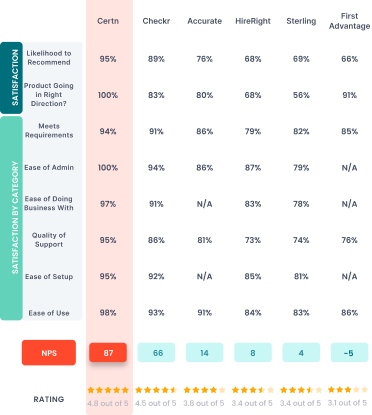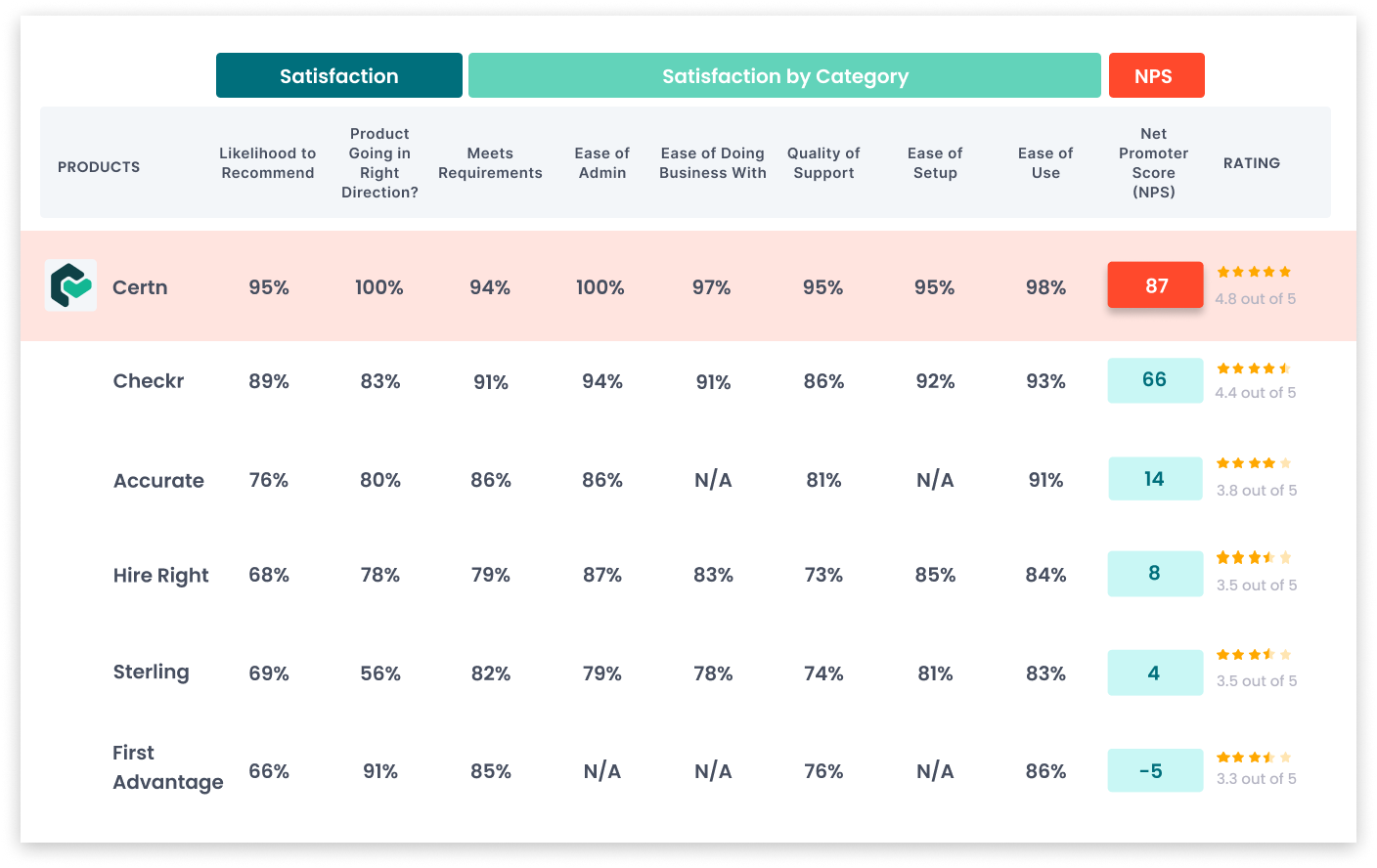 G2 Satisfaction Ratings for Best Background Check Software
Read What Clients Are Saying on G2