Criminal Record Checks
Groundbreaking Criminal Checks
Uncover crucial insights into your candidates' backgrounds for a fast, accurate, and compliant hiring process.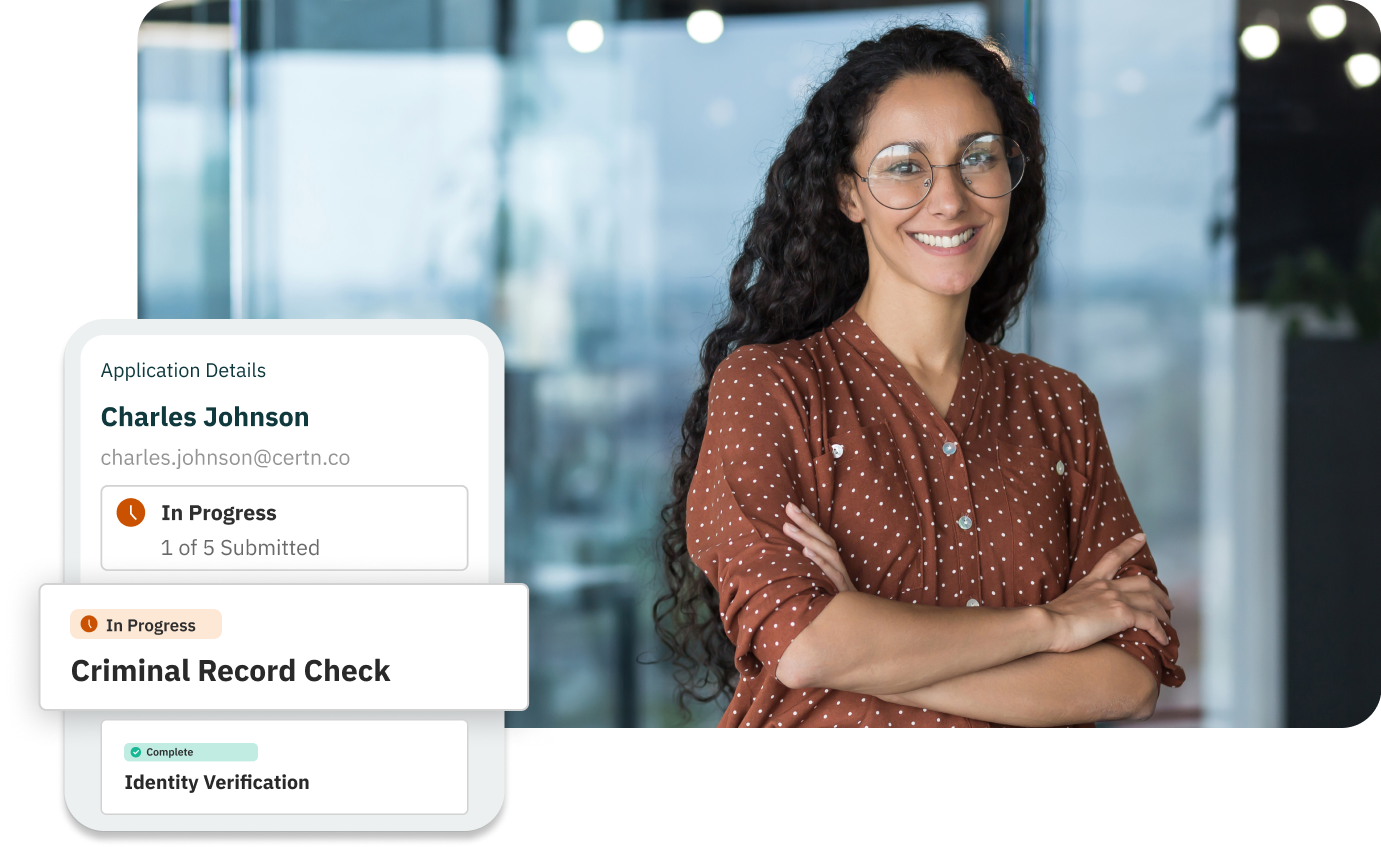 Find Your A-Team
By running a criminal record check on a candidate, you can avoid the costs that come with a bad hire. Our comprehensive Criminal Record Checks search federal, state, provincial, and local databases, providing you with accurate insights into a candidate's disclosed criminal history.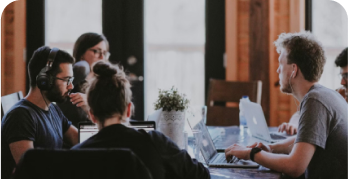 Keep Peace of Mind
Know who you're hiring. Protect the trust you've built with employees, customers, and partners.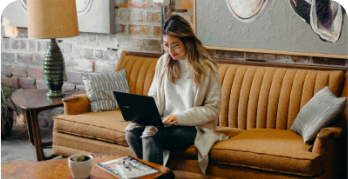 Maintain Reputation
Identify any red flags that an application may have to avoid any misunderstandings in the future.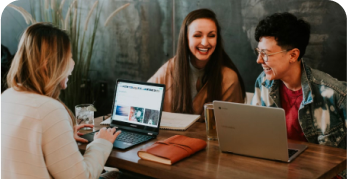 Stay Compliant
Comply with industry, local, state, and federal regulations, no matter where you hire.
Get The Skinny On Their Criminal History
Criminal record checks are often required by employers, volunteer organizations, and government agencies as part of the hiring process.
From arrests, charges, convictions, warrants, and any other relevant criminal information, our Criminal Record Checks confirm a candidate's disclosures.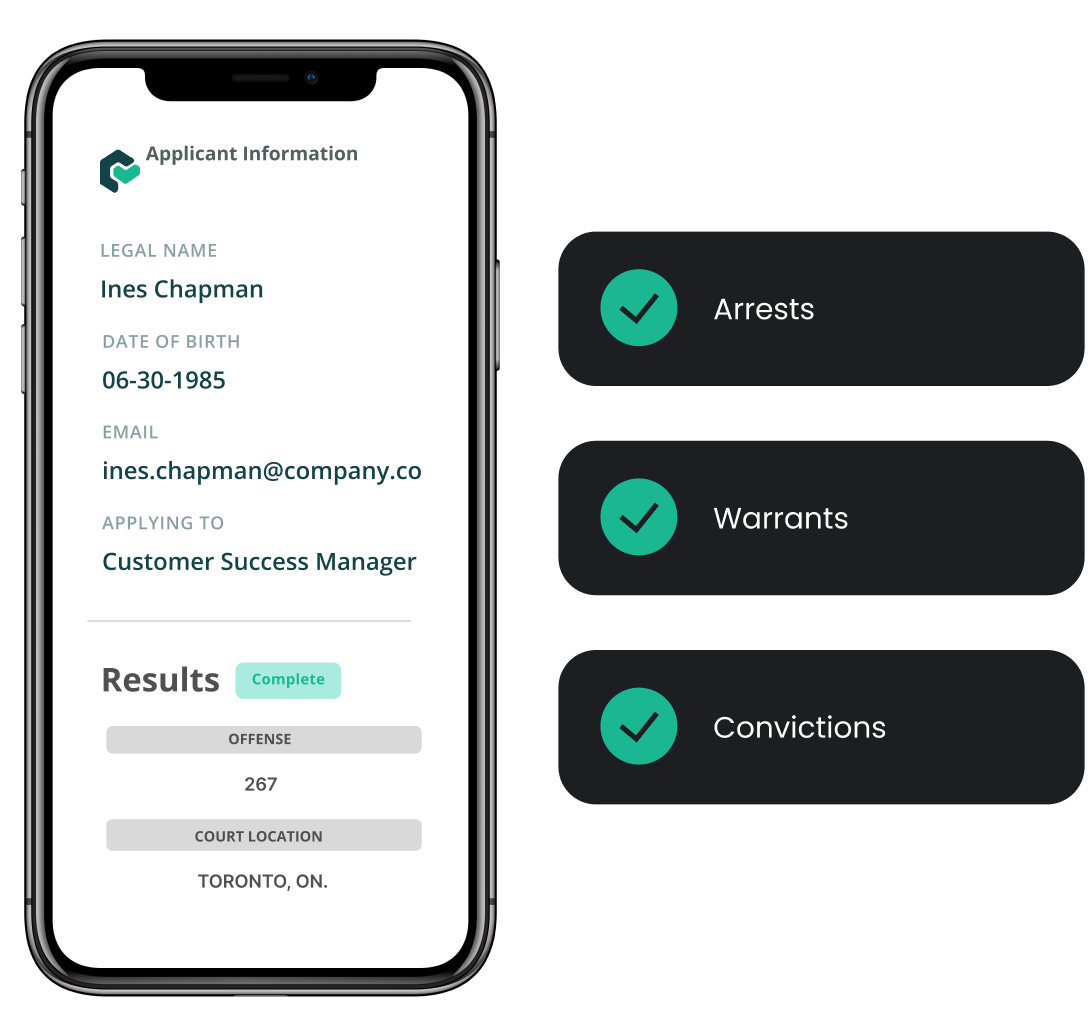 Change The Way The World Hires
From one check to thousands, we can meet your business where ever you are. Our solutions give you the flexibility to choose the checks that matter most to you.
Data From All Four Corners
Our platform connects directly with data from global databases and registries
so you can scale your local and global hiring.
Checks Faster Than You Can Say 1, 2…
Give your candidates a hiring experience you can be proud of with our mobile-first user experience that can integrate directly into the world's most popular hiring platforms.

Level Up With OneID
Over half of job applications contain inaccuracies. Our OneID instant identity verification sets the foundations for fast, easy, and accurate background checks.
Lift Candidate Experience: Your candidates can complete the identity verification process in just a few clicks from a mobile device.
Hire Globally with More Confidence: OneID supports over 11,000 government-issued ID types.
Prevent Fraud: Use OneID to verify the accuracy of the information before screening.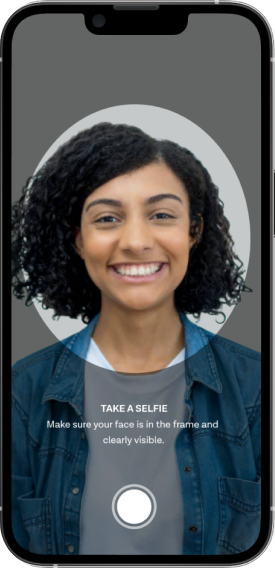 Don't just take our word for it. Here's why our customers love us.
"Not only is the platform easy to use for all audiences, but the internal support system is beyond what we could have imagined."
"The price point is amazing, and so is the service and turnaround time. It's really a no-brainer."
Your Questions, Answered
What's a CPIC criminal record check?
Canadian criminal record checks, also referred to as CPIC checks, are background checks that use the CPIC to obtain information about an individual's criminal history. The Royal Canadian Mounted Police (RCMP) maintain the Canadian Police Information Centre (CPIC).
How can I look up someone's Canadian criminal record for free?
Canadian criminal records can only be ordered by individuals or organizations with a legitimate reason to request such information, as such, you can't access this information for free.
Who pays for criminal record checks in Canada?
In Canada, the person requesting the check is usually the one who pays for it. This means that if it's an employer that needs the check, they pay the fees. If you need a check for a reason aside from employment, such as for an adoption process or volunteer position, we recommend contacting the relevant police service in your area to inquire about the specific process and fees involved.
What kind of information do you have to provide to run a criminal record check?
To run a criminal record check, you have to provide a full name, date of birth, and sometimes fingerprints.
How do I look up criminal records in Canada?
Criminal records can be requested in person or online directly from the Royal Canadian Mounted Police (RCMP) or a background screening vendor.
What jobs require a criminal record check?
How long does it take to get a criminal record check in Canada?
The time it takes to complete any type of background check, criminal or otherwise, varies depending on factors such as the type of information being verified, the responsiveness of the sources and databases, and the efficiency of the screening process. A Canadian criminal record check can typically be completed within a few days to a week, assuming the information is readily available and the sources respond promptly. Though, online checks and automation can speed up the process.
Here's how long the Certn background check process can take.
What shows up on a criminal record check in Canada?
The availability and disclosure of criminal records varies by jurisdiction. Some jurisdictions have restrictions on the types of convictions that can be reported after a certain period or based on the severity of the offence.
How far back does a Canadian criminal record check go?
There's no limit to how far back a Canadian criminal record check goes, but the type of offence determines how long it stays on your record.
How long does a criminal record stay on your record in Canada?
The length of time that a criminal record stays on your record in Canada depends on the type of offence and the outcome of the case. The general guidelines are:
Absolute Discharge

: In the case of absolute discharge, the record is removed from the federal database one year from the date of the discharge.

Conditional Discharge

: If you receive a conditional discharge, the record is removed from the federal database three years from the completion of the sentence (the probation order).

Summary Offence

:

A person is eligible for a

r

ecord suspension (formerly known as a pardon) for a summary offence five years from when the complete sentence was issued by a court judge. You're only eligible to apply for the record suspension

after five years of

good conduct.

Indictable Conviction

: An indictable conviction stays on your record indefinitely unless you apply for a record suspension.

You're only eligible to apply for a record suspension (formerly known as a pardon) after 10 years of good conduct.

A record suspension, if granted, removes the record from the federal database and sets it aside.
Consult with a lawyer for more precise information about the retention period for a specific offence based on the Criminal Records Act and relevant provincial legislation.
What's the inquiry timeframe?
The default inquiry timeframe for each record is seven years.
SSN Trace is used in the US for two reasons: it acts as a method of ID verification and it provides access to a detailed residence history and aliases. The SSN Trace can be completed by using the SSN provided or by matching enough unique identifiers to an existing SSN profile. The SSN trace will be listed as "Review" when no profile is found or when the information declared does not match what's in the SSN profile.
Can I request a copy of my background check?
Yes you have the right to request a copy of your own background check. This is generally in line with data protection and privacy regulations that allow individuals to access and review their personal information held by various organizations, including those that conduct background checks.
Can I get a job with a criminal record?
Yes. Though there are roles you may not qualify for, there are plenty of industries and positions that will employ someone with a criminal history. In accordance with the Australian Human Rights Commission, an employer can only reject an applicant based on their criminal history "if the person's criminal record means that he or she is unable to perform the 'inherent requirements' of the particular job."
How long is an ACIC police check valid for?
Police checks are typically valid for five years. However, they can't be used for multiple positions. If you apply for a new job within five years, a new check will be requested as the new position may require a different depth of check, and an offence may have occurred since the previous check was run. 
How long is an AFP Check valid for?
An AFP check is valid for 12 months from the date issued.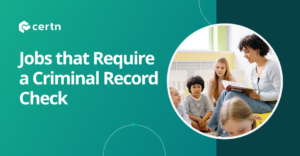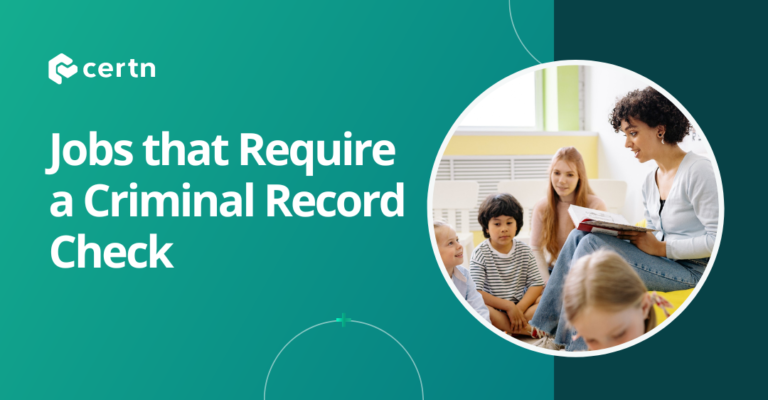 Certain jobs in Canada require employee background checks, specifically a criminal record check.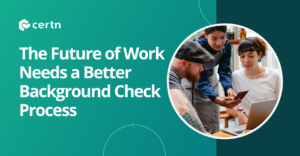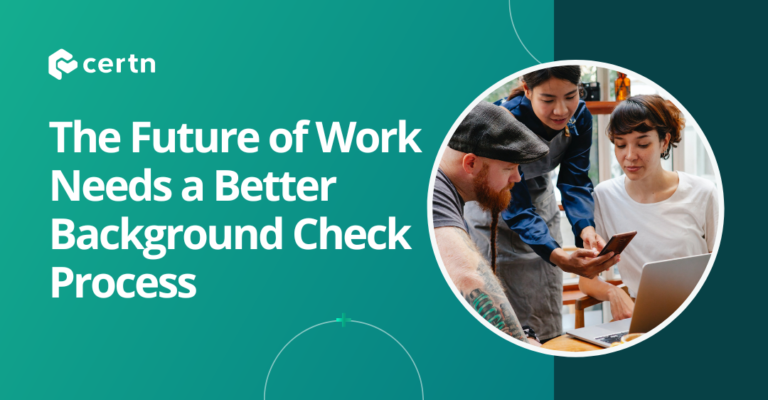 The Certn background check process is literally made to make hiring faster and easier. Not to mention, it aligns with new and emerging models of work and works where you work.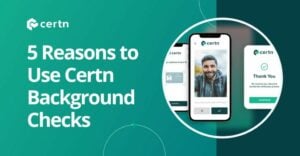 Clients who switch from other background check providers to Certn often share how easy it is now that they're using online background checks, and we're happy we can help. We work hard to provide the easiest background screening, so this recognition means a lot to us.
Ready to Experience
the World's Easiest Checks?