June 3rd, 2021
How SMS Text Messages Can Benefit Your Hiring Process
3 min read
---
At Certn, we are always looking for innovative ways to help our customers be more efficient in the way that they manage their background screening strategy. The hiring process has become more sophisticated within the past year, as the pandemic forced many businesses to move to a remote process.
We have listened to the growing request from our partners and have leveraged more digital communication features that can be used during the hiring process. To help both organizations and candidates stay connected seamlessly, Certn has enabled application invites to be sent via SMS directly from Certn's white-labelled platform. Our product teams are currently working to enable SMS support for selected applicant tracking systems.
In this blog we will be highlighting why incorporating SMS into your applicant communications can help your business stay ahead of the competition.
Cellphones are more accessible
Text messaging continues to be one of the fastest-growing forms of digital communication. According to a report from the Pew Research Center, 83% of adults in North America own a cellphone and 60% of owners send or receive text messages on a regular basis. With its ability to deliver information instantly without needing to be directly connected to the internet, text messaging has become a powerful communication tool in today's business landscape.
Many cell phone contracts across the country offer unlimited text messages as part of the monthly service, whereas data is an additional expense and not always a feature that is feasible for all people. Communicating with candidates through SMS during the hiring process is a new and accessible solution for businesses to conveniently perform business with greater efficiency.
Jay Emmet, General Manager for OpenMarket, states "Companies have an opportunity to connect with millennials by communicating via text messaging. Using SMS allows companies to communicate exactly how and where millennials like. Half of the millennials are more interested in receiving texts than they were two years ago".
Employers are taking note and many are tapping into the capabilities of SMS to hire candidates, screen applicants, or send out updates.
Streamline your hiring process
Businesses are constantly looking for new ways to help their employees be more productive and efficient. Incorporating an SMS-based approach to your hiring process can be a quick, concise, and efficient way to connect with a candidate.
In our blog, GenZ: Why this Generation is Holding Employers Accountable we discussed how the next generation entering the workforce is looking for employers with top-tier technology that can help communication be as transparent as possible. Both Millennials and Gen-Z are looking for companies that are able to communicate quickly and show genuine interest during their hiring process. Gen-Z, especially, challenges traditional hiring communication as 82% expect the hiring process to take no longer than two weeks, putting pressure on businesses to quickly make a decision and have the right technology in place to streamline their hiring process. If not, they risk losing a great candidate.
When it comes to connecting with candidates, here are some reasons why candidates prefer SMS over any other form of communication:
76% believe that SMS is more convenient and on their own schedule.
63% of candidates say that SMS is less disruptive than a traditional voice call.
53% prefer to communicate through SMS as opposed to a phone call in general.
Millennials and Gen Z expect their employers to have technology that streamlines their journey from the beginning of the application process to when they are hired.
Your business looks more approachable
Businesses that apply innovation and creativity to their hiring process begin to show that they are adaptable and looking for new ways to connect with their new hires. Texting is a modern medium that captures the attention of applicants while also offering a sense of comfort and familiarity that comes from texting a friend.
Businesses are more approachable from a candidate perspective when communicating through SMS as:
SMS allows for more casual language and conversation to occur.
SMS offers images and videos to communicate clearer messages.
An SMS text can be sent at any time of the day.
Texting is a natural fit for the mobile-first generation of employees who are accustomed to communicating with each other via text.
Summary of Why SMS can Benefit Your Hiring Process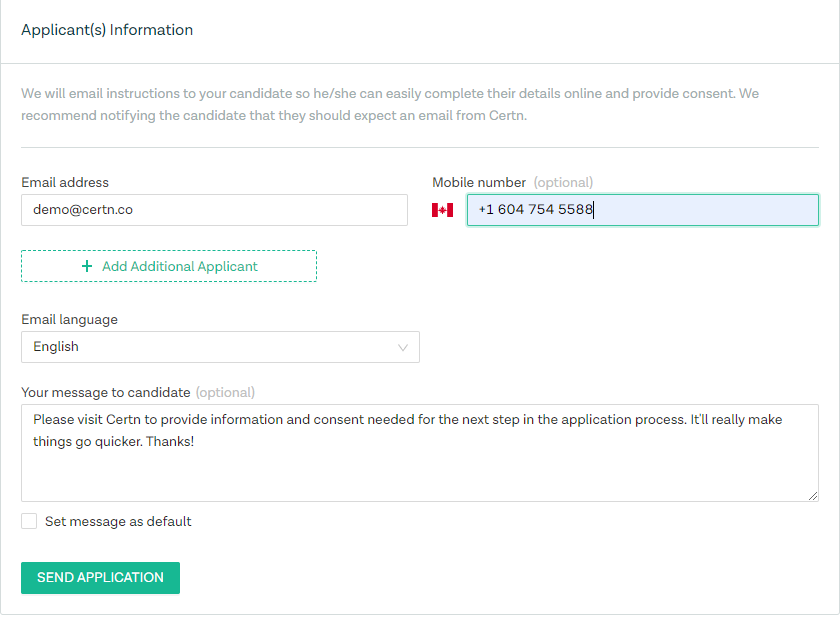 If you are looking for a way to streamline your hiring process and stay connected with potential applicants, SMS may be the answer. Texting as a means of communication has become second nature for many people. The ability to communicate through text messaging can make the process of hiring new employees much easier than traditional phone interviews or in-person meetings. Texting is also relatively quick and easy to use and allows for constant communication between employers and potential hires.
Certn continues to innovate features into our products like application invites via SMS that allow our customers to stay competitive in their respective industries. With the ease of accessibility on modern phones, texting is an ideal medium to send quick messages back and forth about the next steps in the interview process or offer feedback after interviews.
Ready to get started?
with one of our industry experts to learn how to incorporate SMS into your hiring process!