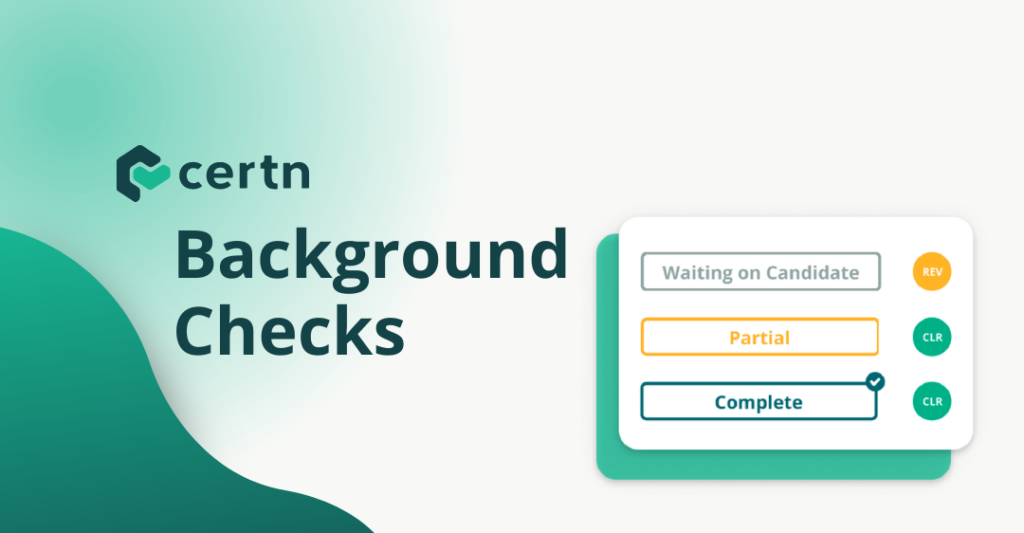 February 10th, 2021
The Certn Background Check Process
8 min read
If it has been a while since you've done one, you might still think of background checks as inconvenient. But Certn's clients know the long waits, trips to your local police station, and all the paperwork that comes along with completing your RCMP Criminal Record Check is over.
If you work in HR, you know the candidate experience during the background check process often determines whether your candidate completes their job application or not. Here's how the Certn process makes all the difference.
Background Checks Don't Have to Suck
Background checks are one of those things that are essential yet mistakenly often treated as an afterthought. Sure, you need them to protect your organization from negligent hiring claims and can use them to earn SOC 2 compliance, but when was the last time you thought about how effective your vendor really is? Could your background check process be better?
It's okay. We get it. Not everyone can be as passionate about the topic as we are. However, again, if you work in HR, you know the background check process impacts everything from your time-to-hire metrics to your candidate pre-boarding experience. It can be difficult for companies to make time to consider how their screening vendor helps all parts of your business. This often results in staying with a vendor that's actually lengthens your time to hire, frustrates candidates, and costs more money. Has your organization experienced this?
Good news: we've had clients reduce their time to hire by three weeks after making the switch to Certn. It's definitely worth paying attention to how your company does its background screening.
What does the process look like with Certn? We're so glad you asked.
Certn background checks are fast, accurate, and secure. Hiring managers are able to see the candidate results in as little as a few hours. Plus, our platform interface is consistently rated Easiest to Use and Easiest Setup, so you can be assured there's no more managing paperwork or tracking multiple reports. Talk about easy.
What Is a Background Check?
Prepare yourself for a long answer to a short question. After all, we love background checks!
Certn's background check process collects and verifies someone's information to help an employer determine a potential hire's suitability for a role. That said, there are many different types of products that can make up a background check.
The products you'll find most useful will depend on the specific needs of your company and the nature of the open role you're looking to fill.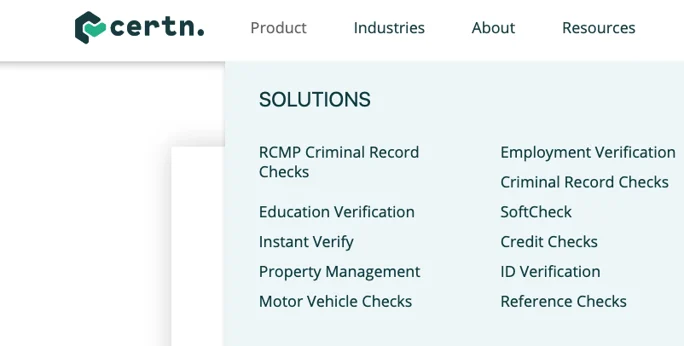 Criminal Record Checks: These are the most commonly ordered background checks. They uncover criminal activity which leads to more informed hiring decisions and protects your workforce and your organization against negligent hiring claims.
There are important privacy considerations to keep in mind when requesting criminal record checks. You must ensure that you're only collecting the information necessary to make a hiring decision, and never misuse or disclose any information obtained from these checks.
ID Verification: Identity verification is often done in conjunction with criminal record checks. Certn's instant OneID identity verification confirms that the identifying information a candidate provides matches their government-issued ID. This verification can also help catch fraud attempts, or people using another's ID; identity verification helps ensure that the correct person is being considered for the job.
Employment Verification: Validate the disclosed employment history of an individual. This kind of verification is important to verify that someone has the experience and history they say they do. Also, it's helpful if you hire for a regulated industry like healthcare, financial services, or education.
Education Verification: Validate the disclosed education of an individual. This verification is often paired with employment and credential verification, and is worth conducting as it validates that someone has the education they say they do.
Credential Verification: Validate an individual's professional credentials or licenses that might be required by your organization. This is yet another important piece of information to vet for highly technical positions. With a few clicks, employers can initiate a check to confirm the validity of a candidate's schooling, certifications, and licences.
Reference Checks: Reference checks can be done over the phone or digitally over email. The customizable questionnaires are designed to get more information about what it's like to work with an individual. Outside of HR, property managers use these to vet prospective tenants. Reference checks are an important part of any hiring process because they generate insights into a candidate's character and behaviour that may not be gathered through interviews alone.
Credit Checks: Like reference checks, these can be used by both HR and property managers. A credit check is an inquiry on someone's credit file and the reports include bankruptcies, public record and collection information, and a credit score (if it is for tenancy). In the UK, credit checks are one part of ensuring staff meet the Fit and Proper requirements. This type of check verifies people's financial standing.
Driving record checks: A motor vehicle record report shows an individual's driving record. This includes licence status, traffic citations, and accident history. In Canada, a driving check is also called a Driver's Abstract. Employers use driving record checks to evaluate their potential candidates for positions requiring the operation of a vehicle, such as delivery driver or chauffeur. It's also important for employers in certain industries, such as transportation and logistics, to perform background checks on all employees before hiring them. Doing so helps ensure that only safe and qualified drivers are working for their organization.
Again, the products an organization chooses to include should differ based on each specific opportunity. Driving record checks, for example, may not be relevant for a cashier position but may be necessary for a driving position. Likewise, a credit report may be relevant for landlords performing a tenancy check but not for organizations hiring an employee.
Our experts are here to help. Part of the Certn background check process involves determining which background checks you wish for individuals to complete. If you hire for the same role over and over or have a continuous screening process in place, you can save custom combinations of products as packages for future use, making it even easier for you to order from our platform.
Book a demo today to see how it works.
Certn Background Check
Here are some answers to frequently asked questions about Certn's process:
When They Do a Background Check What Do They Look For?
The answer is…it depends. As we detailed above, there are many different types of screenings that make up a background check. Each one looks at unique details that should relate to the opportunity the individual is applying for.
Can You Do a Background Check on Someone?
No. In Canada, candidates have to be informed that background screening is part of the hiring process and provide consent before any background check can be conducted.
How Do They Conduct Background Checks?
Certn's all-in-one platform takes information shared by applicants, like full name, social insurance number (in Canada), and date of birth and uses those identifiers to perform requested checks and verify other provided information.
How Long Does the Background Check Process Take?
Timeframes for check completions are often dependent on the types of checks ordered along with where someone has lived and worked. With Certn, the process for an RCMP check can vary on average from a few minutes to a few days. This is an improvement over the traditional in-person model where the background screening process can take weeks.
You also might be wondering, why are background checks important? Well, read on below.
Why Are Background Checks Important?
For talent managers, background checks are an important pre-employment screening step before making a hiring decision. They help organizations make informed decisions when hiring.
Verify Candidates
Along with the usual criminal record checks, a leader in the background check industry will also have some kind of ID verification, education, employment, and credentials verification. Verifying education and employment allows you to confirm job competency and how much their starting pay should be. At Certn, we complete these different types of checks depending on what your company needs.
Our intuitive technology platform also collects information on candidates in an automated way, saving your company time and money. Background checks are essential for creating a safe work environment, so let Certn handle them for you! With our comprehensive background check services, you can trust that the people joining your team have been thoroughly vetted.
Hire Smarter
One bad hire can cost a company quite a bit once the costs associated with hiring, compensation, lost business opportunities, and severance have been factored in. In fact, those costs typically amount to approximately 30% of the bad hire's salary. To avoid costly hiring mistakes, it's important to have a well-defined recruitment process in place. Utilizing smart and effective recruitment strategies can help ensure that you hire the right people for the job.
Building a Pipeline of Candidates
A candidate's screening experience is important when going through the hiring process. It starts with the application, then moves on to the interview, and even continues with the onboarding process.
In a highly competitive job market, the hiring experience of the candidate is critical for employer brand reputation. Even if the candidate isn't hired, the process will dictate whether or not they will apply to the company again, or whether they'll consider another role. If the candidate's hiring experience isn't strong, then the employer might just miss out on top talent.
Negligent Hiring
It is not surprising that up to 93% of employers conduct at least some kind of background screening. Getting a background check done helps employers avoid liabilities by highlighting any criminal history or criminal acts. A typical negligent hiring claim can cost several million dollars. In fact, due to its failure to conduct an adequate background check on an employee, the cable company Charter Communications was recently ordered to pay more than $7 billion due to the actions of its employee.
Negligent hiring is a serious risk that must be taken into account when bringing new employees on board. Employers should take all necessary steps to properly vet and screen potential hires, including running background checks and conducting interviews with references. This will help employers protect themselves from claims of negligent hiring by demonstrating that they took reasonable care in choosing who to hire.
Safe Workplace
This kind of pre-employment screening also fosters a safe work environment for employees. As an employee, wouldn't you feel more comfortable knowing that all staff must complete a background check before being hired?
In summary, background checks help:
Verify that candidates have the experience and credentials they claim to
errors or falsifications that candidates might put on their resumes
Protect your company from fraud attempts
Protect your company from negligent hiring claims
They also help with SOC 2 compliance.
How To Choose a Background Check Company
Certn is here to help!
To evaluate whether it's a good match, ask yourself these four questions about your background screening provider:
Is it an accurate background check?
Is the service comprehensive and easy to use?
What's the satisfaction rating of the customer service?
Is the company fast and responsive?
Accurate Background Check
Do you trust the company and the results? The whole point of background screening and doing criminal record checks is to have an accurate picture of the person who's applying. Therefore, it's important to trust your provider, from the validity of the results to their compliance practices and how they store sensitive information in the cloud.
Comprehensive and Easy to Use
Can your candidate complete the necessary forms electronically and respond to questions on a desktop or mobile device?
80% of Certn background checks are done on a mobile device, so we know that our platform needs to be compatible and user-friendly. In fact, our platform is so incredibly easy to use that it's consistently ranked #1 by actual users according to G2. All that saved time adds up, especially when compared to other approaches that involve multiple back-and-forth interactions, the collection of several different documents, and other cumbersome processes like working across different platforms.
High Satisfaction Rate
You don't want to waste your candidate's time or waste your money. Ensure that the candidate is receiving all the necessary information to complete the background check. With a clear, streamlined screening process, background check companies should be able to provide accurate and efficient results within a reasonable time limit. On G2, Certn has a 9.6 quality of support rating (compared to the 8.7 industry average). This rating demonstrates our commitment to providing excellent customer service. Our clients and their candidates have access to 24/7 support if they need help along the way.
Fast and Responsive
In today's competitive hiring environment, we know employers are always looking to gain an advantage, especially when hiring a global workforce. As an employer, you need results fast, and in a form that's easy to analyze. To that end, it's important to have a background check provider that offers comprehensive global coverage… but not at the expense of fast results. Certn provides checks for 200+ countries and territories. The best part? You can order all of your checks in one place. Hiring international candidates and expanding your talent pool doesn't mean having to use multiple platforms or remember multiple logins.
Certn Background Check
A background check is a way to make informed hiring decisions built on trust and transparency, not a way to prevent someone with a criminal record from gaining meaningful employment. It just means that when you do hire someone, it's in a way that is compliant and responsible.
We know our clients love our background screening process. But we also know that you might not want to just take our word for it. Fortunately, you don't have to, because plenty of our clients have expressed what working with us is like.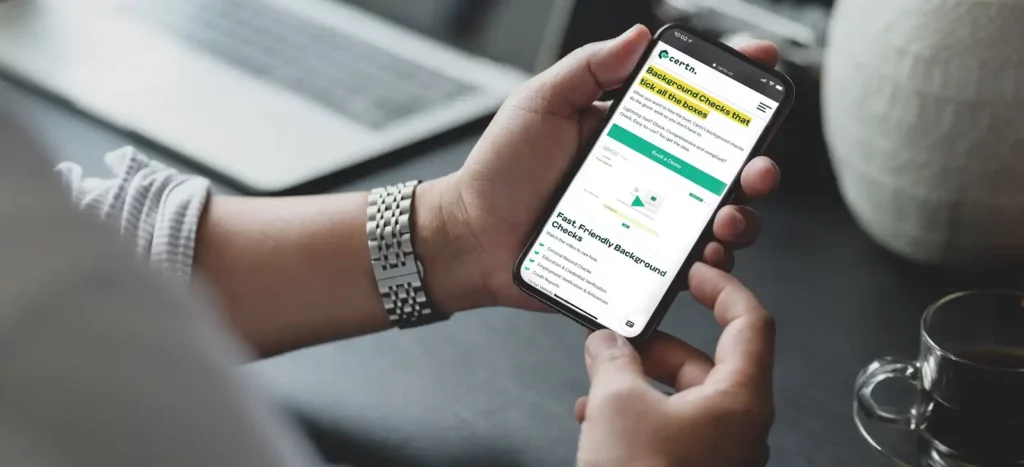 So, what do clients say?
"It's quick and easy to set up a variety of background checks. Then it's as simple as a click of submitting and Certn does the rest." – G2 reviewer
"Quick and easy. The interface of the website is beautiful." – G2 reviewer
"Beating the competition in terms of pricing, speed and ease of use." – G2 reviewer
Want to see it all for yourself? Book a demo and see how Certn can improve your background screening process.